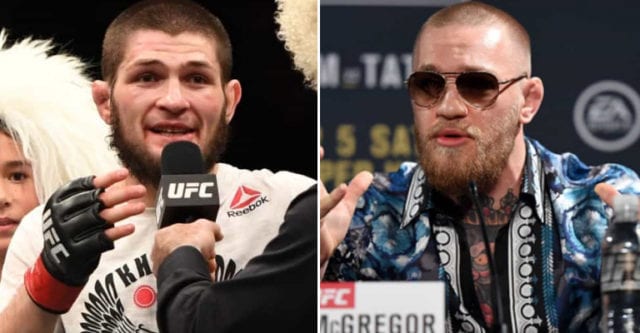 One of the UFC's top lightweights has weighed in on Khabib Nurmagomedov vs. Conor McGregor.
Surging No. 3-ranked Dustin Poirier will return to action against Nate Diaz at November 3's UFC 230. He could (should) earn a shot at the winner of UFC 229's Khabib vs. Conor main event on October 6, 2018.
So "The Diamond" has a vested interest in the megafight, and he has his prediction ready as well. Poirier offered it to Luke Thomas on a recent edition of The MMA Hour:
"I'm kinda leaning toward Khabib. I just don't know if he's going to stop Conor or whatnot, but I'm thinking he's going to get the victory."
Nurmagomedov's fearsome wrestling is the reason many are picking him to hand McGregor a second loss in the octagon. But 'The Notorious" knockout striking is also the stuff of legends, and Poirier knows it. Their heated rivalry in 2014 was ended due to the Irishman's scary striking when he floored Poirier in one round.
McGregor's straight left hand may be the most feared weapon in all of MMA. Because of that dynamic, Poirier rightfully couldn't count 'The Notorious' out:
"I mean, he has a huge chance," Poirier said. "He's got great timing, great judge of distance. We'll just see if the takedown defense holds up and the cardio holds up. That's all he has to do. The openings will be there, but he just has to stand the test of the wrestling and the conditioning, the physical part that Khabib's going to put on early in the fight."
The former lightweight and featherweight champion will have been out of the octagon for almost two years when UFC 229 takes place. Nurmagomedov, meanwhile, last competed at UFC 223 this April, winning the title in the main event.
Poirier doesn't think that will be an issue. McGregor simply has to find his timing in his mind:
"It's all a mindset, really," Poirier said. "Once you get your rhythm down, your timing, everything else falls into place."
McGregor and his ability to defend the endless takedown attempts expected to come his way should decide the UFC's biggest fight of 2018. Many gamblers are betting on Nurmagomedov because of it.
The striker vs. grappler dynamic may be cliche but in this case, it holds true. Either man's ability to impose their skillset could be the deciding factor in what may be the UFC's biggest-ever fight.
Meanwhile, Poirier will be waiting for the winner.