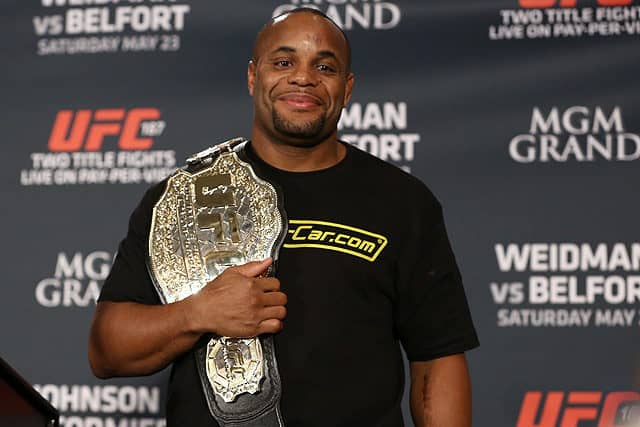 UFC light-heavyweight champion Daniel Cormier had a hectic schedule to compete with this year. First off 'DC' fought Jon Jones at UFC 183 after sharing the biggest feud of his career, then he took on Anthony Johnson for the belt at UFC 187, and finally defended the title against Alexander Gustafsson at UFC 192. Now, with the impending return of Jon Jones on the horizon, Cormier has some decisions to make.
Does the AKA (American Kickboxing Academy) king of the grind stay active, perhaps defend again with Ryan Bader now emerging? Talking to Kenny Florian and Jon Anik, as captured by MMAJunkie.com, Cormier reveals his plans for the coming months:
"I have no idea (when Jones will be back); all I know is that I'm taking a break," Cormier said on the "Anik and Florian" Podcast. "In 2015, I fought Jones, I fought 'Rumble' Johnson, and I fought Alexander Gustafsson. I fought the toughest guys the division has to offer – all in 10 months, at 36 years old. I need a little bit of a break. I fought seven times in two years in the UFC. I need some time to sit back and spend with my family. … I want to take a break, and I think I've earned it."
With 'DC' now benched for the coming months, it presents a road block for the rest of the division. Already somewhat limping from the absence of 'Bones' since his hit & run meltdown in the Summer, the 205-pound class will have to stay active with two of the division's leaders on hold for the foreseeable. Cormier clearly has Jones on his mind, but says that he wanted to make sure he would be the one getting the rematch, not 'The Mauler':
"Everyone wants that fight," Cormier said on Jones. "(Before UFC 192) I said, 'Make no mistake about it: This is a sweepstakes to see who gets that fight against Jones.' I just wanted to make sure it was me. I've long said that Jones is a guy that can really compete with me, and obviously he beat me. At this weight class I feel I'm as good, if not better, than everyone else, and I feel like I'm good enough to beat Jones."
'DC' has burst his way in to the all-time great conversations with his performances against Gus and 'Rumble' and is now considering his legacy. Of course that could be solidified even more with another win, but it's more than just collecting checks for Cormier:
"I do think about legacy," Cormier said. "I'm going to fight, but let's say the wheels start to fall off and I lose or I lose twice, then I'll probably be done. My resume and my career and my legacy in this sport means more than just collecting some checks. I'm going to do it until I'm not competitiv,e and when I'm not competitive and when I'm not winning at the level that I'm winning now, I'll walk away. Because yes, legacy does matter to me, and I want to leave a good one in MMA.
"I want to be regarded as the best guy in the world, and I want to fight the best guy in the world. When (Jones) gets back I want to be the guy standing across the octagon with him."
It could be a smart move to essentially preserve what fight he has left for his long standing rival's return, at least that way he'll hopefully be injury free on the night of the Jones rematch.
We'll keep you updated.
If you enjoyed this story, please share it on social media!