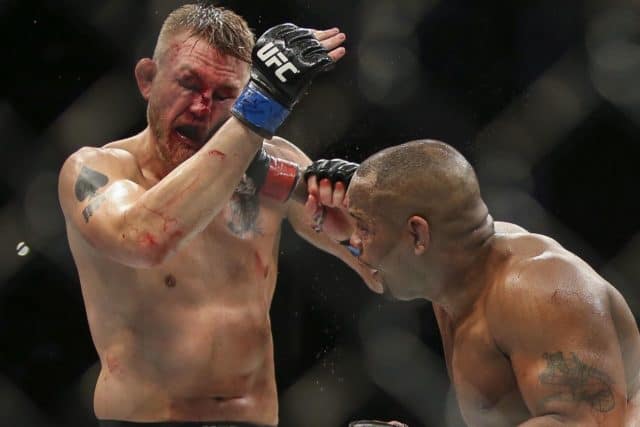 Daniel Cormier doesn't believe that Alexander Gustafsson should be fighting for an interim title.
The two-time title contender is expected to make his long-awaited return to the Octagon at the upcoming 227 pay-per-view event. However, he will need a new opponent at the show.
It was rumored that Gustafsson would take on former UFC middleweight champion Luke Rockhold in a light heavyweight bout, which would have marked Rockhold's move up from middleweight to the 205-pound division.
However, that is not meant to be as he suffered a shin injury that required surgery. Thus, Rockhold will be sidelined until the latter part of the year. Now, the Las Vegas-based promotion is seeking a new opponent for Gustafsson.
DC is slated to UFC heavyweight champion Stipe Miocic at the upcoming UFC 226 pay-per-view event on Saturday, July 6, 2018, at the T-Mobile Arena in Las Vegas, Nevada.
During a recent media conference call, Cormier made it known that he hasn't heard anything about an interim title being introduced at light heavyweight despite the fact that Gustafsson has suggested an interim belt being put up for grabs.
"It would bother me because Alexander Gustafsson does not deserve to fight for an interim title," Cormier responded on the UFC 226 media conference call. "I fought for the belt just at the beginning of the year and went up to chase something so much bigger. So no, he doesn't deserve an interim title.

He fought last May against Glover Teixeira then he beat Jan Blachowicz before. It's like that was two years ago, he's fought twice in two years. You know that since Alexander and I fought in October 2015, I fought Anderson Silva, [Anthony] "Rumble" Johnson, Jon Jones, and Volkan Oezdemir. And this dude has fought Jan Blachowicz and Glover Teixeira and that's it.

"That's two times in the last three years. Why would he be fighting for the title? That makes no sense. I told him don't try to will yourself into a championship," Cormier said. "You had two shots. You lost."
There is a lot of history between Gustafsson and "DC" as they have fought in the past as well as exchanged words through the power of social media because Gustafsson feels that he should be fighting for the title instead of waiting for DC to get done with his next fight.
The two fighters already faced each other at UFC 192 in 2015, where Cormier won via split decision.