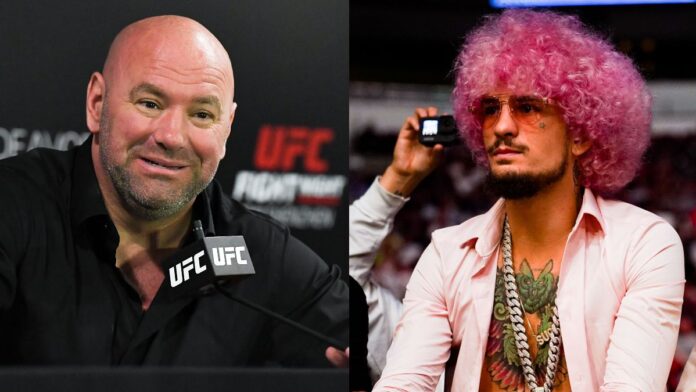 Dana White has claimed that Sean O'Malley is not ready to face ranked opposition.
'Suga' is the most talked-about unranked fighter going today and for good reason. His style and swagger inside and out of the octagon is something that reminds a lot of fans and pundits about one particular fighter from Ireland. As the Suga Show's star rises faster and faster, however, people question his unwillingness to take on a ranked opponent.
O'Malley has explained in the past why his current contract situation doesn't make sense for him to take on tougher ranked and more high level opponents in the octagon, something that most fighters and fans would probably agree with at the end of the day, especially for someone with as big a brand as O'Malley has. While O'Malley's opponent tomorrow night is the 21-3 Bantamweight Raulian Paiva, his detractors have pointed to Dominik Cruz and Cody Garbrandt as both ranked contenders that were willing to take on the Suga Show.
When Dana White talked to Robbie Fox of Barstool Sports this week, he explained why someone like O'Malley isn't ready for the top-ranked fighters compared to someone like Khamzat Chimaev.
"He's not ready," White told Barstool Sports. "You guys wanna throw him to the wolves. You don't move somebody that fast unless they're Khamzat Chimaev. Khamzat is a guy you'll feel comfortable moving that fast. I mean, O'Malley just lost a couple of fights ago to (Marlon Vera). So, talking about bigger fights and all that sh*t, this is a tough fight for him on Saturday night. In his last fight, he looked incredible, he put on a clinic. I think because O'Malley's so popular and whatever, you're always gonna have the critics that give this kid sh*t."
Dana White Is Happy To Take Things Slow With Sean O'Malley
Dana's explanation makes perfect sense for people that pay attention to the sport. While O'Malley's star is red hot and getting hotter by the day, it wouldn't be right to throw him in there right now with the likes of Petr Yan, Cory Sandhagan and Jose Aldo.
"He's a tough kid, he's fun, he's exciting to watch," White said. "But he's making his way the way you're supposed to. You don't just turn O'Malley around and throw him in there against killers. That's not how it works." (Transcribed by MMA Fighting)
As we know, however, everything can change for O'Malley with another spectacular performance to kick off the UFC 269 Main Card tomorrow night in the T-Mobile Arena.
Do you agree with Dana White's assessment of Sean O'Malley?