Dana White is once again targeting MMA media, this time for spreading rumors about a potential rift between himself and undefeated star Khamzat Chimaev.
It's been nine long months since 'Borz' stepped foot inside the Octagon and depending on who you're talking to, the reason for that will swiftly change with each party blaming the other. That alone is more than enough for media outlets to start speculating about the relationship between the two polarizing combat sports figures. But when Khamzat Chimaev seemingly went on a massive unfollow spree on social media, it added a whole lot of gasoline to the flickering flame. Initially, Chimaev unfollowed everyone except for UAE-based MMA pioneer Tam Khan and the often controversial Andrew Tate.
In response, news outlet MMA Mania ran an article pointing out the fact that, at the time, Khamzat Chimaev had unfollowed every UFC account, including that of Dana White, and suggested that there could be tension between the two which directly relates to Chimaev's lengthy layoff. White quickly sought to squash the accusation the headline was making, chalking it up to the media creating another "bullsh*t" story for clicks.
"This is the 'media.' I could literally do this every day with almost every story that's written, White posted on Instagram along with a screenshot of the headline in question. "Everything these people write is total and absolute bulls**t."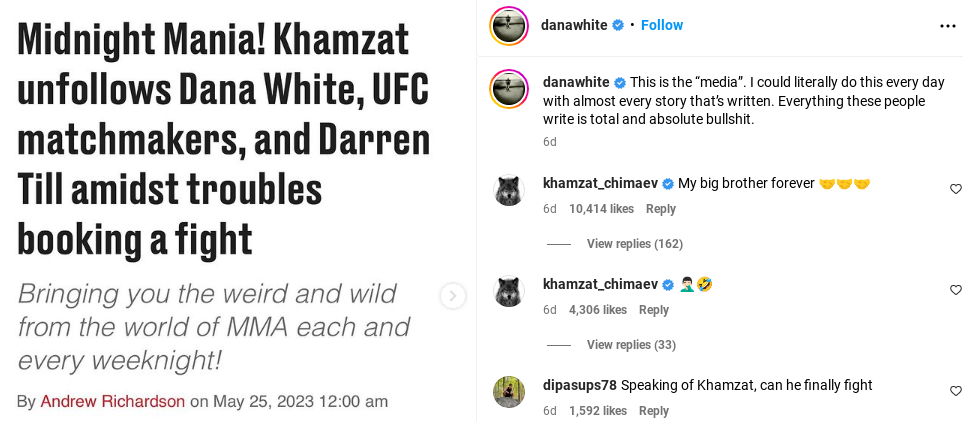 Khamzat Chimaev and Dana White May Be on Good Terms, but There is a Clear Lack of Communication Between the Two
Since then, Khamzat Chimaev has resumed following Dana White on Twitter, including a couple of other UFC-related accounts. 'Borz' also commented on White's post. "My big brother forever," Chimaev added on Instagram.
While Khamzat Chimaev and White may not have any personal issues between them, there is clearly some miscommunication between the two when it comes to his lack of fights over the last several months. White previously placed the blame squarely on the shoulders of Chimaev, suggesting the Chechen-born wrestler had a lot of personal stuff going on in his life.
"That's on him (Chimaev), though. He's got stuff going on in his personal life," White said of Chimaev's absence. "That's not because we're not getting him a fight. Obviously, you know how it goes here. I talk about this all the time, we have to get guys three fights a year. If we don't get guys three fights a year, we have to pay them. The only way that wouldn't happen is if they have personal stuff going on."
'Borz' disputed White's comments, letting it be known that he is more than ready for a fight as soon as the promotion presents him with one.
"I have no problems with fights, if they gave me a fight, I would have fought a long time ago, I did so many training camps and not one fight, the problem is definitely not with me, prepared in dubai then to thailand, why do I train so much if there is no fight, I don't understand, Chimaev said on Twitter in response to White's comments."