Daniel Cormier believes Stipe Miocic 'could be a problem' for Jon Jones in UFC 295 title fight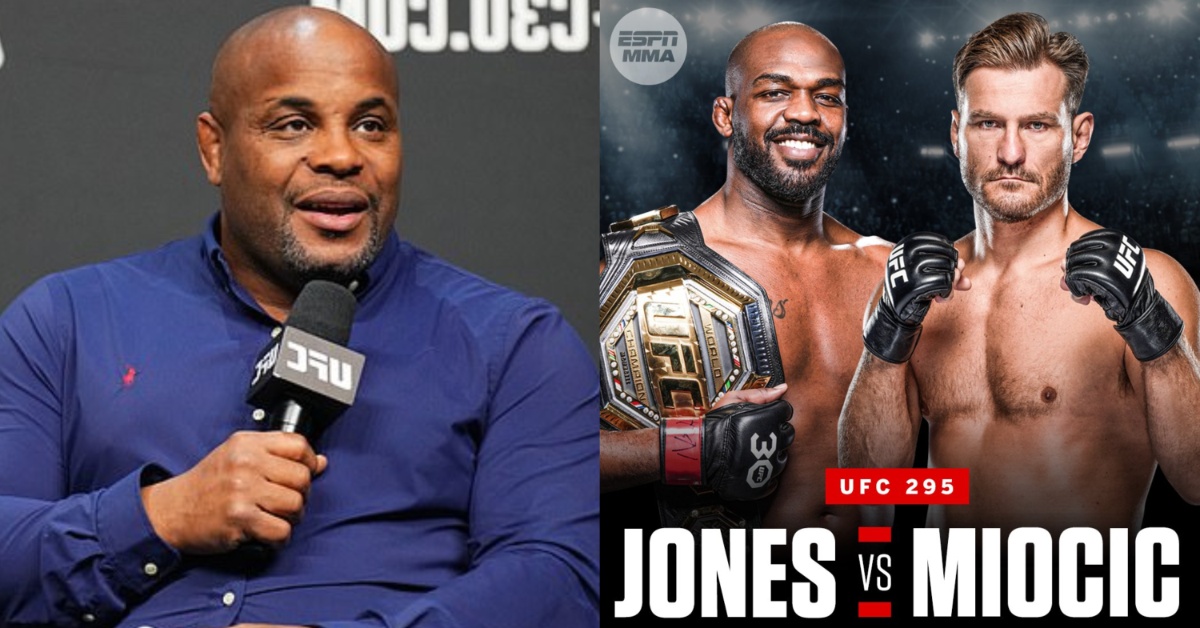 Daniel Cormier offered his take on the recently announced heavyweight world title tilt between reigning champion Jon Jones and former two-time titleholder Stipe Miocic.
In the midst of International Fight Week, the promotion announced that Jones vs. Miocic would go at UFC 295 inside the world's most famous arena, Madison Square Garden, this November. Jones returned from a three-year-long layoff in March and captured the heavyweight crown with a quick two-minute submission against top contender Ciryl Gane at UFC 285. He was initially looking to make a quick turnaround, squaring off with the general consensus heavyweight GOAT at this past weekend's pay-per-view offering. Instead, fans will be treated to the highly anticipated clash at MSG in NYC.
Speaking about the heavyweight showdown was former two-division UFC titleholder Daniel Cormier, who is perhaps the most qualified man to break down the fight given his history with both men.
"This fight will be determined very early, at least in my opinion," Cormier explained on his YouTube channel. "Because we will know from the very start of the fight whether or not we are seeing the Stipe Miocic from before or if we're seeing a slowed-down version of the former champion. We'll know that very quick.
"Because what we already know is that we do get a little bit of a slower version of Jon Jones. He is a little bit different than he was when he was a light heavyweight. No one could watch that fight with Ciryl and think any different. Because the left hand that the threw that ultimately led to the takedown was a lot slower. He even admits it — he goes 'I gained 30 pounds, of course I'm going to be slower.' But if Miocic is fast, if Miocic with his boxing background, Golden Gloves, is still fast, that could give Jones problems" (h/t MMA Fighting).
DC Believes Stipe Miocic vs. Jon Jones Will Come Down to Who Has Been Able to Maintain Their Speed
Jon Jones and Daniel Cormier met on two separate occasions, the first coming at UFC 182 in January 2015. 'Bones' retained the light heavyweight title, scoring a unanimous decision victory over DC. Their second meeting would come two and a half years later at UFC 214. Jones once again left the arena victorious following a third-round knockout, but the result was later overturned after Jones tested positive for a turinabol metabolite.
"The one thing that I learned in the fights with Jones and I, was that he's very good with his timing, he's very good at fighting his spots, but nothing is overly fast or overly quick," Cormier said. "His punches, his kicks are fast, his shots aren't as fast but he's got great timing and the ability to really pick and find those moments that he can land but Miocic is fast.
"You'll be fighting Stipe, he'll throw something and he'll land and you're' like how did he get to me? He is fast, and if he's still fast, he can get the job done. But if he's slowed down, he's almost 41 years old I think, if he's slowed down, even a little bit, it could be a problem."
Cormier Would Like to See Jones Drop a Few Pounds Before UFC 295
When stepping on the scale for his heavyweight debut in March, Jon Jones weighed in at 248 pounds. As a result, 'Bones' was noticeably slower, but his 124-second win over Gane didn't give fans and analysts much of a sample size to assess. With Jones' speed being a primary weapon, Cormier would like to see the champ drop a few pounds in an effort to maintain that edge in competition over the rest of the division.
"I don't know if Jon Jones competes any better if he weighed 250 or if he weighed in at 230 pounds or 227," Cormier said. "I think even at 227, he would be OK at heavyweight. Because then he would maintain that speed that he had, which I think would give a lot of the heavyweights problems. That's why I gave them problems. You're fast for them, they're a bit too slow."
Whether or not Jon Jones walks into the bout carrying some unnecessary weight, Cormier knows that in the end, it all comes down to Jones simply doing what he's always done inside the Octagon.
"He's just got to be Jon Jones," Cormier said. "He's good. He's talented. If you ask me in their prime, who would win this fight after fighting them both? I would probably say Jones, especially if he's fighting at light heavyweight."
With that said, Cormier believes it would be foolish to count out Stipe Miocic, and anticipates a quick finish in their UFC 295 headliner later this year.
"Many people are going to want to count Miocic out in this fight but that's not necessarily the case," Cormier said. "This guy's the real deal and he's there to win against Jon Jones in Madison Square Garden, which will essentially be a home game for Jones.
"I believe we learn very early though, who's going to walk away with the heavyweight championship of the world."