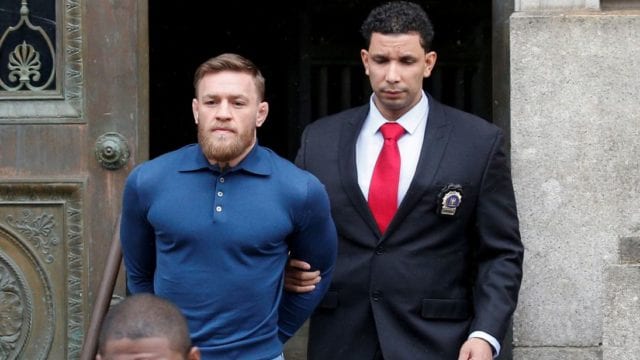 The MMA world was beset with controversy earlier tonight when news broke that former UFC two-division champ Conor McGregor has been arrested in Miami Beach, Fla.
The Irish star had been booked on charges of strong-arm robbery and criminal mischief. The charges carried bonds of $7,500 and $5,000, respectively. McGregor allegedly took a man's cell phone and smashed it. Florida detectives spent the day gathering information on the incident. They later found McGregor at a residence. The alleged altercation took place outside of a hotel. It was caught on surveillance.
As expected, MMA Twitter predictably reacted to the arrest with a host of responses. Now, 'The Notorious" lawyer issued a statement on the incident via ESPN's Ariel Helwani:
"Last evening Conor McGregor was involved in a minor altercation over a cell phone that resulted in a call to law enforcement. Mr. McGregor appreciates the response of law enforcement and pledges his full cooperation."
Latest Attack & Arrest
McGregor, of course, just got through completing his community service. He completed it in New York churches. That was the punishment for his Brooklyn bus attack before UFC 223 last April. Now he's headed for another legal issue. Unfortunately, he's had two more instances of this compared to wins in the UFC since 2016.
The Irishman is without a victory since he won the UFC lightweight belt against Eddie Alvarez at UFC 205 in November 2016. He has been arrested twice, however. The latest trouble continues a concerning trend for an outspoken megastar who has been accused of heading down a dark spiral for quite some time now.
We'll see how this ends. He may be given a very light punishment for the crime as he was in New York. Perhaps more importantly, we see how the UFC's biggest star thinks the rules don't apply to him due to his power.
If you enjoyed this story, please share it on social media!