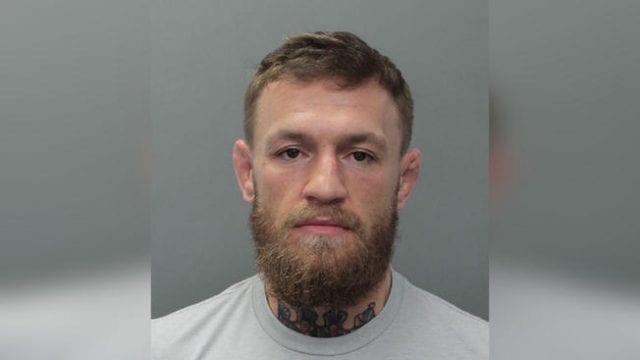 The Twitter-verse has exploded as former UFC featherweight and lightweight champion Conor McGregor's latest Miami arrest came to light.
As the news surfaced earlier tonight that former two-division UFC champ McGregor had been taken into custody after the incident (around 5 a.m. local time Monday), the Twitter-verse exploded.
The Irish superstar just completed community service for the now infamous Brooklyn bus attack. It appears he may be headed right back on to court now, however.
Take a look below at some of Twitter's best reactions to McGregor's most recent arrest.
MBPD has arrested and charged Conor McGregor, DOB: 7/14/88, with Strong Arm Robbery and Criminal Mischief, both felonies. Please see arrest report and booking photo below. No additional information will be provided. pic.twitter.com/9HdkRWPnd8

— Miami Beach Police (@MiamiBeachPD) March 12, 2019
Details about Conor McGregor's arrest on strong-arm robbery, criminal mischief charges in Miami Beach: https://t.co/XDQulaj1cy pic.twitter.com/pmKYgu5ysr

— Mike Bohn (@MikeBohnMMA) March 11, 2019
Can't do some shit in my city without asking permission first #bienvenidoalmiami https://t.co/f2qguShP3O

— Jorge Masvidal UFC (@GamebredFighter) March 11, 2019
Alternative headline: Conor McGregor gave a fan a surprise phone upgrade first thing this morning in Miami.

— Mike Chiappetta MMA (@MikeChiappetta) March 11, 2019
Is someone about to become better acquainted with the churches of the Miami area thanks to some more court-ordered community service? https://t.co/Eh7rotg2y8

— Ben Fowlkes (@benfowlkesMMA) March 11, 2019
Play-by-play of my thoughts while reading this. "Oh CRAP! McGregor was arrested?! It was for smashing… Please don't be another bus window…. A phone. A phone?! But, why?" pic.twitter.com/1gILX2LVux

— TJ De Santis (@TJDeSantis) March 11, 2019