Conor McGregor's outside-the-cage troubles continue.
Almost one year after he was arrested for his now-infamous Brooklyn bus attack, McGregor was arrested in Miami Beach, Florida, on charges of strong-arm robbery and criminal mischief according to MMA Junkie this evening.
McGregor was booked into Miami-Dade County Jail this evening. That was confirmed on the jail's website. The site also revealed that McGregor's charges of strong-arm robbery had a bond of $7,500 and the criminal mischief of $1,000 was set at $5,000.
The alleged incident involving McGregor allegedly took place earlier today near the Fontainebleau Miami Beach hotel, local newspaper the Miami Herald confirmed the news.
The report claimed McGregor took the cellphone of a man who was taking photographs of him with it. He then took the phone, which was valued at $1,000, and smashed it. The incident was captured on surveillance. McGregor was not arrested at the scene of the alleged crime. But according to the Herald, detectives spent the day investigating. They later found him at a residence on North Venetian Drive in Miami Beach.
Here is his mugshot via NBC 6 Miami: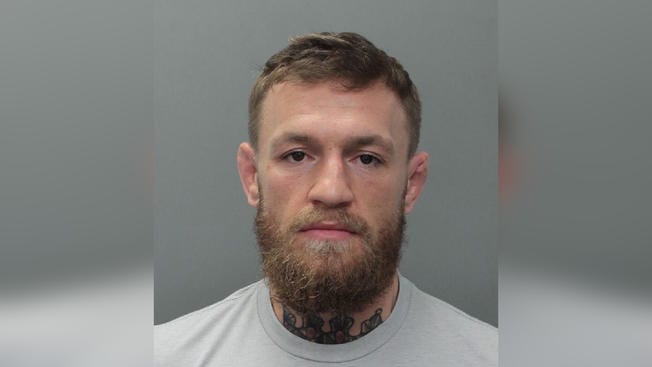 It's obviously a terrible look for McGregor, who only recently completed community service at New York churches to have his assault charges erased from his record.
He's also currently suspended for his part in the UFC 229 post-fight brawl. That's a minor concern compared to his latest legal trouble, however. It's becoming a trend for the former two-division UFC champion, who hasn't won an MMA bout since November 2016.
We'll keep you posted.