Conor McGregor mocks Michael Chandler in Twitter audio clip following viral TUF shove: 'Oh, we're gonna do this'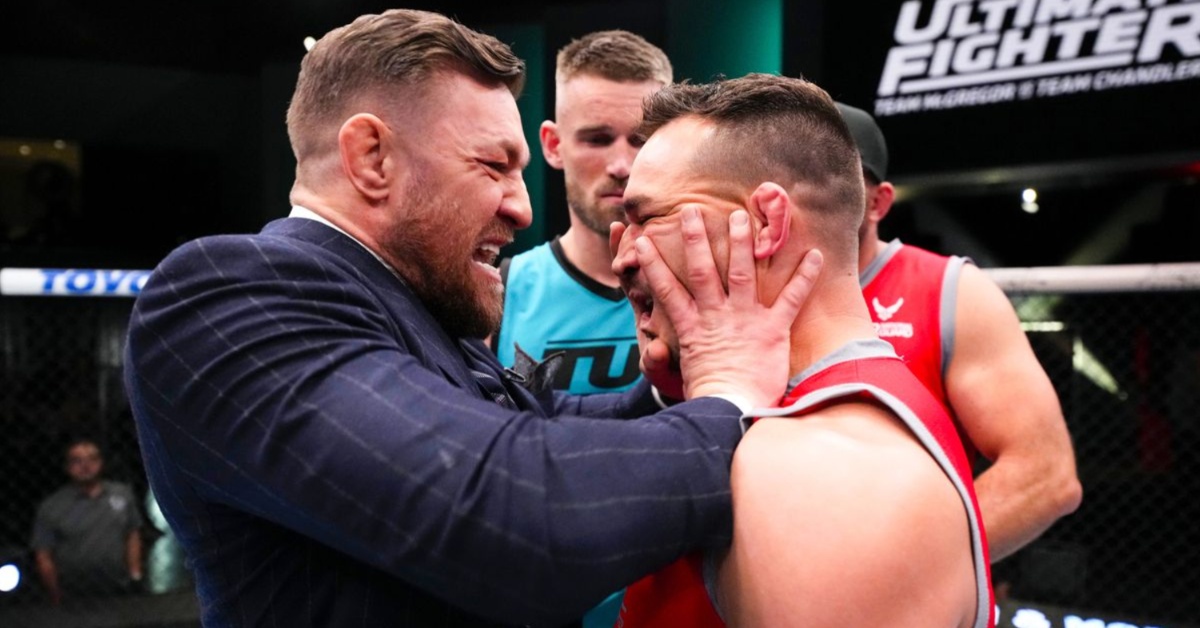 Conor McGregor resorted to mocking 'Iron' Michael Chandler following his sixth-straight loss on The Ultimate Fighter.
The Irishman's team is yet to win a single bout against Chandler's crew on the latest season of the long-running reality series. McGregor nearly scored his first victory on this week's episode as teammate Lee Hammond appeared to be in complete control during his scrap with Kurt Holobaugh. Mere minutes away from a victory, Hammond gave up his neck during a scramble and found himself on the wrong side of a guillotine choke, forcing him to tap out. The loss left McGregor understandably dejected and led to what has become one of the series' most viral moments.
With Conor McGregor and Michael Chandler standing inside the Octagon following the bout, tempers quickly flared. The Irishman violently shoved Chandler across the cage and proceeded to take off his jacket, seemingly preparing for a fight. UFC President Dana White quickly rushed in, asking Chandler and his team to exit the area.
Following the broadcast, McGregor took to social media and mocked Chandler in an audio note.
"'Oh, we're gonna do this,'" McGregor said, imitating Chandler in a since-deleted audio clip on Twitter. "'We're gonna fight right now?We're gonna fight right now? We're gonna do this? We're gonna fight right now?"
Michael Chandler Looks Back on Intense Moment with Conor McGregor
Michael Chandler shared his take on the intense moment with Conor McGregor and admitted that getting shoved by the Irishman came as quite a surprise.
"It went from zero to 100 very quickly," Chandler told ESPN's "After TUF" post-show. "To be honest with you, I didn't expect it. Obviously, we're ready to protect ourselves at all times. The first thing was, 'Holy cow, okay, he just put his hands on me. What's about to happen? Is he in my space?' But obviously, he backed up. I obviously got pushed back, and we both kind of started walking towards the center of the cage."
Chandler continued. "He starts taking off his coat, and I'm like, 'Okay, what? We're going to fight right here?' Obviously you never quite know what's going to happen," Chandler continued. "We're on a reality show, but it's also two dudes who want to fight each other. So I was ready for anything, and obviously, I was ready to fight right there if we had to, but let's be honest: We're on a reality show" (h/t MMA Mania).
Following the loss, Conor McGregor is an embarrassing 0-6 during his stint as a coach this season with only two quarter-final fights left. If McGregor can't get one of his fighters into the win column within the next couple of weeks, it's going to be Team Chandler competing against one another in the next two rounds.
Originally, Conor McGregor and Michael Chandler were scheduled to scrap inside the Octagon once their stint as coaches on The Ultimate Fighter ends. Unfortunately, that is looking less likely with each passing day as McGregor is yet to re-enter the USADA testing pool for a required six months of pre-fight screening.