Cody Garbrandt: First Off, I Deserve Some Respect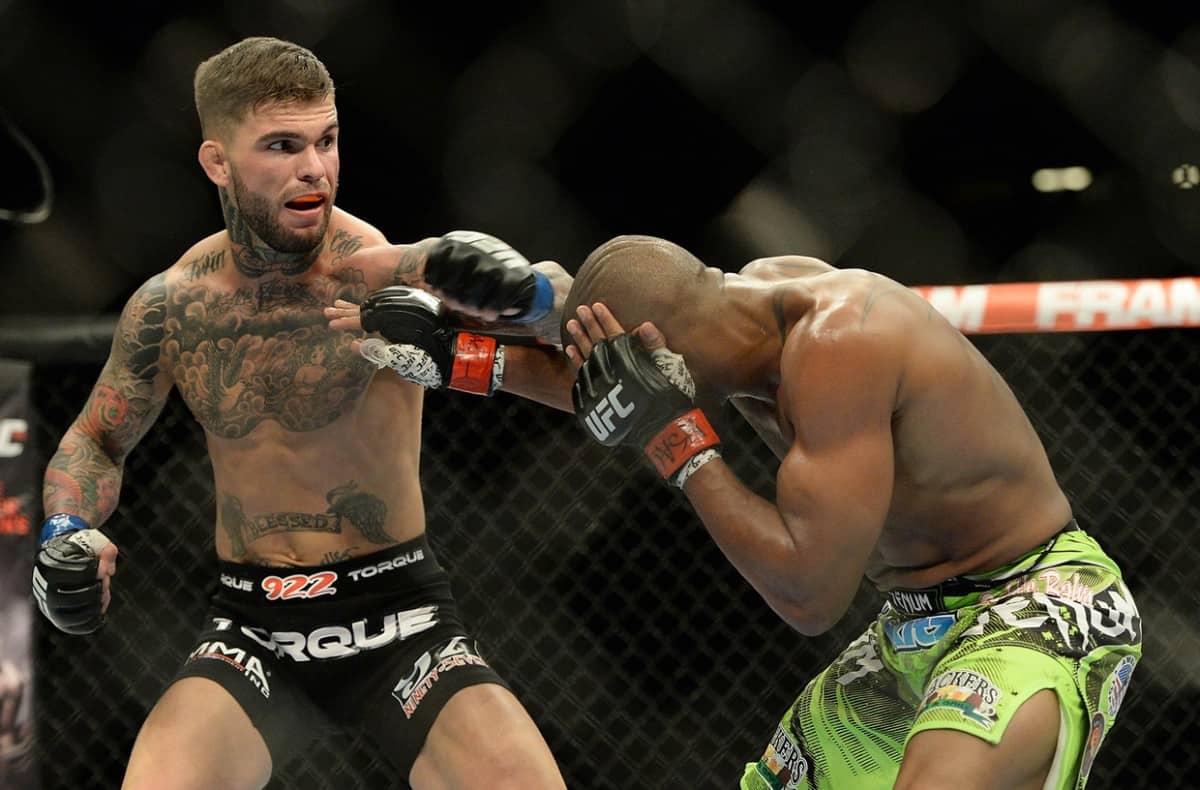 It's a vast understatement to say that Cody Garbrandt merely made a big impact on the UFC bantamweight landscape by knocking out Thomas Almeida in the main event of last night's (Sun., May 29, 2016) UFC Fight Night 88 from the Mandalay Bay Events Center in Las Vegas, Nevada.
Garbrandt not only beat the previously No. 7-ranked Almeida, but he dominated him in the first round, needing only 2:53 to end the main event bout with a perfectly-placed and devastating right hook to the jaw. The win ranked as the biggest of his only four-fight UFC career, and he'll most certainly rise up to a bout with an even higher-ranked opponent next.
With fight-ending power and a stifling lethal boxing offense, Garbrandt will notch his biggest win ever with each victory moving forward, because the word is out and he'll no doubt crack the bantamweight Top 10 when the rankings debut soon, if not higher. But "No Love" was unranked going into his fight with Almeida, and now that he's settled that score impressively, he stated he wants his rightful spot on the rankings at the post-fight presser last night (quotes transcribed via MMA Fighting):
"First off, I deserve some respect, that's going out there, we're talking about a 21-0 guy who just ran through everybody, and I knocked him out in under three minutes, so let me get at least in the top 10. Let me get these guys that I want to fight, these guys that are high-caliber. The higher the opponent for me, the more that I shine."
It's tough to argue with that statement, as Garbrandt clearly rose to meet the test that Almeida presented with his finest performance. Now that he's on the short list of future title contenders in the suddenly booming bantamweight division, Garbrandt already has a date picked out for his next high-profile opponent, and it's not surprisingly at UFC 203 this September in his native Ohio:
""UFC 203, Stipe Miocic is defending his belt in Cleveland, Ohio, that's where I spent a lot of my amateur career and boxing, it's an hour and 20 minutes from my hometown," Garbrandt said. "I would like to dance with someone there in the Quicken Loans Arena. Whoever it is, [whoever] the UFC wants to give me, I'm more than ready for them."
With Miocic recently earning the UFC heavyweight title at UFC 198 to finally bring a championship home to Cleveland, there's not better a storybook ending than having another one of Ohio's native sons in compliment him on the main card. Dominick Curz will defend the title against Urijah Faber in the co-main event of next Saturday's UFC 199, so a quick turnaround from the winner to face Garbrandt is unlikely.
Caraway could be ready to take on his next hyped opponent, however. If he's not, then a fight against No. 10-ranked former flyweight contender John Dodson, who recently returned to the 135-pound fray and owns a knockout win over Dillashaw, would make for a highly exciting match-up with Garbrandt along the lines of his bout versus Almeida.