Former longtime UFC featherweight champion Jose Aldo wants to terminate his contract with his longtime promoters after once again being snubbed for his rematch with Irish champ Conor McGregor, who knocked the Brazilian out cold in just 13 seconds in their initial meeting at UFC 194 last December, but it seems like the UFC is reluctant to let one of their biggest Brazilian stars go.
Aldo's manager and head-coach Andre Pederneiras recently spoke to Brazilian news outlet Combate to discuss the ongoing negotiations between the two sides, stating that the UFC is giving Aldo 'no choice' but to fight inside the Octagon once again:
"Right now we have this Pettis vs. Holloway fight, and there's Conor's decision, too. We can only know what's going to happen after that. Aldo wants to retire in order to do other things, but in these talks we had with the UFC, it became quite clear that they will not let him go to pursue that.

"There's no choice but to fight. It'll depend on the outcomes of these two fights. Pettis vs. Holloway and Conor vs. Alvarez. I don't know what Conor will decide, but I believe February or March would be a good date to face him. They are fighting now, so there would be a good three, four month break."
Following his loss to McGregor in December, Aldo returned to the Octagon to take on Frankie Edgar at UFC 200 in July for the interim featherweight title, where 'Scarface' cruised to an easy unanimous decision victory to earn himself 145-pound gold once again. Meanwhile McGregor was embroiled in a welterweight feud with Nate Diaz after the former Ultimate Fighter winner choked out McGregor for the first time in his UFC career in the second round of their UFC 196 meeting in March.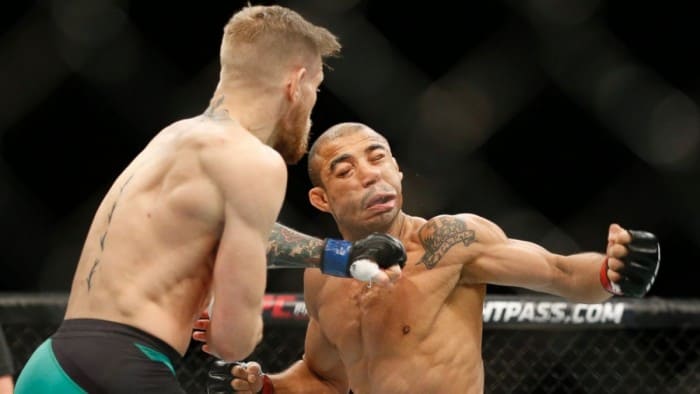 After McGregor got his revenge from Diaz in a majority decision win in their rematch at UFC 202, it looked as though the Irishman would meet Aldo again next to settle the score.
However, he'll instead challenge Eddie Alvarez for the lightweight title at November 12's UFC 205 fro, New York City in an attempt to become the promotion's first-ever simultaneous dual-weight champion.
With fellow top contenders Frankie Edgar, Max Holloway, and Anthony 'Showtime' Pettis currently booked, perhaps Aldo will await for the conclusion of McGregor's bout with Alvarez to get a potential rematch in January or February as Pederneiras alluded to.