At a career crossroads following three straight stoppage losses, former UFC champion Chris Weidman had his back against the wall in a big way when he met rising No. 8-ranked contender Kelvin Gastelum in the main event of last night's (Sat., July 22, 2017) UFC on FOX 25 from Uniondale, New York.
With pressure mounting to not only win but also win for his many family and friends in attendance near his hometown of Baldwin, New York, Weidman snapped his streak and delivered one of the most pivotal victories of his decorated UFC career (watch highlights here) by becoming the first man to stop Gastelum in the octagon by submitting the challenger with a relentless onslaught of varied takedowns culminating in a fight-ending arm-triangle choke.
A raucous celebration reverberated throughout the Nassau Coliseum as Weidman celebrated among his Long Island faithful, and the "All-American" took the moment of opportunity to call out UFC middleweight champion Michael Bisping, who actually took his spot in a title fight at UFC 199 in 2016 to shock the world by knocking out Luke Rockhold and winning the belt:
Weidman echoed the belief of many critics of the middleweight division's direction, as Bisping has only defended his title once – a close decision win over retiring No. 14-ranked legend Dan Henderson at UFC 204 last year – and has been out 2017 healing from a knee injury while chasing the massive payday of a title bout against Georges St-Pierre.
"The All-American" taunted his British divisional rival by asserting he was the champ despite a 1-3 run in his last four match-ups:
"That British bum who is crying in his freaking house right now: I'm back, baby. I'm back. What's up? Stop hiding from the real men. Let's go, baby. I'm the champ and everyone knows it."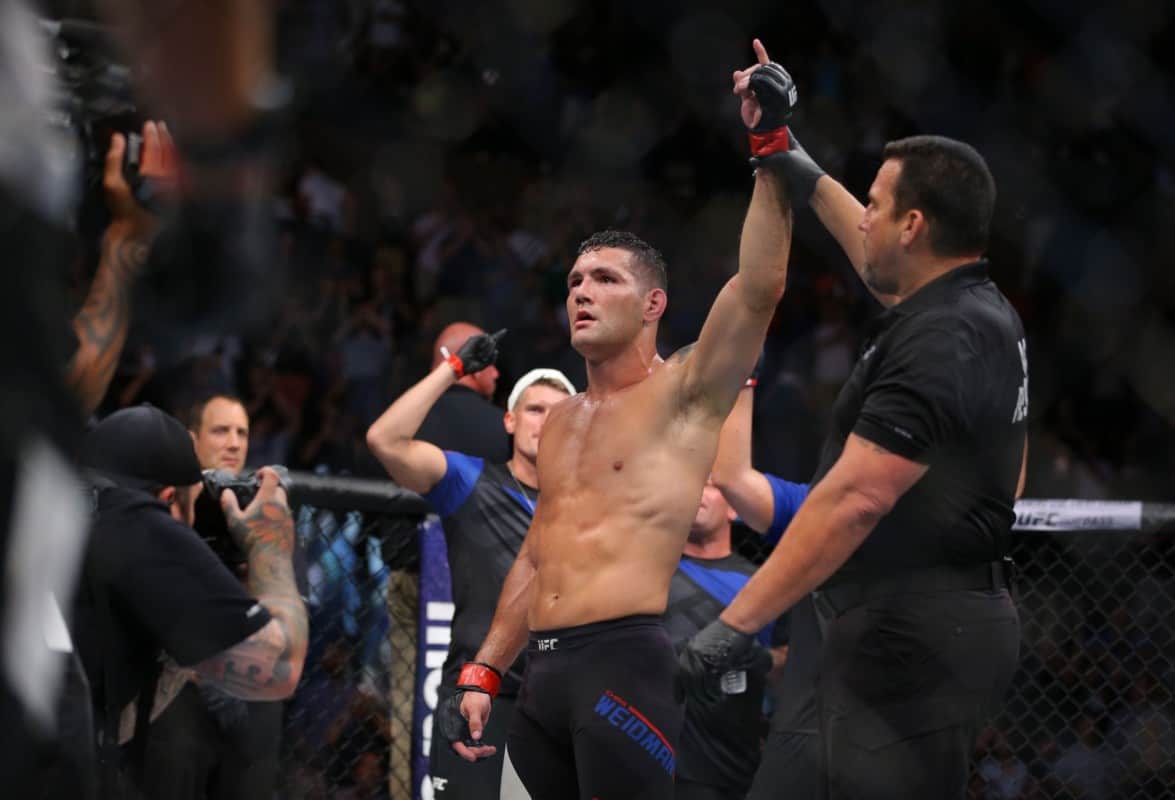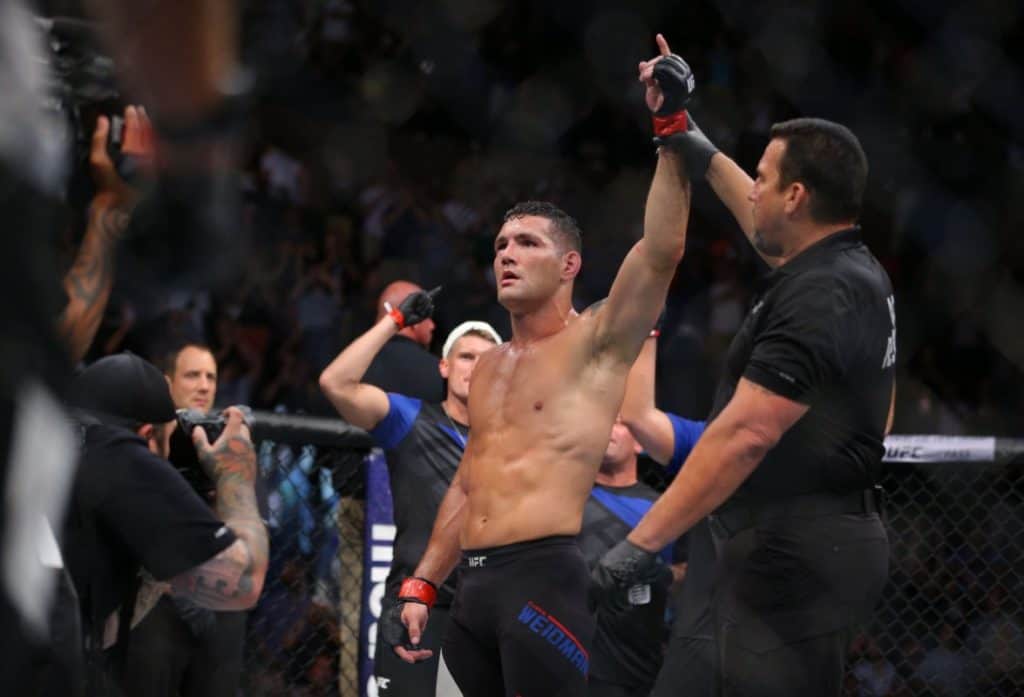 Like Weidman, many Bisping skeptics think "The Count" is simply running from the top contenders in arguably one of MMA's most talented landscapes, especially No. 2 Yoel Romero, who recently lost an interim title fight to Robert Whittaker at July 8's UFC 213. But no matter what Bisping holds out for, Weidman obviously still has work to do to get a title shot.
That wouldn't stop Bisping from replying to his callout on Twitter:
Say my name bitch! @ChrisWeidmanUFC

— michael (@bisping) July 23, 2017
Bisping got the trash talk rolling in classic "Count" fashion, but truth be told, the British champ was actually impressed with Weidman's insistence to keep fighting the best 185-pound fighters in successive bouts despite the tough run.
The two could certainly sell a title fight, but Bisping still seems to be holding out for what would be a much bigger title fight in St-Pierre. And Weidman's going to need a few more wins despite the extremely strategic callout in a huge spot in New York last night.