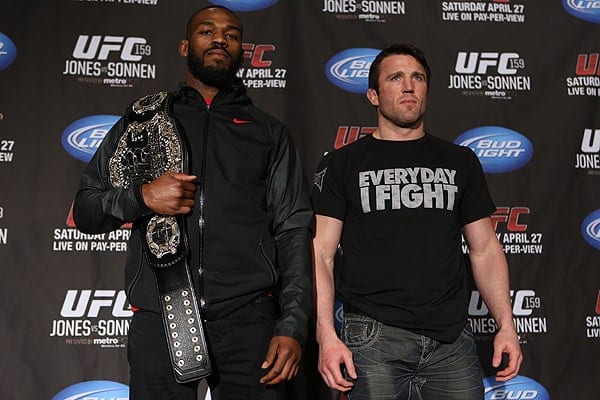 Due to his lengthy legal history, and his attitude that may sometimes be perceived as 'arrogant', former UFC light heavyweight champion and reigning pound-for-pound king Jon "Bones" Jones hasn't always received the best treatment from fans.
In fact, he was stripped of his long-held title after being arrested on felony hit-and-run charges last year in his home of New Mexico.
After sorting his issues out, however, he recently returned at last month's UFC 197, scoring a somewhat lackluster, but ultimately one-sided decision victory over Ovince St. Preux to become the interim 205-pound titleholder.
Former Jones foe and fighter turned analyst Chael Sonnen recently touched on "Bones'" UFC 197 performance, simply calling it 'terrible' although using it to note just how talented the former divisional kingpin is:
"Even with that terrible performance Jon Jones just had, I don't know anybody that can beat him. As bad as he just looked, I don't know anybody that could beat him. He's that much better than the rest. We can sit around and go, 'What a bad performance,' and it was. It was terrible. I still don't know anyone that could beat the guy. That's how good he's gotten." Sonnen told Bloody Elbow.
Usually a fighter as skilled as Jones is highly revered among fans, and of course he does have his legion of loyal fans, but Sonnen, blasting Jones in the process, claims that spectators just can't get behind a 'drunken coke addict':
"Then he wonders why nobody can get behind him. He shows up to the press conference acting like a fool. He comes in trying to take over the press conference like everybody was supposed to be happy for him that he won. He didn't realize that they were looking at the drunken coke addict champ, with all the talent in the world, that just can't get it straight. When you have that level of arrogance, it's tough to get behind him. Then sure enough, you've got the press, 'Ra-ra-ra-ra-ra-ra,' they're really going for it. Man, this wouldn't have happened back in my day. We'd have grabbed a guy like this in the back and straightened him out. We just would have."
Well, Sonnen definitely took a serious dig at Jones, who will meet Daniel Cormier in a title unifier at July 9's UFC 200.
What are your thoughts on the former and possibly soon to be champion?
If you enjoyed this story, please share it on social media!