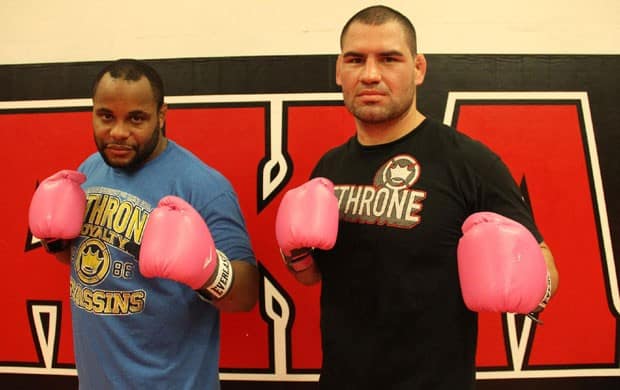 Despite being one of the most talented and highly touted camps in all of mixed martial arts (MMA), San Jose based American Kickboxing Academy (AKA) has come under a lot of criticism as of late regarding their training methods and the fact that many of their fighters seem to be injured quite often. At the fore front of these accusations are heavyweight champion Cain Velasquez, who has not competed since October 2013, and top lightweight contender Khabib Nurmagomedov, who has been on the shelf since last April.
However, the legitimacy of the camp can't really be questioned as AKA now has two UFC champions training under the same roof with Daniel Cormier being crowned the new light heavyweight champion at this past weekend's (May 23, 2015) UFC 187 from Las Vegas.
Originally set to compete on June 6, 2015 in his home of New Orleans, "DC" received the title shot when former dominant champion Jon Jones was pulled from the bout and stripped of the title after being arrested on felony hit-and-run charges. With only four weeks to prepare for a title fight, Velasquez admits that he was a little worried for his teammate, but the heavyweight king is nothing but proud of Cormier's performance:
"We were a little worried about hurrying the camp, making it shorter, since he was supposed to fight Ryan Bader on June 6. But, we still felt good about the fight," he tells FOX Sports. "And, he went in there and did it. He did such a great job. It felt good to see that guy go in there and get it. It was definitely a great night for him."
Continuing on, Velasquez addressed the criticisms towards AKA, noting that their training methods aren't over the top, fighters are just preparing for a fight, and to do that, one must actually fight:
"I don't think you ever really see any of us show up to a fight and have a bad performance," he says. "We're always ready to fight. And to get ready for a fight, you have to fight. Boxers box to get ready to fight, wrestlers wrestle. We have so much we have to do to get ready, but fighting is one of them," declared the 265-pound champion."
Velasquez is finally set to return at June 13's UFC 188 to face off with interim champion Fabricio Werdum. When healthy, the champion is undoubtedly one of the best fighters in the world, and arguably one of the best heavyweights of all time, but he just can't seem to do just that: stay healthy.
Talking about his personal injuries, Velasquez stated that most of his injuries that have kept him out for so long have occurred in the actual Octagon during a fight, not in the gym where his training methods are looked down upon:
"Personally, most of my injuries were ones that I sustained during fights in UFC, not in practice," he says. "We do what we have to do to be ready, in practice, and I think our results are good."
Here's to hoping the 265-pound boss can stay healthy for a few more weeks and give fans a show in Mexico City come fight night.