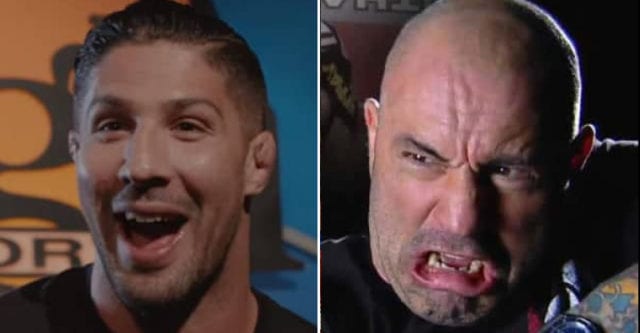 In the week-and-a-half since June 9's stacked UFC 225 pay-per-view, there've been many storylines to emerge from the Chicago-based card, and not many of them have been good.
There was the initial report that the card tanked at the box office by securing less than 150,000 pay-per-view buys, and while that story was eventually refuted and (supposedly) proven wrong, the card ultimately didn't sell all that well. Then there was the bad blood-filled rivalry between welterweight champion Tyron Woodley and newly-crowned interim champ Colby Covington, which has already become personal in a strange way.
However, one storyline that hasn't been discussed much until recently is Joe Rogan's commentary of the awful Mike Jackson vs. CM Punk bout that opened the main card, a fight that drew the collective criticism of the entire mixed martial arts world and earned Punk his release from the promotion.
And that criticism is coming from the most unlikely of sources.
Rogan's good friend and consistent podcast partner Brendan Schaub recently blasted the longtime color commentator's choice of words on his "Below the Belt" podcast (via BJPenn.com), decimating Rogan and to a lesser extent, his broadcast partner Jimmy Smith for claiming Jackson had 'high-level striking':
"[My other problem] The commentators… Joe Rogan, one of my best friends, my brother. And even Jimmy Smith, those guys. When they would go, 'Mike Jackson has high-level striking.'

"I think we have to be very careful, very careful not to throw around the term 'high-level striking'. Trust me, a high-level striker would have beat CM Punk in under 30 seconds. It would not have been a competitive fight if any one of those two had some sort of high-level striking.

"That was the only cringe-worthy night…the only thing that made me go, 'oh god!'. We got to be careful with that because if you're a fan and you're watching that and you go, 'god, that's high-level striking?' No, it's not."
While Jackson did outclass the clearly overmatched Punk in the striking department, it appeared he could have finished the fight on the feet on more than one occasion and instead chose to clown around inside of Punk's guard on the mat.
However, Rogan was not all that praising of Jackson's skills, at one point even saying he didn't look like he had the body of a true UFC welterweight and even going as far as to (somewhat jokingly) suggest that Jackson was even paid off to let the fight go on as long as it did.
Perhaps Rogan's insistence that Schaub should retire from fighting during a shocking scene years ago has "Big Brown" looking to land a counter-jab on his so-called 'brother' in the media.
What do you think? Was Rogan's commentary about Jackson off-base?
If you enjoyed this story, please share it on social media!