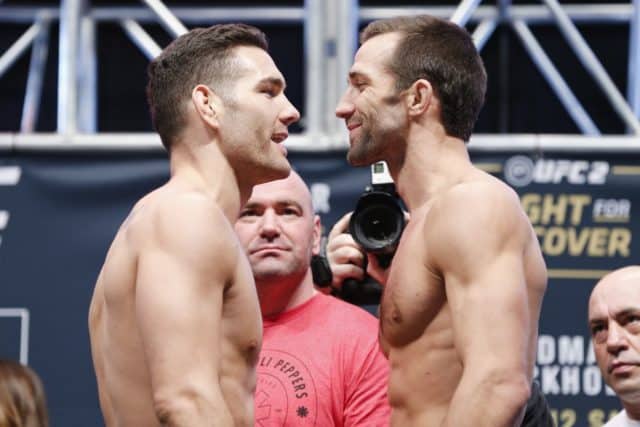 November 3's UFC 230 from New York City just can't catch a break. The string of strange situations on the card has now affected the UFC 230 co-main event.
News broke late this afternoon (Fri., October 19, 2018) from ESPN's Brett Okamoto that former middleweight champion Luke Rockhold has been forced out of the co-headliner fight with Chris Weidman:
Per sources, Luke Rockhold is out of his middleweight fight against Chris Weidman at UFC 230. UFC already working on shuffling things around. This is the co-main event currently.

— Brett Okamoto (@bokamotoESPN) October 19, 2018
The reason for Rockhold's withdrawal was due to injury:
Reason for withdrawal is injury to Rockhold, per sources.

— Brett Okamoto (@bokamotoESPN) October 19, 2018
The Ups & Downs Of UFC 230
The news is the latest in a long line of odd circumstances for the card. The New York-based fall PPV is usually one of the biggest shows of the year for the UFC.
But fans were surprised to hear a women's flyweight title bout between Valentina Shevchenko and Sijara Eubanks announced as the headliner. A heavyweight title fight featuring Daniel Cormier and Derrick Lewis soon overtook it, however.
The same day, Dustin Poirier announced he had been forced out of his originally scheduled co-main event with the returning Nate Diaz. Rockhold vs. Weidman slid into the co-main slot, yet now that has fallen apart. The UFC is looking for a replacement opponent for Weidman as Okamoto stated.
It's been a rough year for former middleweight champ Rockhold.
Yoel Romero knocked him out in his only fight this year at February's UFC 221. He then suffered a gruesome leg injury that required surgery and kept him on the shelf. It's unknown if that injury is in conjunction with his withdrawal from the Weidman match-up.
The two initially fought at UFC 194 in 2015, with Rockhold winning a bloody fourth-round stoppage over Weidman to win the title. Both once-touted challengers have seen better days in their careers. But thankfully for Weidman, UFC 230 already had several strong middleweight challengers who could potentially replace Rockhold.
Jacare Souza will meet former WSOF two-division champion David Branch. Vet Derek Brunson will meet highly-hyped rising star Israel Adesanya as well. Expect one of those names to be fighting Weidman soon, with Souza as the frontrunner.