In the thirty-year history of the UFC, there have been many incredible fights that have happened. There are so many great fights that a new fan might not know where to start.
Here's a complete guide to the best UFC fights in history. Check out the list below and learn what made these fights so special.
Our Collections Of The Best UFC Fights
Forest Griffin vs. Stephan Bonnar: TUF 1 Finale
Dana White said that Forrest Griffin vs. Stephan Bonnar is responsible for the UFC's explosion in popularity. The two young fighters had a war of attrition over a six-figure UFC contract.
As the two began landing big shots, more people began tuning into the fight. There was no moment in this fight where the two fighters were not attacking.
This is easily one of the best and most important UFC fights. You will stand up in your living room watching these two fight. (RIP Stephan Bonnar)
Dan Henderson vs. Maurício Rua
Somehow, former Pride champions in Dan Henderson and Mauricio Rua never happened before 2011. The two would finally meet later in their fight careers in a battle between Pride Champions.
UFC fans were treated to an epic war that was nonstop from the middle of the fight on. The two stood toe-to-toe and did everything they could to knock each other out.
Both the first fight and rematch are considered two of the best UFC matches.
Jon Jones vs. Alexander Gustafsson
At UFC 163 main event in 2013 was a special fight between GOAT Jon Jones and Alexander Gustafsson. This was one of the only times in Jones career where he looked beatable.
Gustafsson brought Jones the fight of his life and was actually able to hurt the champ. But Jon being a true championz overcame adversity to win the decision.
One of the best UFC fights of the two fighter's careers that made the light heavyweight division more interesting.
Kelvin Gastelum vs. Israel Adesanya
In the Summer of 2019, contenders Israel Adesanya and Kelvin Gastelum met for the interim middleweight title. Many assumed Stylebender was the next coming of Spider Silva, but the TUF winner Gastelum brought him a fight.
Early on, Kelvin would surprise Izzy with powerful shots that hurt him and Israel answered back. After a few rounds of back and forth action, a bloodied easy said his famous line before the last round.
"I'm prepared to die."
This was a true battle of warriors and easily one of the best UFC fights of 2019.
Robbie Lawler vs. Rory Macdonald I & II
The era of Robbie Lawler as welterweight was one of the favorites of UFC fans. His battles with Rory Macdonald are considered two of the all-time best UFC fights.
In their first match at UFC 167, the two fought in a great title eliminator bout. It was an entertaining bout that ended in a debatable split decision.
When Robbie was champion, the two would meet again at UFC 189. They topped their previous fight and battled in one of the best UFC fights ever.
Both warriors were bloodied and beaten in a war for the ages. This is considered the greatest UFC fight ever by many fans and fighters. It doesn't get any better than this.
Nate Diaz vs. Conor McGregor I & II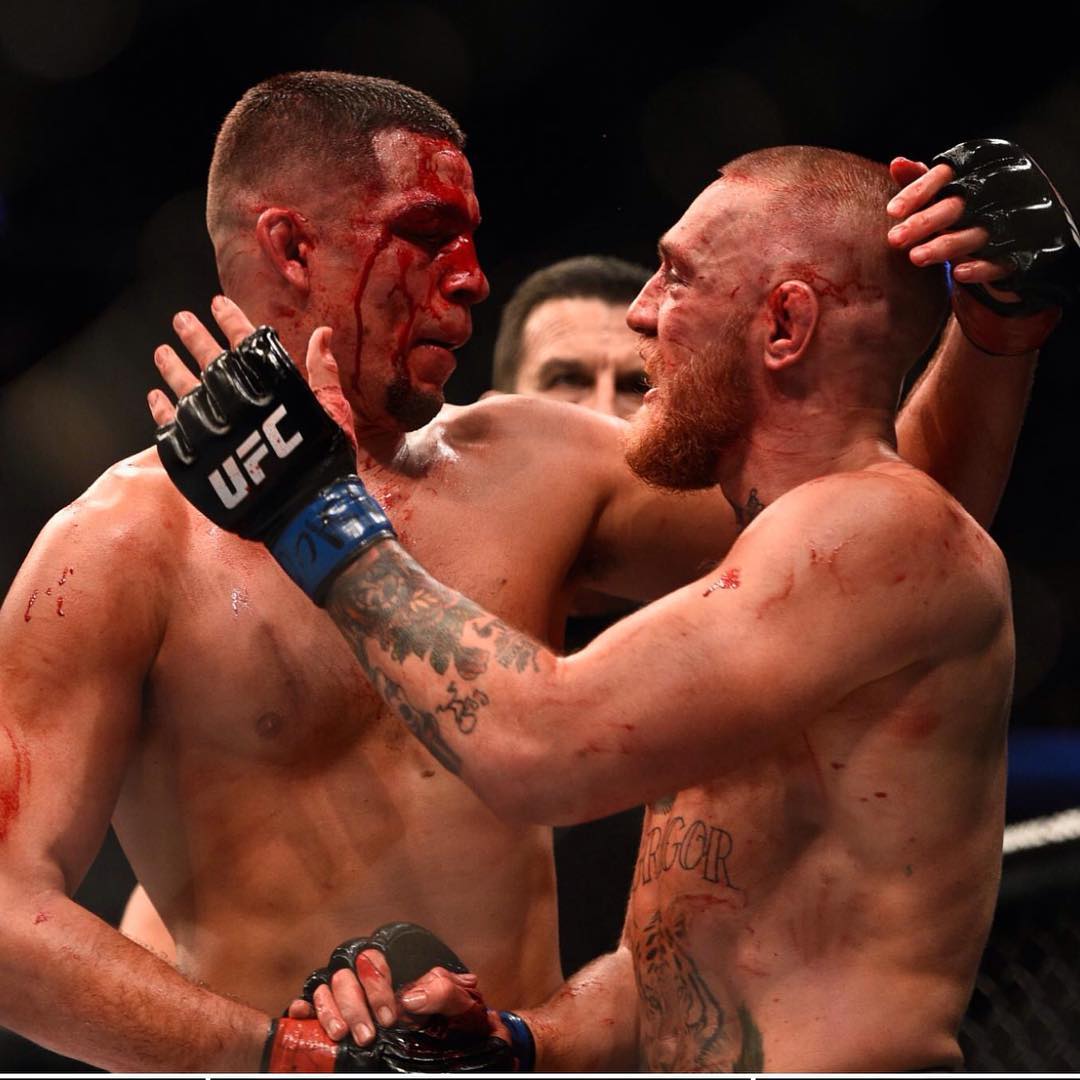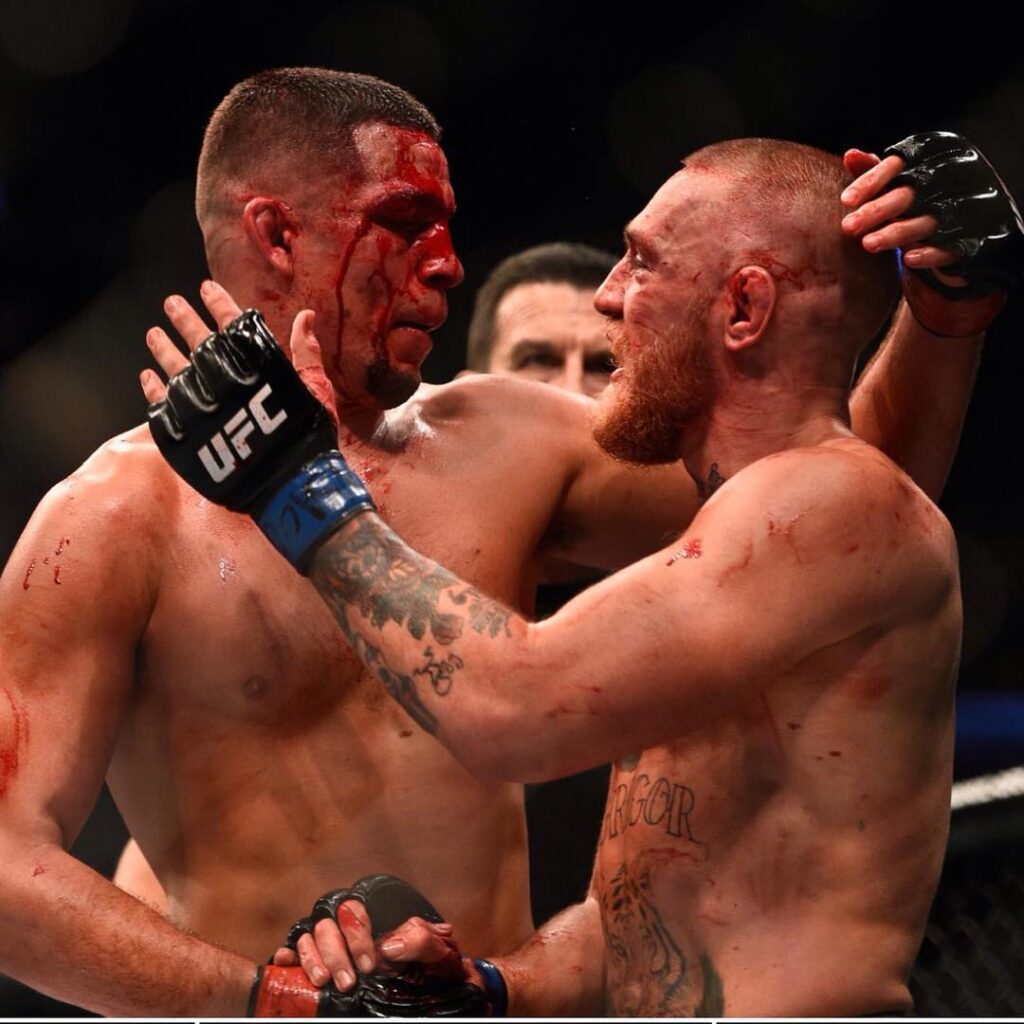 The highest-grossing rivalry in UFC history between Nate Diaz and Conor McGregor was epic to watch. Nate Diaz made himself a superstar by being a last-minute replacement to fight McGregor.
Diaz shocked the world by exposing Conor's ground game to win by RNC. This set the stage for the most-watched fight in history at UFC 264.
Conor and Nate battered each other for five rounds, the most-watched UFC fight ever. McGregor would edge out the Stockton native, which was one of the best UFC fights ever.
Nate Diaz vs. Conor McGregor I
Nate Diaz vs. Conor McGregor II
Dustin Poirier vs. Justin Gaethje I & II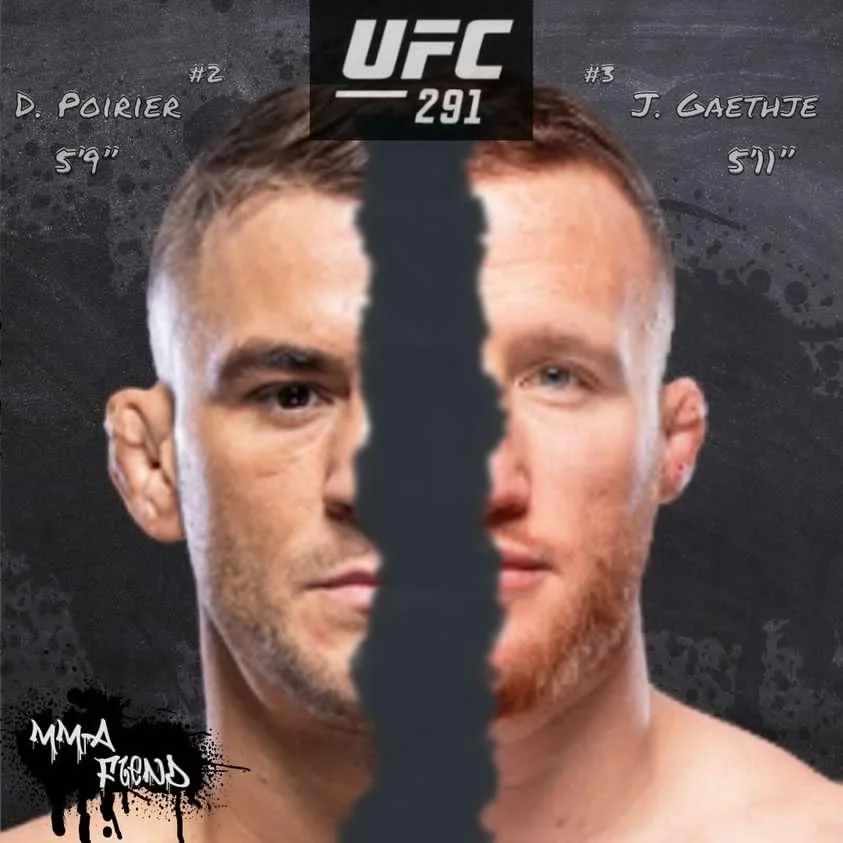 One of the best rivalries in the UFC lightweight division had their second meeting this year to even the wins. Dustin Poirier has had some interesting stories leading up to their battles.
Leading up to their first meeting at a UFC on Fox event, Poirier and Gaethje were vying for a title shot. Dustin was the UFC vet who spent years grinding, and Justin was the newly signed knockout artist.
Gaethje started their first match aggressively and overwhelmed Poirier with shots. The big fight veteran in Dustin would come out in the later rounds to land a come-from-behind KO.
This year, the careers of these top fighters would cross again. Both now being ex-champions looking to get their title back at UFC 291.
We saw a different fight from the first, as both were more technical, which surprised Poirier. Gaethje set up a beautiful head-kick KO to even the series. If we see a third fight, it would surely be another classic.
Dustin Poirier vs. Justin Gaethje I
Dustin Poirier vs. Justin Gaethje II
Israel Adesanya vs. Alex Pereira I & II
Israel Adesanya has been followed his whole combat sports career by a boogeyman named Alex Pereira. Alex had beaten Stylebender in every meeting outside of MMA.
The two would meet once again in MMA at UFC 281, they met once again for the title. Pereira would have Izzy's number again and knock him out one more time for the UFC title.
Another loss to Pereira would lead Izzy to go on a mission to get his title back. They had an immediate rematch at UFC 287, which was one of the best UFC fights of the year.
It looked like Pereira would own Adesanya once again, but Izzy didn't go down this town. He caught the champ with a beautiful counter to reclaim the title.
Israel Adesanya vs. Alex Perieria I
Israel Adesanya vs. Alex Pereira II
Cheick Kongo vs. Pat Barry
In 2011, a small UFC event hosted a bout between heavyweight contenders Pat Barry and Cheick Kongo. Their fight would only last a few moments as fans witnessed a cyclone of violence.
Pat overwhelmed Cheick with a barrage of shots. Nearly finishing him, but Kongo was about to protect himself.
That was until Cheick hit Barry right on the button to put him out cold. It was one of the best UFC fights ever and one of the most insane exchanges.
Matt Hughes vs. Frank Trigg II
The second meeting between Matt Hughes and Frank Trigg is one of Dana White's favorite fights. Welterweight champion Matt Hughes was meeting Frank Trigg for the second time as champion.
During the bout, Trigg lands a low blow that Mario Yamasaki didn't see, which caused Trigg to nearly submit Hughes. Matt could escape, reverse the position, and lift Frank off the mat.
Hughes then sprinted across the cage to slam Trigg in his corner, take his back, and submit. It's one of the all-time best UFC fights ever that is a must-watch.
Nick Diaz vs. Robbie Lawler
Nick Diaz made his presence known when he debuted in the UFC at 20 years old vs. Robbie Lawler. He famously shouts, "Stockton MFer" for the majority of the fight as he and Robbie had a war at UFC 47.
The two would have wild exchanges until Diaz caught Lawler in the second round. A great fight from two of the best UFC fighters ever early in their careers.
Justin Gaethje vs. Michael Chandler
At UFC 268, a battle took place that two lightweight contenders had long been asking for. Justin Gaethje and Michael Chandler were coming off title bout losses and looking to bounce back.
The two well-rounded power punchers did not disappoint. They went back and forth in their high-profile battle, where Gaethje got the better of the exchanges. It got FOTN honors and was considered one of the best UFC fights of 2021.
Korean Zombie vs. Yair Rodriguez
In 2018, the Korean Zombie and Yair Rodriguez met in a battle of featherweight contenders. They are two of the most talented strikers in the division, with high expectations of violence.
This fight wasn't only one of the best UFC fights of the decade but included an unbelievable finish. Yair landed an unbelievable rolling elbow to take the Korean Zombie out in the last round. It's a true must-watch classic.
Alexander Volkanovski vs. Islam Makhachev
At UFC 284, Alexander Volkanovski reached for greatness and challenged lightweight champion Islam Makachev. Many assumed that the bigger Islam would control the featherweight champ, but we were proven wrong.
Volkanovski would turn the match into a classic and nearly became the champion. As Islam faded in the late rounds, Alexander would nearly submit the lightweight champ before time expired. It is arguably the best UFC fight of the year.
Zhang Weili vs. Joanna Jedrezejcyk
Joanna Champion, the original queen of the strawweight division, met Zhang Weili for a title eliminator fight at UFC 248. This fight featured two former champions who were the best strikers in the division.
The former champions did not disappoint as they went to war for five rounds. It is not only considered one of the best female UFC fights ever but one of the best UFC fights, period.
Weili walked away the winner, and Joanna left with a giant hematoma on her head from absorbing strikes. This is a must-watch fight if you're a true MMA fan.