Former UFC lightweight champion Benson Henderson made some big headlines this week when he announced that he was officially making the move to Bellator MMA after Dana White and Lorenzo Fertitta chose to waive the matching rights on his contract offer, which apparently included more money up front.
True to previous form, White said he had nothing personal against Henderson, but also got in one last parting shot by declaring that he was looking for "top 5 guys, guys that are going 15 to 1, not the other way around," after Henderson lost his lightweight belt in August 2013 and the majority of his 155-pound ranking after fighting (and winning) his last two UFC bouts at welterweight.
While that could be considered a bit of a low blow, Henderson instead took White's comments in stride in a recent spot with MMA Junkie Radio, noting that he was the only fighter aso ranked in two divisions and that White has obviously said outlandish statements before:
"We know Dana. You know Dana. I know Dana. We've heard some other things he said. That was the worst he said? He didn't say my momma was ugly; he didn't say I was the worst fighter in history? If that's all he said, that's not too bad, considering his history of outlandish quotes."
As for the move to Bellator, which earned Henderson an immediate title shot at 170-pound champ Andrey Koreshkov at April 22's Bellator 153 from Uncasville, Connecticutt, 'Smooth' said it's already piqued the interest of fellow fighters wanting to know what it's like outside the confines of the UFC's strict uniform deal with Reebok:
"I can't even say how many texts and calls from other fighters asking me, 'What did the UFC bring to the table? What did Bellator bring to the table? How did they treat you? Was (UFC Chairman) Lorenzo (Fertitta) mad? Did Dana get all mad?'" Henderson said. "A ton of fighters hit me up and asked me that and asked for advice."
Henderson obviously has at least some problems with how the UFC does business, and there were few aspects of the world's biggest fight promoters that he didn't agree with.
Read on to the next page to find out how he blasted his former employers…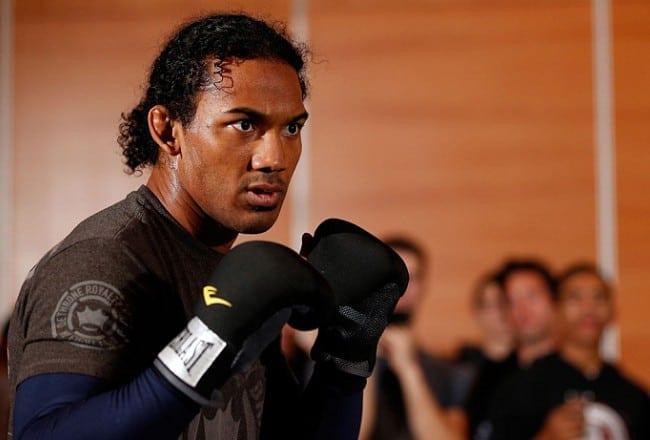 Piling onto that discussion, 'Smooth' seemed to take a small shot at the UFC and their treatment of fighters, viewing their loyalty as fleeting to say the least. He also blasted their 'official' rankings format, believing them to not carry a great deal of importance:
"If you're a onetime champion and you lose, does the UFC not want you at all any more?" Henderson asked. "Or how about all their past UFC champions who held gold, armbarred everybody in the first round, and then they lose and now they're ranked No. 3 or 4 or 5?
"We know what those rankings mean anyway," Henderson said. "There's not much weight behind those rankings.
Ultimately 'Smooth' seemed to react as his nickname suggests, finishing the interview off by declaring that while he wants to be liked, he isn't holding a grudge with White and will see him frequently when he corners his MMA Lab teammates at UFC events:
"It is what it is. I'm not too highly concerned with other people's opinions. Obviously, I like to be well-liked, and I like to leave the organization on good terms. I don't want to burn any bridges. Dana's a good guy. We shook hands. I'll see him again. I'm going to corner all my guys in the UFC. I don't think there's any bad blood. He makes outlandish quotes all the time."
The onetime UFC champ has said there's no tension between him and the UFC, and White has said the same. But with both sides also taking subtle shots at each other in the media, is there more to the story than we've been made to believe?