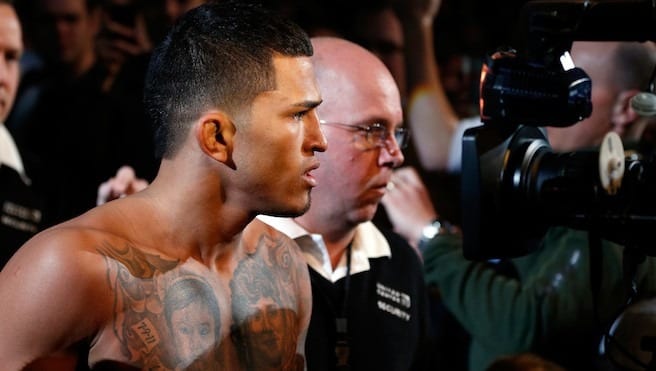 Anthony Pettis wants "The Eagle" after he has dealt with "El Nino"…..
UFC lightweight champion Anthony Pettis has had more than a year out since claiming his title at UFC 164. The injury curse once again befalling "Showtime" in his prime, and causing ripples throughout the division as a result. Now booked to face Gilbert Melendez at UFC 181, Pettis' rehab time has been paired with his coaching gig on TUF 20 opposite "El Nino".
With surging contenders Khabib Nurmagomedov, Myles Jury and Donald Cerrone staking their claims in the stacked division, it looks like the champion will have a lot of work to do should he defeat Melendez. On that subject, "Showtime" talked to Combate, courtesy of Bloody Elbow, to outline his plans:
"The fans can expect me finishing this fight in the first round. I've been out for a year and I'm excited to be back. I'm healthy, ready to fight and unfortunately, Melendez will be my first opponent after my return. I say unfortunately because I'm sure that I won't need more than one round. I have to shut up a lot of people and I have others to face. Gilbert is a cool guy, but we haven't chatted so much during the season and we haven't had any arguing. He was there to be a coach and so was I."
"I'm a fighter and I have a belt for a reason. I got injured and couldn't train like I wished but I'm back. When Khabib's time comes, we'll fight. Now I have Melendez in front of me and that is my concern but if Khabib is next, we'll fight."
Khabib Nurmagomedov has made a habit of trashing the lightweight champion in recent interviews, and it appears that those words have not gone unheard. Pettis' return will come in a three month period where Cain Velasquez, Anderson Silva and Nick Diaz will also make their long-awaited comebacks.
So what of his return fight, will Anthony Pettis need just one round to finish Gil Melendez? "Showtime" had a phenomenal amount of stock added to his name after beating "Smooth" in Milwaukee, but has also only fought five times in the last four years. Coming back to very active fighters like "The Eagle" and "Cowboy" may be quite a tall task. Although, Dominick Cruz showed us that time is but a number….