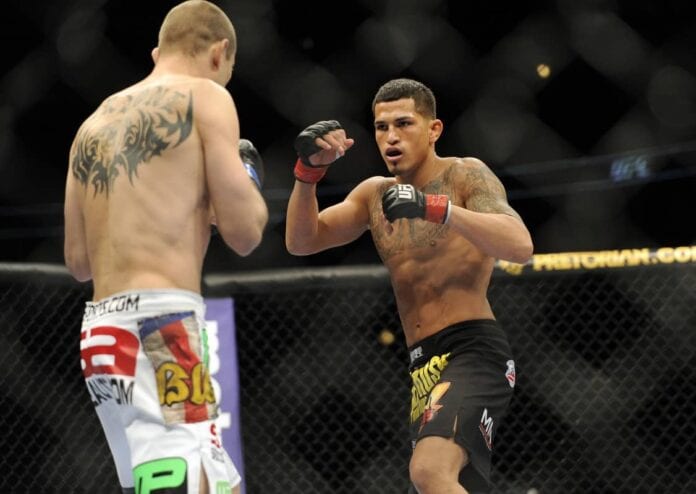 With only four days left until his UFC 185 main event bout against Rafael dos Anjos, lightweight champion Anthony Pettis is more than eager to make up for the lost time he accumulated during his highly documented recovery from a torn PCL.
"Showtime" has already let the critics that called him a weak champion get to him, and now it's time to shut them up. Elaborating his goals to FOX Sports, Pettis wanted to make a quick turnaround after his impressive UFC 181 submission win over Gilbert Melendez in order to get the ball rolling on an active 2015.
"I love fighting and it felt good to get to do it again. That's why we're getting right back in there again, so soon. I plan on this year being a very busy year."
If he does in fact defeat dos Anjos on Saturday (March 14, 2015), he'll move on to a crowded division full of hungry contenders starting with the winner of UFC 187's Khabib Nurmagomedov vs. Donald Cerrone bout. That seems to be just fine with "Showtime," however, as he plans on taking on any and all worthy opponents this year.
The champ is ready to get back in the Octagon and back in the gym for an extended stay, and it doesn't hurt that his camp is the all-the-more notorious Roufusport in Milwaukee – the gym that has grown in scope since their highly publicized acquisition of former WWE champion CM Punk.
But Pettis has been there since the boyhood days of his martial arts foundation in Taekwondo. He's seen the gym grow and mature to the MMA hub that it is today, and he's taken on a big leadership role in Roufus' famed gym as a direct byproduct. Pettis is inspired to instill hard work in his team and leads by example.
"I was a kid when I started," he recounts. I started out as one of the youngest guys there. So much has changed at the gym, over the years, but the important stuff hasn't. We work hard. I definitely feel the responsibility of being a team leader, but I don't think about it much. I don't talk or give speeches. I just try to lead by example."
Pettis moved on to discuss his preparation for dos Anjos, yet it quickly became apparent that there wasn't much to talk about. Apparently he doesn't watch film on his opponents because he doesn't want to worry about they're going to do – he leaves that part up to the coaches.
For a striker as talented and dynamic as Pettis, it isn't much of a surprise that he's primarily fixated on how he's going to take out his next opponent.
"I don't really focus too much on what my opponent might do. If you're focusing on what they might or might not do, you're not focusing on what you need to do, and then you won't do what you need to do. My coaches study tape and look for tendencies in my opponents. So, they might make sure I'm getting certain looks, or having to counter certain types of things. My coaches get me ready for these guys. I just go in, do the work, and then we fight."
With dos Anjos on the hottest run of his career, will "Showtime" gain another highlight reel stoppage to extend his reign?
Photo Credit: David Banks-USA TODAY Sports