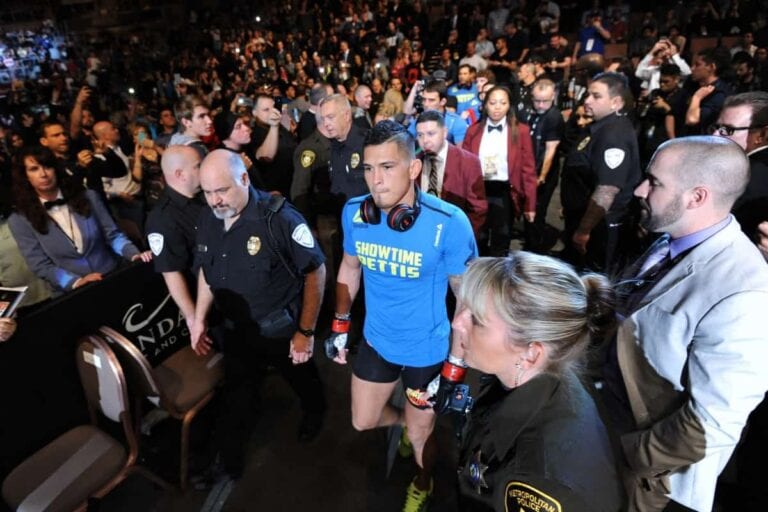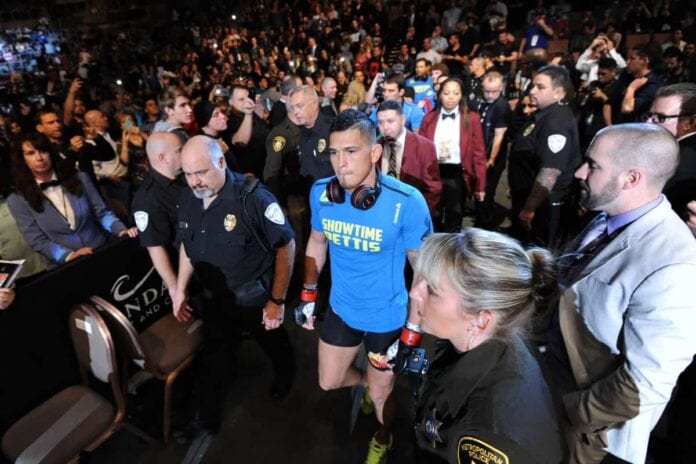 After returning from nearly 15 months off to successfully defend his title by submitting Gilbert Melendez at last December's UFC 181, lightweight champion Anthony Pettis is sick and tired of people saying that he's been ducking fights.
That's why Pettis signed on for a quick turnaround to defend his title for the second time when he faces surging No. 1 contender Rafael dos Anjos in the main event of March 14's UFC 185 pay-per-view (PPV) from American Airlines Arena in Dallas, Texas.
'Showtime' is apparently ready to make up for lost time, as he told FOX Sports' Damon Martin that he plans on defending the belt frequently as he picks off the top of the talented lightweight arena one opponent at a time:
"I had a year off with the knee injury so for me it's just getting back and getting busy, knocking these contenders off one at a time.  A lot of people talking saying I was dodging fights and I was sitting on the belt," Pettis told FOX Sports.  "I was injured and now I'm healthy.  When I'm healthy now I just keep it going."
The dynamic striker may be known for his flashy kicks inside the cage, but Pettis has impressed by submitting his last two opponents to prove that he's a well-rounded champion ready to take on all comers. But he still knows that he has to focus on the task at hand in dos Anjos, who's knocked out Benson Henderson and absolutely destroyed Nick Diaz in his last two fights.
'Showtime' is well aware of the challenge that the seasoned veteran presents, and isn't taking him lightly by any stretch:
"He's definitely dangerous.  Anybody who can go in there and knock out Ben Henderson is definitely a dangerous lightweight," Pettis said.  "I think Ben Henderson's one of the best lightweights in the world so for him to do what he did to Ben Henderson was impressive.
"There's no quit in this guy.  It's not going to be any walk-through fight by any means."
Tactful to respect dos Anjos' skills, the young champion accepts that getting cocky could certainly see him dethroned in spectacular fashion. He has too much riding on each and every fight during his quest towards his ultimate goal of being a pay-per-view king, a role that he believes is open for the taking in the UFC right now:
"I want to be one of the pay-per-view kings in the UFC," Pettis said.  "I think there's a path right now set up for someone to come in and take over and I can be that guy. I have the fighting style and people like seeing me fight.  I don't plan on changing that.  I just need to keep doing what I do and everything will happen."
The potential is undoubtedly there for Pettis to take the reigns from former top draws Georges St. Pierre and Anderson Silva. St. Pierre is currently retired and Silva is set to be suspended for failing multiple drug tests for steroids.
The first-ever MMA fighter to grace a Wheaties cereal box, 'Showtime' has the talent, skills, looks, and charisma to take the UFC to the next level in terms of mainstream exposure.
Yet he'll have to get by dos Anjos first, and if he does, a bout with undefeated grappler Khabib Nurmagomedov could await him if 'The Eagle' defeats Donald Cerrone at May 23's UFC 187.
Does 'Showtime' have what it takes to topple both of those challenges and take over as one of MMA's top stars of the future?
Photo Credit: Joe Camporeale-USA TODAY Sports