Check out this weekend's co-main event by the numbers…
Returning to New York this weekend (February 11) the UFC will be making history again. This time its the women's featherweight division that will break records, as the inaugural 145-pound belt goes on the line. There's plenty more at play in Brooklyn, though, as the man who set the bar in the middleweight division returns. Former 185-pound kingpin Anderson Silva fights Derek Brunson in NY, in a bout that will be pivotal for both men.
Should 'The Spider' lose, it could well put the final nail in his legendary career. Victory would certainly show Silva still has the chops, but for Brunson it's all about claiming that huge scalp. Take a closer look at the stats and facts surrounding this weekend's UFC 208 co-main event.
These are the stats we'll analyse:
SLpM – Significant Strikes Landed per Minute Str. Acc. Significant Striking Accuracy
SApM – Significant Strikes Absorbed per Minute Str. Def. – Significant Strike Defence (the % of opponents strikes that did not land)
TD Avg. – Average Takedowns Landed per 15 minutes TD Acc. – Takedown Accuracy
TD Def. – Takedown Defense (the % of opponents TD attempts that did not land) Sub. Avg. – Average Submissions Attempted per 15 minutes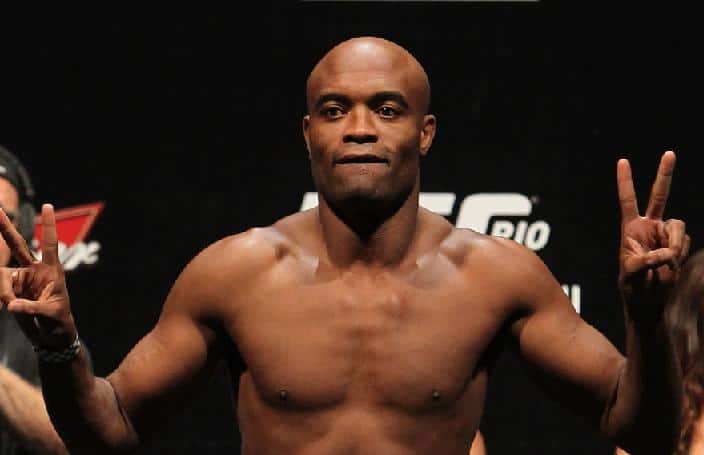 Anderson Silva
SLpM: 3.11 Str. Acc.: 63%  HEIGHT: 6′ 2″ REACH: 77″
SApM: 1.80 Str. Def: 63% RECORD: 33-8 (20 KO, 6 SUB)1 NC
TD Avg.: 0.57 TD Acc.: 77% MUAY THAI, BJJ, TAEKWONDO
TD Def.: 68% Sub. Avg.: 0.9 BLACK HOUSE/TEAM NOGUEIRA
Former 185-pound boss Anderson Silva holds all the best records in the division. Perhaps above all else is the longest title reign in UFC history. For 2457 days Silva terrorized the middleweight category, but times have changed a lot since 2012. Silva's accuracy remains his biggest weapon, paired with his finishing instinct. That said, at 41 years of age, he is starting to ever so slightly slow. His creativity and unpredictability are also huge offensive and defensive advantages.
After being KO'd and then later breaking his leg against Chris Weidman, many believed Silva could be retired. He did defeat Nick Diaz by decision in his comeback, but that was changed to a no-contest when Silva popped for steroids. Returning from suspension for a thrilling and close fight with Michael Bisping, Silva lost on the scorecards. Months later Silva would step in to fight Daniel Cormier on three days notice, but still managed to hurt the champ a few times. Long gone are the days of Silva's 16-fight unbeaten streak, but is he done as a fighter?
As mentioned, 'The Spider's' skid could be looked at in many ways, but his opponent in Brooklyn has all the tools to leave no questions…
Derek Brunson
SLpM: 3.03 Str. Acc.: 45% HEIGHT: 6′ 1″ REACH: 77″
SApM: 2.57 Str. Def: 51% RECORD: 16-4 (8 KO, 4 SUB)
TD Avg.: 3.37 TD Acc.: 34% WRESTLING, STRIKING
TD Def.: 100% Sub. Avg.: 0.8 RENZO GRACIE BJJ/JACKSON'S
Similar in stature to Anderson Silva, Derek Brunson also has some very dangerous weapons on offer. First off, he is very swollen for 185 pounds, and has great offensive wrestling. Although he lost his last fight, we saw how he deals with unique and unpredictable strikers as he destroyed Uriah Hall by TKO. Although Brunson has been finished numerous times by strikes, Silva's ability to weather big punches has also declined in recent times.
Interestingly Silva's output in striking is slightly more, albeit often in a more counterstriking style. Brunson has that forward moving style, but also absorbs considerably more strikes per minute than Silva. Essentially, this fight could boil down to who can land hardest and earliest. That said, Brunson was able to out-wrestle the Olympian muscle-mutt Yoel Romero for two rounds, so don't be surprised if he looks to grind 'The Spider' in to the canvas.
Stats harvested from FightMetric.com