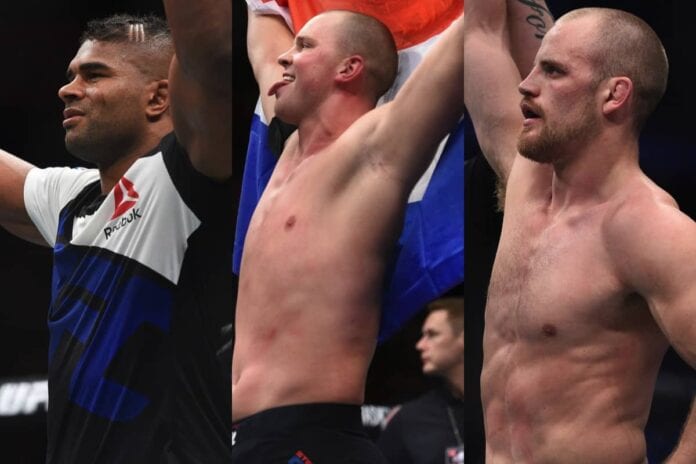 Fight Night Rotterdam was a huge success after the UFC's first event in the Netherlands came to a conclusion yesterday afternoon. It was a successful night for the Dutch, as all three hometown fighters emerged victorious in their respective bouts.
Dutch stars such as Germaine de Randamie, Stefan Struve, and No.3-ranked heavyweight Alistair Overeem made the Dutch's presence known in the MMA world with some spectacular performances.
It wasn't just the Dutch who made a statement however, with eight of the 11 total bouts ending in finishes, UFC Fight Night 87 proved to be a huge night for many fighters in Rotterdam Sunday afternoon.
Title contenders emerged, legends fell, and hometown hero prevailed. Let's take a look at the 5 biggest takeaways from Rotterdam's inaugural event.
5. Kyoji Horiguchi Begins Rise Back To Contention
Since suffering his first UFC loss at the hands of flyweight king Demetrious 'Mighty Mouse' Johnson, Horiguchi has embarked on a journey back to title contention, with his most recent stop being at Rotterdam.
The Japanese standout came out of the gates with his game-changing speed and powerful striking that led to his unanimous decision victory over Irishman Neil Seery.
With his victory in Rotterdam, Horiguchi now looks to establish a winning streak that will eventually lead him to standing across the Octagon from 'Mighty Mouse' once more.
4. Gunnar Nelson Is Back On Track
Now holding wins in two of his last three bouts, Brazilian jiu-jitsu specialist Gunnar Nelson looks to establish himself as a top contender in the welterweight division with his recent second round submission win over Albert Tumenov yesterday.
Nelson showed off some impressive striking in the bout, looking comfortable on the feet before dominating the Russian on the ground.
Since his loss to fellow BJJ practitioner Demian Maia, the SBG member was in need of redemption through victory and got just that when he locked in the rear-naked choke on Tumenov for his fifteenth professional victory.
3. The Fall of 'Bigfoot' Silva
After being starched by Dutchman Stefan Struve in a matter of fifteen seconds, it may pose to be the end of 'Bigfoot's' UFC career.
Having won only one fight in the last three years, it is unlikely we see the Brazilian heavyweight legend compete under the UFC banner again. With his last five bouts ending via TKO, Silva has only been on the better part of one of those exchanges.
The question remains if we will ever see the Brazilian compete in the sport again, or will the UFC give the man they call 'Bigfoot' one last shot?
2. Stefan Struve's Rejuvenation 
It was hard to believe that Struve once knocked out current title challenger Stipe Miocic before we saw him suffer TKO losses to Mark Hunt and Alistair Overeem.
Alas, Struve looked like the fighter he has the potential to be after his 16-second annihilation of Brazilian heavyweight 'Bigfoot' Silva. Struve dropped Silva with a devastating knee to the body and finished him off with a barrage of elbows to the skull.
The seven-foot Dutchman looked extremely confident following the bout and believes he can beat anyone in the division.
1. 'The Reem' Set For Title Hunt
Now riding an impressive four fight win streak that includes names such as Roy Nelson, Stefan Struve, Junior dos Santos, and now fellow teammate Andrei Arlovski, Alistair Overeem looks to get his long-awaited shot at the UFC heavyweight title.
After finishing Arlovski with a Karate Kid-esque jumping front kick followed up by a slew of punches, Overeem expressed his interest in taking on the winner of Fabricio Werdum and Stipe Miocic for the heavyweight title. The Dutchman also let his hometown know he plans on defending the title on hometown soil as soon as next year.
Werdum vs Miocic takes place this upcoming Saturday (May 14, 2016) in the main event of UFC 198 in Brazil, and you can bet 'The Reem' will be paying very close attention.