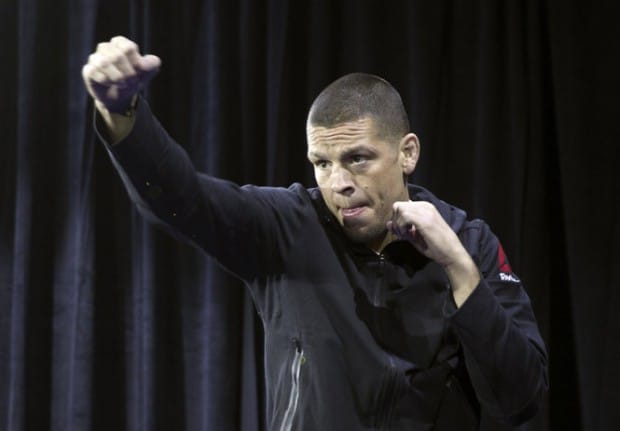 UFC color commentator Jon Anik made waves earlier this week when he made a bold statement regarding UFC 196's main event between featherweight champion Conor McGregor and Nate Diaz.
Heading into the bout, McGregor was a massive favorite over the late replacement Diaz, and Anik believed that the "Notorious" one would get the job done.
Anik was so confident in the Irishman that he offered to get a '209', which is the area code of Diaz's home in Stockton, California, tattoo if Diaz were to win.
Well, Anik has been forced to eat his words, as Diaz shocked the world last night (March 5, 2016), submitting McGregor via rear naked choke in the second round.
Nearing the end of the post-fight press conference, Diaz took his chance to fire back at Anik one more time:
"Yo! Yo! Yo!" Diaz yelled. "Jon Anik better get a motherf—ing '209' tattoo or ima whoop his little ass."
Later on during a media scrum, Diaz was asked if he would pay for the tattoo, responding in a friendly, and joking matter:
"No! Jon Anik should pay for his own tattoo!" Diaz replied when asked if he would pay for what would be Anik's first ever ink work. "He's the one who said I was going to lose, and he said he was going to get this tattoo."
"…I'm just kidding," Diaz said with a laugh. "Jon Anik, you ain't got to get no tattoo."
Although Diaz laughed it off, Anik took to his official twitter account to praise the Stockton native for his spectacular performance:
Looking for the finest tattoo artist in South Florida. All hail Nate Diaz. Honored to pay tribute to the Diaz bros. & an all-time great win.

— Jon Anik (@Jon_Anik) March 6, 2016
Undoubtedly the best win of his career, Diaz should be in line for a huge fight next if not a title shot.
How surprised were you by the outcome of last night's event?