There have been numerous examples of 'David vs. Goliath' fights over the years, as we've discussed in previous articles, but the only way to really know for sure what these larger-than-life fighters are capable of is to match them up with someone their own size.
That's no easy task as there's not exactly a whole lot of fighters out there that measure up to the kind of jaw-dropping physical dimensions that would result in a worthy, 'Clash Of The Titans'.
Nevertheless, in this article we'll delve deep into the sports history to revisit 10 real-life examples of living giants going head-to-head in the cage or ring, from 7′ 2″ wrestlers to 520-pound sumo stars, super-heavyweight boxers to former world's strongest man champions, all competing under MMA rules.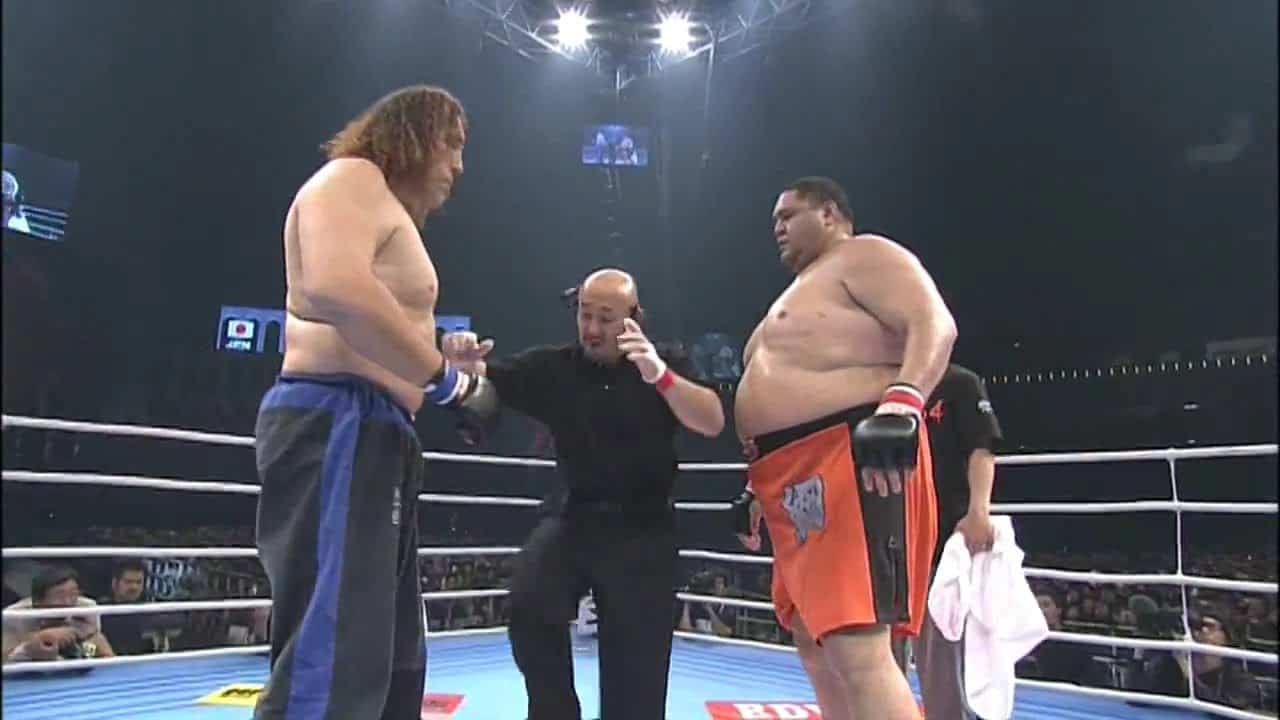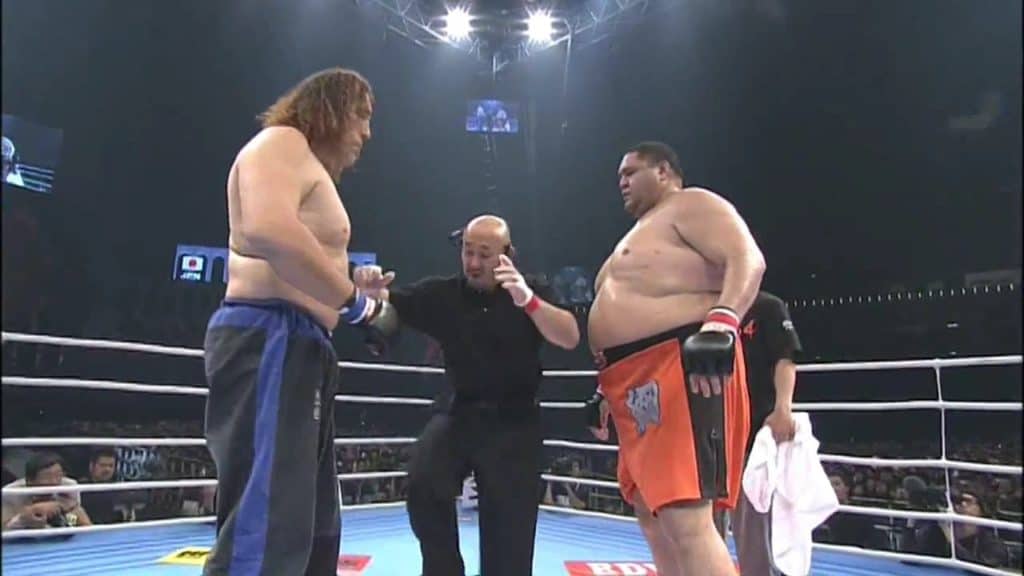 Giant Silva vs. Akebono
It's a wonder the ring could support the 7'2", 385-pound 'Giant' Silva at the same time as his 6'8", 518-pound opponent, Akebono when they locked horns at K-1 Premium 2006 Dynamite!!
Despite their enormous size, the two fighters had struggled in their MMA careers against significantly smaller, more agile opponents, so this fight presented them with a rare opportunity to pick on someone their own size.
A decorated star in the Sumo world, the Hawaiian born Akebono attempted to seize control of the fight early in the opening round by grabbing Silva in a body lock against the ropes.
However, Silva, who was also forging a career as a pro-wrestler, had trained Brazilian Jiu-Jitsu under the Gracie family, and he put that knowledge to good use by attempting a standing kimura submission.
Unsure what to do, Akebono eventually opted to just flop on top of Silva, but the Brazilian held onto the submission, rolled on top and kept cranking on the shoulder lock until his opponent was left with no option but to tap out with just 68 seconds on the clock.
Bob Sapp vs. Stefan Gamlin
Back in 2003 Bob Sapp was still very much on the rise, having recorded a 3-1 MMA record up until that point, in addition to a 4-2 kickboxing run that had included back-to-back victories K-1 legend, Ernesto Hoost.
For his next MMA fight at the K-1 World Grand Prix 2003, 'The Beast' was matched up with a man even bigger than he was, with the 6'7", 360-pound Gamlin having a 2" height and 30-pound weight advantage heading into his pro debut.
Sapp came out swinging from the opening bell, looking to bulrush his opponent with a barrage of blows that backed him up against the ropes.
Clearly coming off second-best in that toe-to-toe exchange, Gamlin changed tactics and was able to take Sapp down, but it wasn't long before 'The Beast' showed off his incredible strength by simply strong-arming the bigger, heavier man off him in order to stand back up.
Sapp then got right back to business on the feet, clubbing Gamlin with repeated left and right hands that left him stunned against the ropes.
As Gamlin's head sagged, Sapp seized on a standing guillotine choke and cranked hard on it to seal the submission finish.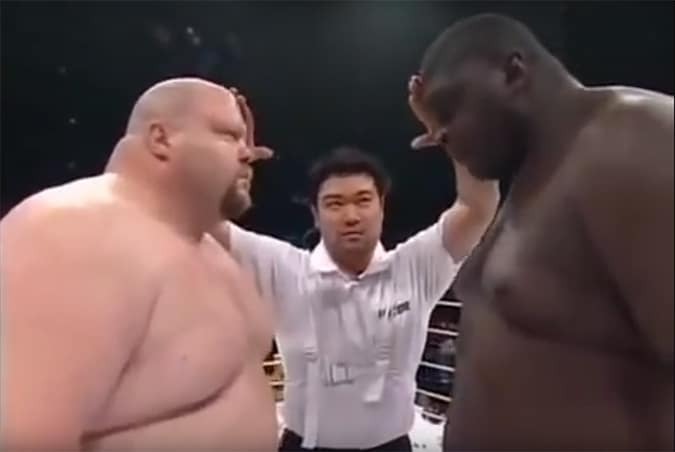 Butterbean vs. Zuluzinho
Japanese promotion PRIDE were the masters of the freakshow, and 'Butterbean' vs. 'Zuluhinho' was definitely right up there with the freakiest fights they ever put on.
Both fighters weighed in at a scale-busting 407 pounds for the bout, though at 6'7" tall, Zuluzinho had an 8" reach advantage over the bowling-ball shaped Eric Esch for their fight at PRIDE 34 in 2007.
Butterbean was a super-heavyweight boxer long before his MMA career, but nonetheless it was Zuluzinho who waded forward throwing heavy leather as the fight began.
However, when Esch staggered him with heavy artillery of his own, Zulu quickly switched to clinching up with him instead and then attempted to throw him to the mat.
The takedown didn't go according to plan though as Butterbean's rotund belly seemed to aid him as he rolled his opponent off and got on top.
Esch then used his massive bulk to keep Zuluzinho in place for an extended period of time as he landed ground and pound, then showed he wasn't just a puncher by applying a kimura submission for the finish mid-way through the opening round.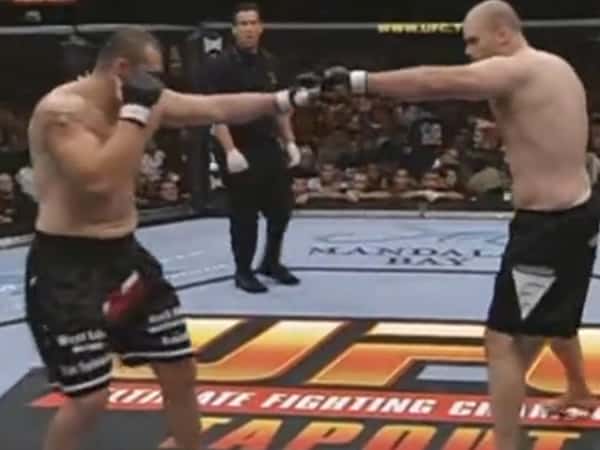 Tim Sylvia vs. Gan McGee
UFC 44 was one of the promotions biggest ever events at the time, and the co-main event heavyweight title fight that night between the champion at the time, Tim Sylvia and Gan McGee was billed as a "Battle Of The Giants."
This was a fight that was big in every sense of the word, with Sylvia standing 6'8" and holding a perfect 15-0 record at the time, while McGee stood 6'10" tall and had won 12 of his 13 professional fights.
Both men looked to trade punches in the opening round, with Sylvia getting the better of it as he repeatedly fed McGee the jab, while looking to set up his right hand.
Approaching the two minute mark, Sylvia was able to find a home for his powerful right hand not once, but twice in quick succession to the chin of 'The Giant', toppling him to the canvas.
Sylvia followed up with thunderous right hands on the mat, appearing to knock out the motionless McGee, though officially it was recorded as a TKO.
This was a big win for 'The Maine-Iac', but his celebrations were short-lived as he'd test positive for steroids afterwards, leading to him being stripped of his title.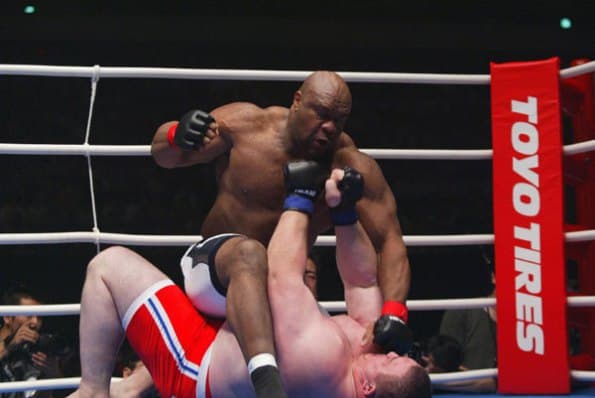 Bob Sapp vs. Alan Karaev
A former Russian sumo wrestler and multiple-time world arm-wrestling champion, the 6'7", 400-pound Alan Karaev appeared to have the physical proportions to give even the 6'4", 320-pound Bob Sapp problems when they met at Hero's 2 in 2005.
By this stage Sapp was at his peak, as he'd not only compiled a 7-2-1 MMA record, but he was also less than a month removed from having won the K-1 kickboxing World Grand Prix 2005, taking his fame to new heights in Japan.
Showing no respect for his accomplishments, Karaev blitzed Sapp with strikes in the opening seconds of the fight and then managed to take 'The Beast' down before he had a chance to retaliate.
From there Karaev moved to full mount, but after a failed rear-naked choke it was Sapp's turn to get on top and take full mount.
The two Titans would reverse position twice more before a lack of action led to the referee standing them back up.
That played in Sapp's favor as on the reset he immediately started to find a home for his left hand, connecting with it several times, with the final one sending the Russian crashing onto the canvas for a knockout finish.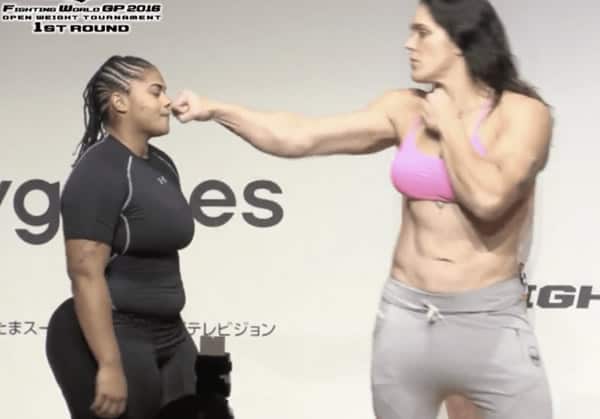 Gabi Garcia vs. Destanie Yarbrough
In woman's MMA it's rare to see a fight above 145 pounds, let alone a true heavyweight match-up, but in 2016 the Japanese promotion Rizin FF made it happen with a match-up of truly gigantic proportions.
In one corner stood 6'2", 245-pound former grappling champion Gabi Garcia, while in the other was the 5'9", 227-pound former pro-football running back Destanie Yarbrough.
The fight started out with tentative exchanges on the feet between the two, who each had only one previous professional fight apiece, but then Garcia was able to drag her opponent to the mat where she's much more comfortable.
From there Garcia softened Yarbrough up with punches and even a knee to the head, before showing of her BJJ skills by setting up an Americana submission, stepping into full mount as she did so to force Yarbrough to tap.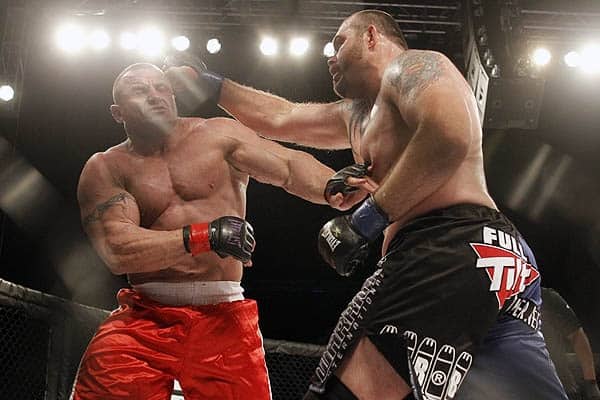 Tim Sylvia vs. Mariusz Pudzianowski
As a former five-time 'World's Strongest Man' winner, there was a great deal of hype behind Polish hero Mariusz Pudzianowski when he first decided to start competing in Mixed Martial Arts.
Initially fighting in his native Poland for the KSW organization, Pudzianowski was fed a couple of easy opponents to begin with and swatted them aside, which led to a much tougher fight with former UFC heavyweight champion Tim Sylvia for the newly formed Moosin promotion in May of 2010.
During his Strongman career, the 6'1" Pudzianowski had weighed as much as 320 pounds and had the physique of a bodybuilder, though by this stage he had cut down to 273 pounds to improve his cardio, while the 6'8" Sylvia was going through a rough patch in his career and had ballooned up to 305 pounds.
Was Pudzianowski truly a super-heavyweight MMA star in the making? This fight suggested otherwise as 'Pudzian's' still freakishly muscular build led to him running out of gas rapidly as he attempted to grapple with 'The Maine-Iac' in the early minutes of the fight.
Pudzianowski's face practically turned purple with exertion as Sylvia calmly began to pick him apart, tagging him repeatedly with straight punches and the occasional hard knee from the thai clinch.
With 'Pudzian' possessing neither the skills nor the stamina to deal with this level of competition, the fight essentially became one-way traffic as Sylvia continued to mark his opponent's already bloodied face up with knees and punches until early in the second round Pudzianowski suddenly just flopped to the mat exhausted, before tapping out due to ground and pound strikes soon afterwards.
Semmy Schilt Vs Gan McGee
PRIDE Total Elimination 2004 played host to a super-sized match-up between 6'11" Dutch striker Semmy 'Hightower' Schilt and 6′ 10" former UFC heavyweight title contender Gan McGee, for the opening round of the promotion's heavyweight tournament.
In the early stages of the fight it was McGee who took the initiative, landing an early takedown before gradually moving to full mount.
McGee didn't seem to be in any particular rush to take advantage of the position though, and Schilt did his best to negate much of his offense, and even landed some of his own, leaving 'The Giant's' face bloodied.
Then Schilt was able to sweep on top as McGee failed on a leg lock attempt, and he wasted no time going on the attack with an armbar attempt that swiftly forced McGee to submit.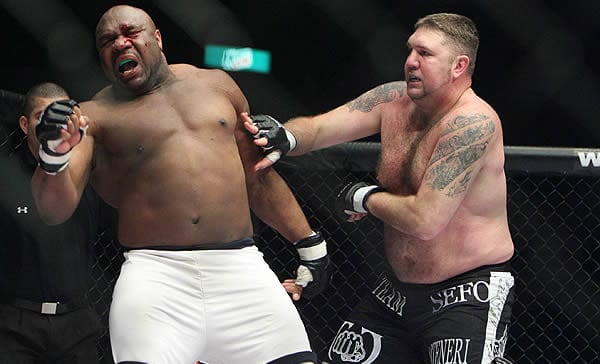 Bob Sapp vs. Jan Nortje
'Strikeforce: At The Dome' in February of 2008 featured a colossal fight between 'The Beast' and 'The Giant' aka Bobb Sapp and Jan Nortje.
This fight marked the 6'5", 365-pound Sapp's first ever fight in the United States, having previously made his name competing in Japan, where he'd now compiled a respectable 9-2-1 record.
A South African who'd also competed in boxing and kickboxing, The 6'11", 333-pound Nortje managed to shrug off Sapp's early clinch work and then unleashed repeated left hands that not only stunned 'The Beast', but appeared to take the fight right out of him.
Sapp was left cowering from more strikes as he slumped to the mat, leading to TKO stoppage in just 55 seconds.
This fight would mark the beginning of a dismal downward decline for Sapp that would see him lose 16 of his next 18 bouts.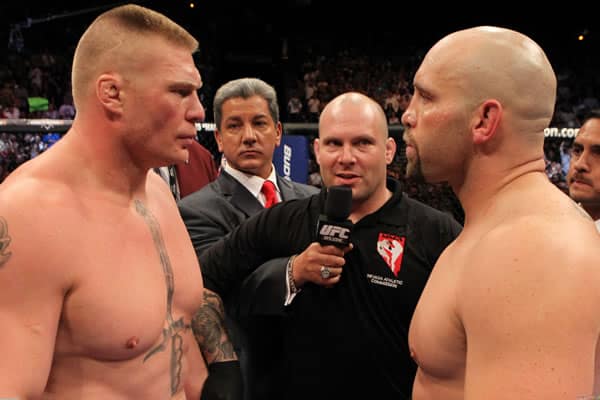 Brock Lesnar vs. Shane Carwin
If the UFC had a super-heavyweight division then there's no doubt that Brock Lesnar and Shane Carwin would have fought in it.
Prior to his MMA career the 6'3" Lesnar was known to walk around at as much as 320 pounds, while the 6'2" Carwin was in a similar position, having originally fought at super-heavyweight, but the fact that they were both genetic freaks meant that even at their biggest they still looked in excellent shape.
Even at the UFC heavyweight limit of 265 pounds they still possessed physiques like a cartoon action hero for what would prove to be a truly memorable title clash of the titans at UFC 116 in the summer of 2010,
Carwin was utterly dominant in the opening five minute spell that night, initially wobbling Lesnar with an uppercut, then a big knee which would lead to the champion slumping to the canvas.
Carwin followed him to the mat and unleashed a relentless barrage of ground and pound blows, but despite being famed for his otherworldly knockout power, he couldn't finish the battered, bleeding and bruised Lesnar, and so the fight went to the second round.
Despite having endured a nightmare first round, Lesnar still grinned across at his opponent as they prepared for round two, and he had good reason to smile as it turned out that Carwin was essentially now running on fumes after having gassed himself out while looking for that emphatic first round finish.
Lesnar was able to capitalize on that, taking Carwin to the mat before showing off a rare glimpse of his submission skills to tap out the exhausted challenger with an arm triangle choke midway through the round.