On the surface, MMA fighters may seem like they have nerves of steel, and certainly anyone who's been brave enough to step into the cage and compete has demonstrated tremendous strength of character, regardless of whether they ultimately win or lose.
However, as confident and composed as they may appear on the outside, it's interesting to know just how many MMA stars suffer from crippling pre-fight nerves that turn their insides upside down, sap their strength, erode their self-belief and leave them contemplating quitting the sport.
In this article, we'll look at 10 prime examples, including some of the biggest stars in the sport, who have admitted that some of the toughest battles of their careers have taken place in their own minds backstage before the fight has even begun.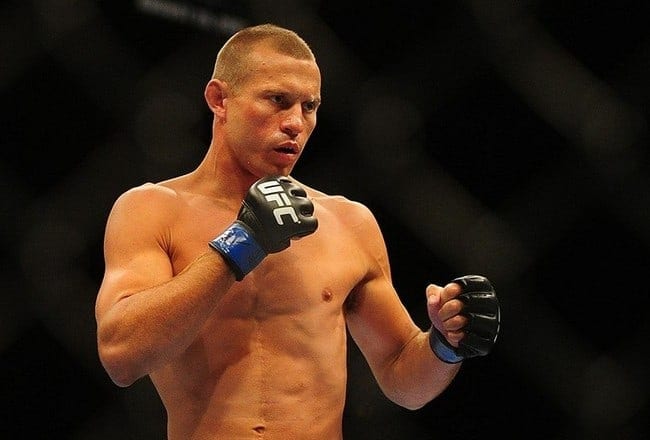 Donald Cerrone
As one of the UFC's most active fighters, as well as an extreme sports enthusiast, you'd be forgiven for believing that Donald 'Cowboy' Cerrone is immune to fear.
Not all is as it seems though, as his long-time coach Greg Jackson knows only too well, revealing to MMAJunkie that "He gets really nervous right before the fight.
"Usually how it works is, he gets nervous, we talk about how he's never, ever going to do this again, and then he goes out and fights."
According to Jackson, 'Cowboy' doesn't watches footage of his opponents as it can affect him negatively while indulging in extreme sports during fight week helps him keep his mind off his upcoming bout.
Jackson's not saying anything that Cerrone wouldn't admit to himself though, as he's gone into great detail about the trials and tribulations he faces in the hours before a fight.
"It's a lot of pressure," Cerrone said in a special UFC feature. "So, you're back there, you're warming up, your arms are heavy, your legs are weak, you're like, 'What? Why do I feel like this?' It's like the weirdest feeling."
On camera as Cerrone walks out to the Octagon he might look like he's ready to go to war, but the reality is that internally his mind is reeling.
"You're like, 'what face do I need to do right now? Do I need to look serious, because I feel scared, but I don't know how I need to look on camera. Do I need to look like a bitch walking into this motherf***er, or do I need to act tough?"
Only when he sets foot in the Octagon does Cerrone finally break free from that inner turmoil and become mentally prepared to do what he does best.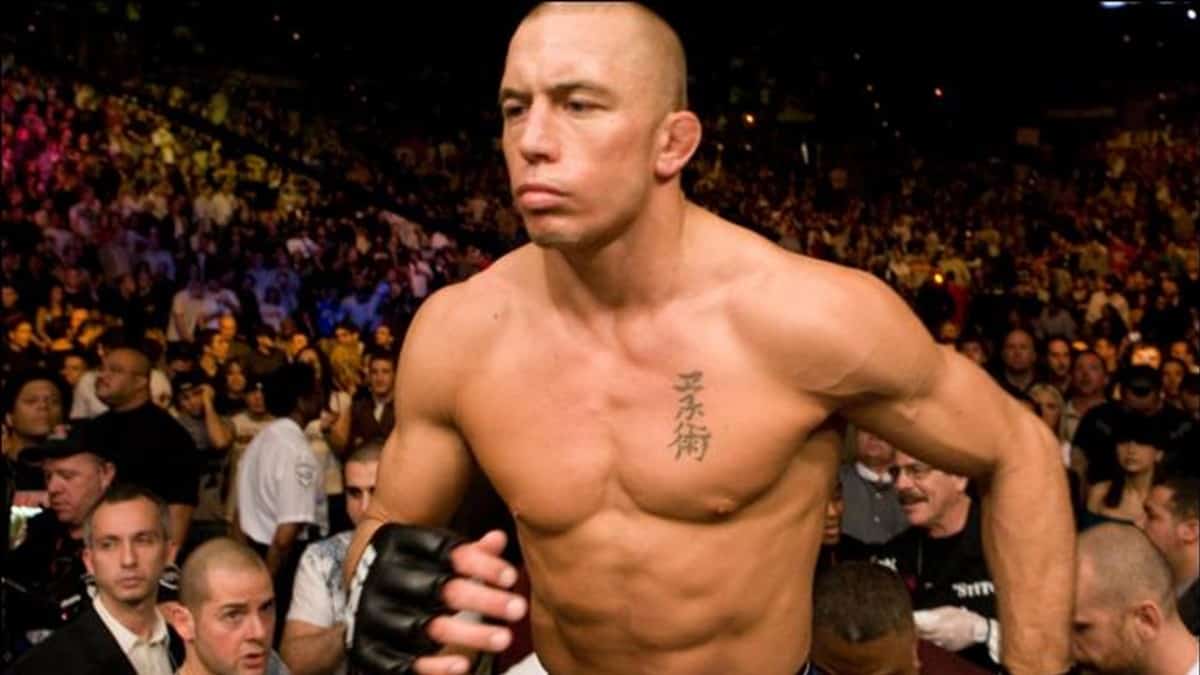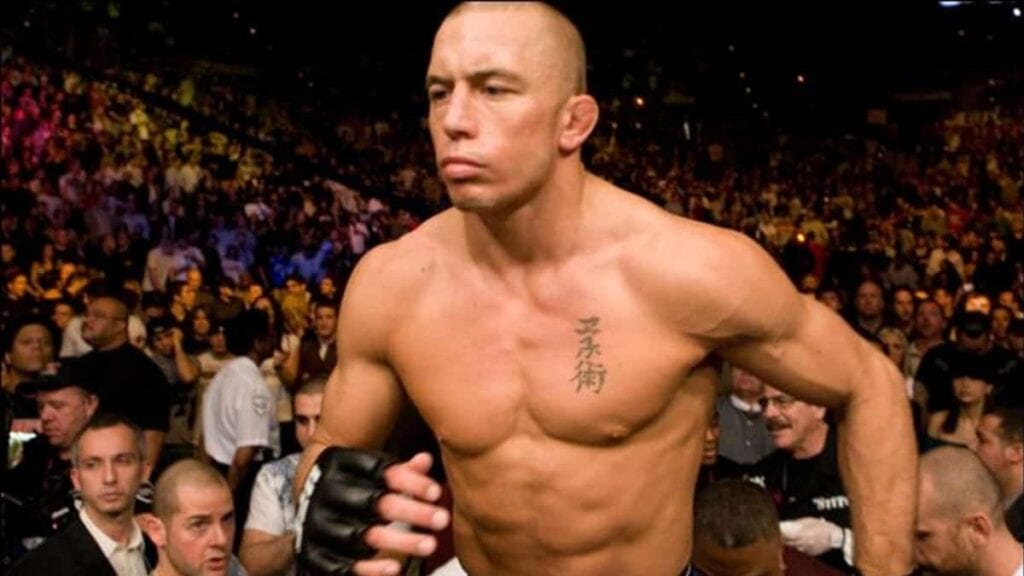 Georges St-Pierre
Pre-fight nerves have haunted UFC all-time great Georges St-Pierre throughout his entire career, starting from his debut in 2002, when he recalls being unable to sleep for three days beforehand.
It hasn't got any easier for him over the years, as his teammates can testify.
Rashad Evans recalls going to visit the Canadian superstar in his hotel room prior to one of his numerous UFC title, only to be greeted by a nervous wreck.
"I hate this," St-Pierre told his teammate. "This is my last fight. I am done. I can't stand this sh*t!"
That wasn't a one-off occurrence as Brendan Schaub also remembers being sent up to St-Pierre's room by his coach Greg Jackson to keep him company before another fight at UFC 100.
Schaub was just breaking into the UFC via The Ultimate Fighter show at the time and had hoped the two would have an uplifting motivational talk, but it turned out to be quite the opposite.
"I'm so f***ing scared!" a stressed out St-Pierre blurted out almost immediately.
Despite the inner-turmoil he suffers before his fights, the pound-for-pound great recognizes that harnessing his fear can turn it into a powerful weapon.
"The thing about being nervous is that keeps me charged, focused and helps me perform better."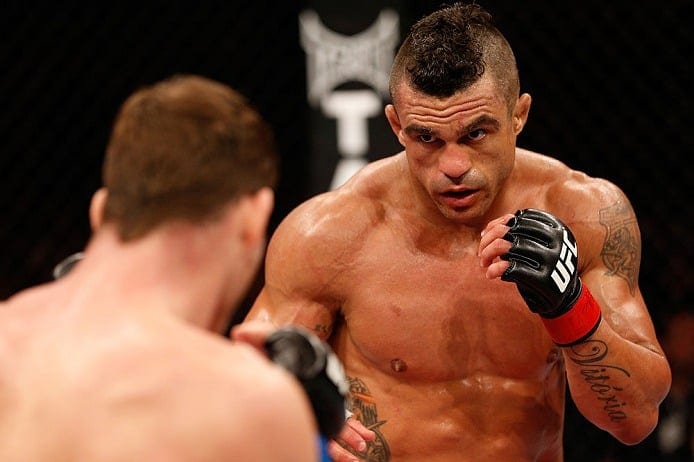 Vitor Belfort
He may be one of the most fearsome strikers the sport of MMA has ever seen, but over the years some have suggested that Vitor Belfort's Achilles Heel may be his own mind.
Take legendary referee 'Big' John McCarthy for instance, who has dealt with Belfort from his earliest fights in the Octagon and has witnessed firsthand the Brazilian's struggles with the mental side of his fight game.
Prior to his fight with Randy Couture at UFC 15 in 1997, an anxious-looking Belfort called McCarthy to his hotel room and quizzed him about the different ways his opponent would legally be able to attack him with ground and pound if he used his wrestling to get on top.
McCarthy did his best to explain the rules, but left the room convinced that Belfort was going to lose based on the fact he was completely fixated on what Couture might do to him.
The following night almost proved to be a complete farce as Belfort refused to come out of his dressing room for the fight, with McCarthy having to go backstage to find him.
"He's having stomach problems," Belfort's cornerman informed him, with the Brazilian later blaming it on having "worms,", but McCarthy knew better.
"What Belfort really had was a bad case of nerves," McCarthy stated in his biography, 'Let's Get It On.'
Belfort did eventually make it out to the cage, but lost the fight in eight minutes…by ground and pound of course.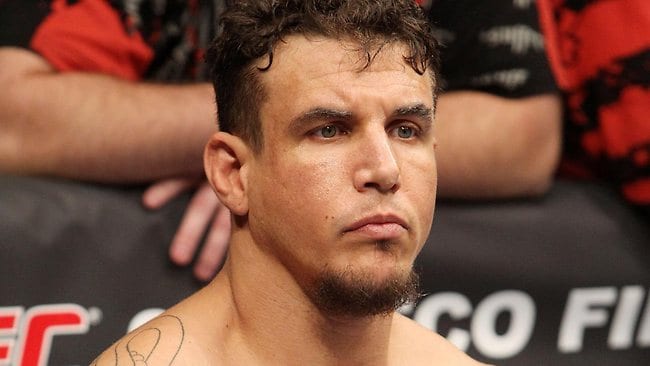 Frank Mir
Frank Mir may be tied with Michael Bisping and Tito Ortiz for the most bouts in UFC history (27), but he knows only too well the emotions that fighters go through in the hours before a big fight, and in his experience it's something that never really seems to goes away.
In a video interview for the UFC, Mir describes his state of mind on fight day as "controlled hysteria," experiencing a rollercoaster of emotions in which moments of meditative calm are followed by blind panic.
One thing that always stays constant however is that eating on the day of a fight is always a challenge for the former heavyweight champ.
"I haven't found a way to hold food down yet. Oatmeal…banana…you end up puking it and your stomach still doesn't feel right."
He also talks about how he can hear his heartbeat pulsing fast in his ears, how fighting in the main event can be tough because it allows more time for negative thoughts to rise up, and how he's learned that you have to fight through the feeling of lethargy that sets in during the pre-fight warm-up.
All in all, it's an incredibly stressful experience, and with that in mind, Mir says that there's one thing you should never ask him backstage before a fight.
"Don't ask me how I'm feeling. I feel like sh*t. I'm rethinking my career choices right now. I wish I'd stayed in college.
"C'mon dude. I'm about to walk into a cage half-naked. How would you feel right now?"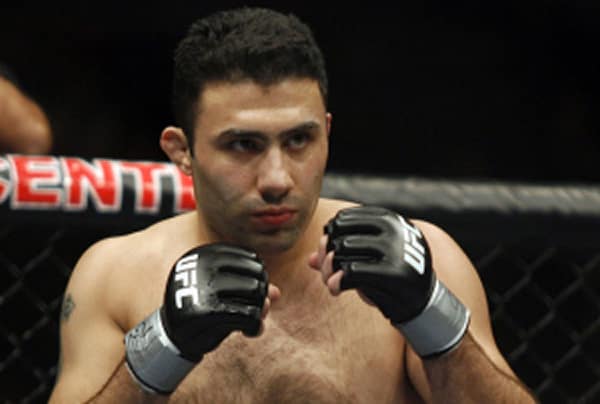 Karo Parisyan
In his heyday, Karo Parisyan was a highly regarded UFC fighter, but an internal struggle to contain his growing anxiety would eventually consume him and tarnish his reputation.
According to Parisyan, the stress of competing in MMA from the age of 12 gradually took a toll on him mentally and physically, until he started having full-blown panic attacks in the midst of his UFC run.
Parisyan was clinically diagnosed with the condition in 2008, right around the time when his career started to take a drastic turn for the worse.
He describes having "the worst feeling ever" before a loss to Thiago Alves, after which a painkiller addiction led to a suspension from the sport that only exacerbated his anxiety to a level that became so unbearable he had to pull out of his next fight against Dustin Hazelett in 2010.
"The physical panic attack is the one that hits and brings you to your knees," Parisyan told MMA Weekly in 2012. "And whoever's had a panic attack, I want them to, for a second, realize that when they were having a panic attack, the worst one, when they thought they were going to die, I had to walk out in front of 20,000 people and fight."
Parisyan was never fully able to get his issues under control, and though he's not officially retired and occasionally toys with the idea of making a comeback, it's been three years since the 35-year-old's last fight.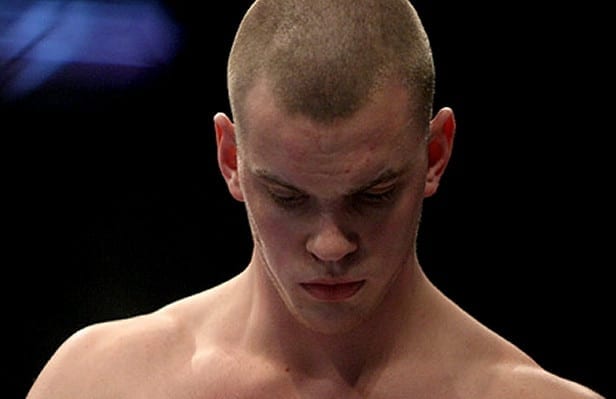 Stefan Struve
The 7-foot-tall 'Skyscraper' Stefan Struve suffered a full-blown panic attack backstage prior to his fight with Matt Mitrione at UFC 175 in 2014, and given his circumstances at the time it's not hard to see why.
Less than a year earlier, Struve had unexpectedly been diagnosed with having an enlarged heart and a leaking aortic valve.
It could well have been a career-threatening condition, but thankfully, under careful medical supervision, Struve was able to get his health back under control and was approved to continue fighting at the end of that year.
The fight with Mitrione was to have marked his return to competition, and so understandably Struve's nerves were particularly on edge that night, and backstage it all got too much for him.
"He started to black out and have a panic attack, like there was something wrong with his heart again," White told reporters backstage after Struve's fight was canceled while the main card was already underway.
Thankfully the incident wasn't related to Struve's heart condition, with the fighter himself blaming the medication he was taking for exacerbating his anxiety, and he's since amended that and racked up six more fights in the Octagon.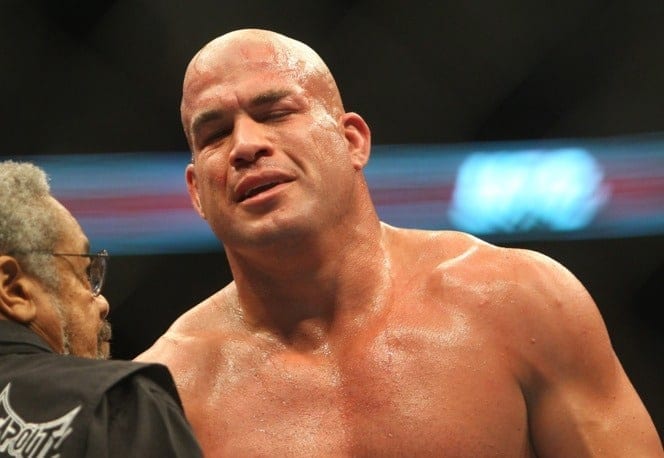 Tito Ortiz
As a former UFC light-heavyweight champion and Hall-of-Famer, Tito Ortiz has always given off an air of supreme self-confidence prior to his fights, but backstage when the cameras aren't watching it's a whole different story.
"Before a fight I think it is anxiety more than anything. I don't get nervous; I think it is anxiety. I throw up and cry.
"I am just a very emotional person when I fight, [but] when I am out there competing I am ready."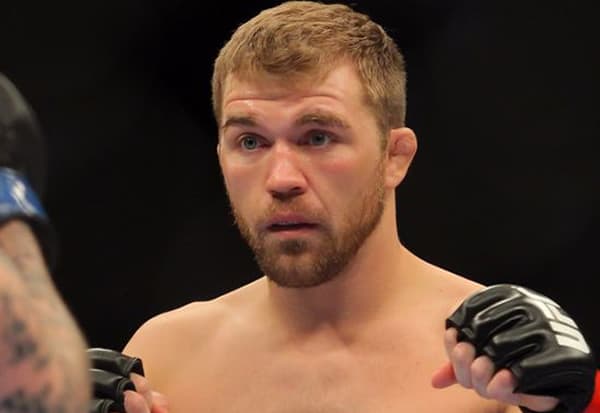 Bryan Caraway
A self-confessed 'nervous nancy', being on camera 24 hours a day in the pressure cooker environment of 'The Ultimate Fighter' reality show was something of a nightmare scenario for Bryan Caraway.
"Not having people I know, not having familiar faces, not knowing who you're going to fight, cutting weight on short notice – basically, it's the most stressed you can ever possibly be," Caraway told UFC.com after the show aired.
Caraway went as far as to see a sports psychologist to cure the negative mindset and sick-to-the-stomach feelings that he'd encounter pre-fight, but prior to his initial elimination round match-up on TUF he was falling back on old habits.
"I'm super-nervous, man, super-nervous," the on-edge Caraway said backstage. "A little scared – I'm not going to lie."
Caraway won his fight, but it wasn't long before everyone on the show became aware of just how much of a bag of nerves he was.
"I've never met a guy with so much experience who gets that nervous before a fight," fellow contestant Roland Delorme recalled later. "He's literally throwing up before a fight."
However, Caraway still managed to make it to the semi-finals of the show and has since gone on to compile a successful 6-2 run in the UFC, while claiming that his experiences on TUF actually helped him partially overcome his anxiety.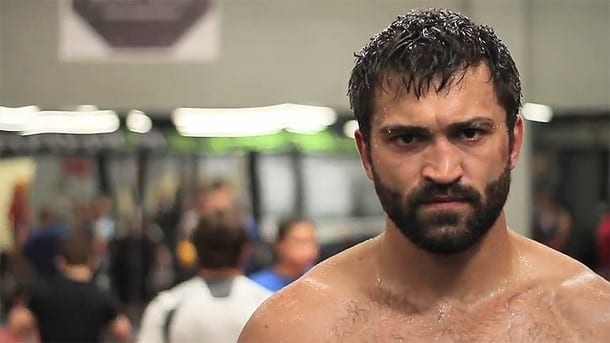 Andrei Arlovski
Few people have more big-fight cage experience than veteran heavyweight star Andrei Arlovski, but even at this late stage in his career he still has an ongoing battle with controlling his nerves.
In 2014, Arlovski was finally granted an opportunity to return to the UFC after a six-year absence, and knowing that a loss could see him heading straight back through the exit door, the former champion's stress levels were through the roof prior to his comeback fight with Brendan Schaub at UFC 174.
What followed was a terribly tentative fight in which both fighters were extremely hesitant to engage for fear that they might get caught with a fight-ending punch.
Nonetheless, Arlovski emerged with a controversial split decision victory, but backstage he admitted he was ashamed of his performance and blamed it on his pre-fight anxiety.
"Before the fight when I stepped in the octagon, my legs and hands shook for some reason. I was just nervous. It was like the first time I fought 14 years ago," Arlovski sheepishly told reporters.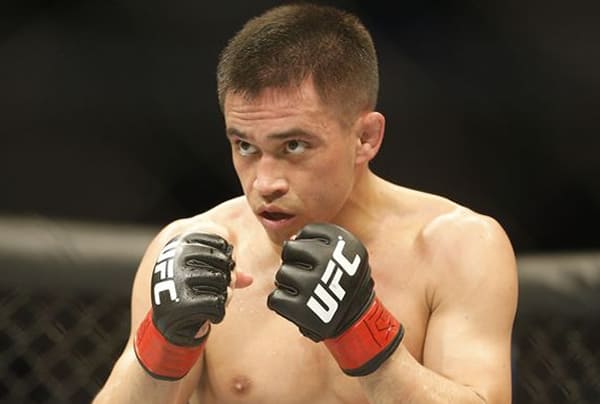 Chris Cariaso
In 2014, Chris Cariaso was plucked from relative obscurity as the No. 10-ranked fighter in the flyweight division to fight the longtime champion and No.1 pound-for-pound fighter in the sport, Demetrious Johnson, in the main event of UFC 178.
Suddenly being under such an intense spotlight was a shock to the system for Cariaso, who had spent all but one of his previous 10 fights in the UFC competing in the prelims.
The pressure of now headlining a pay-per-view event in a fight that everyone expected him to lose didn't fully sink in until the worst possible time – just minutes before he was due to make the walk to the Octagon.
"We had the fight going on in the background, and I remember hearing Joe Rogan say on the telecast, 'Oh, he's going to have to fight the fight of his life,' or whatever," Cariaso recalled in an interview with MMAfighting.com.
"…[I remember thinking,] 'Oh my God, what am I going to do? What am I doing here?' (Like a) panic attack. Like, 'F**k this, I want to retire.' Like five minutes before my fight. It was ridiculous."
Any hope of Cariaso pulling off a major upset that night quickly evaporated and he would end up being steamrolled and submitted in the second round.