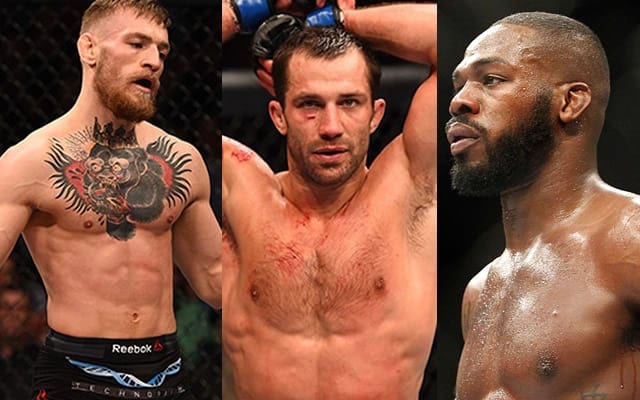 2016 has been a hugely successful year for the UFC in many respects, but while fans have been treated to some of the biggest fights and most stacked cards in the history of the sport, the age old problem of major fights falling through has continued to be a thorn in the promotion's flesh.
In this article we'll take a look back at the 10 biggest fights to have fallen by the wayside in the past 12 months, and it's a star-studded selection of mouth-watering match-ups that includes no less than five title-fights that slipped through the net.
In all, a remarkable eight of the 10 fights listed were actually scheduled to headline an event, and with some of them falling through on anything from a few days to a few weeks notice, it's something of a minor miracle that, for the most part, the UFC has been able to roll with the punches and come out on top in the end.
That being said, the ramifications of some of these bouts being canceled has been massive at times, and in some cases has led to not only the fight being called off, but entire events being razed to the ground in one fell swoop, costing the UFC a fortune in the process and robbing fans of the chance to see their heroes in action at pivotal moments in their careers.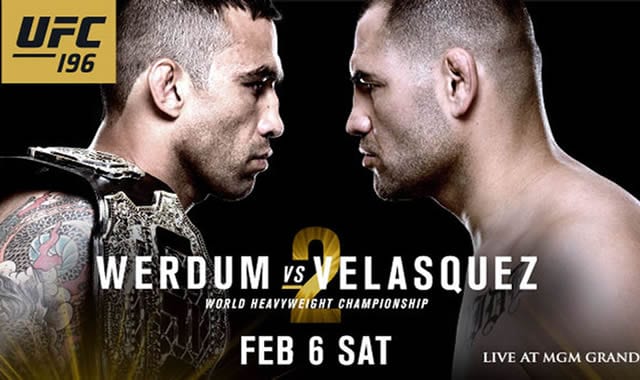 Fabricio Werdum vs. Cain Velasquez II
Fabricio Werdum delivered something of an upset at UFC 188 in Mexico City in 2015 when he submitted reigning heavyweight champion Cain Velasquez with a guillotine choke.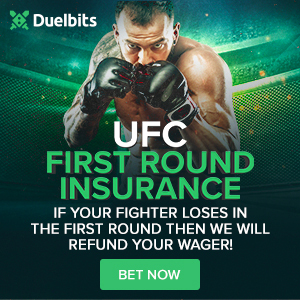 Velasquez had been uncharacteristically lethargic during the fight, with his camp later suggesting that he'd been caught out by the unusually high altitude in the city, which helped their push for an immediate rematch, with fans curious to see if 'Sea-level Cain' would fare any better against the Brazilian.
The second fight was booked to headline what was at the time known as UFC 196 on February 2nd in Las Vegas during Super Bowl weekend, but disaster struck when Velasquez was forced out with a back injury on less than two weeks notice.
Werdum then also withdrew from the show due to injuries of his own, leaving the UFC in a very awkward spot that eventually forced them to cancel UFC 196 as a pay-per-view event, instead putting the remaining fight cards on free TV as 'UFC Fight Night 82.'
It's a move that would that would cost them millions of dollars, and that's before factoring in the costly and confusing process of having to renumber all their other forthcoming numbered PPV and 'Fight Night' events due to the cancelation.
Meanwhile, with Velaquez out of action for several months, Werdum would instead go on to fight Stipe Miocic at UFC 198 in May and promptly lost his title by way of a first round TKO stoppage.
Werdum vs. Velasquez II will now finally go ahead at UFC 207 on December 30th, though this time there won't be a title on the line.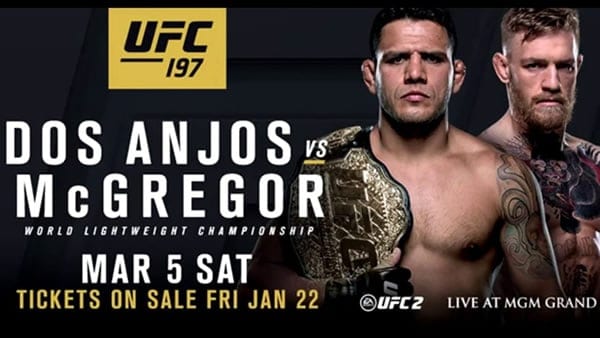 Rafael Dos Anjos vs. Conor McGregor
Coming off his featherweight title win with a 13 second KO victory over long-time champion Jose Aldo at UFC 194 in December of 2015, Conor McGregor announced a daring plan to move up to lightweight and fight the champion at the time, Rafael dos Anjos.
The fight was set for UFC 196 (originally known as UFC 197) in March of 2016, but fate intervened less than two weeks prior to the event, when RDA suddenly withdrew from the fight due to an injury.
However, what could have turned out to be a nightmare scenario for the UFC ahead of one of their biggest ever events actually turned out to be a blessing in disguise as McGregor would accept a fight with Nate Diaz on just 10 days notice to save the card, even agreeing to fight him at welterweight.
We'll never know how history would have unfolded if McGregor had fought RDA instead that night, but in hindsight it feels like this sequence of events was the way it was meant to be.
Fans instantly took to the McGregor Vs Diaz match-up, leading to UFC 196 becoming the biggest pay-per-view event ever for the promotion with 1.6 million buys, and though McGregor lost by submission on the night, it would set up a rematch that would break the record again a few months later at UFC 202.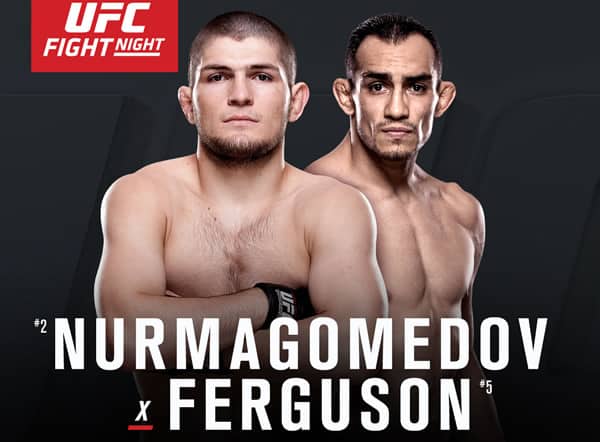 Tony Ferguson vs. Khabib Nurmagomedov
A hugely important lightweight fight between top contenders Tony Ferguson and Khabib Nurmagomedov, which was widely considered to be a title eliminator, was all set to headline UFC On FOX 19 in April until the dreaded injury curse struck once again.
The fight had fallen through once before in late 2015, so there was disappointment all round when Ferguson was forced to pull out of the fight on FOX due to a lung issue.
The cancellation had a major impact on the division, as Eddie Alvarez leapfrogged Ferguson and Nurmagomedov to fight Rafael dos Anjos for the title instead a few months later, setting up a money-spinning mega-fight with Conor McGregor later in the year.
That wasn't the only major UFC On FOX 19 fight to fall through though, as it was also supposed to play host to a bout between former 205lb champ Lyoto Machida and Dan Henderson until 'The Dragon' was yanked from the card in the middle of fight week due to a failed drug test that would ultimately lead to an 18 month suspension.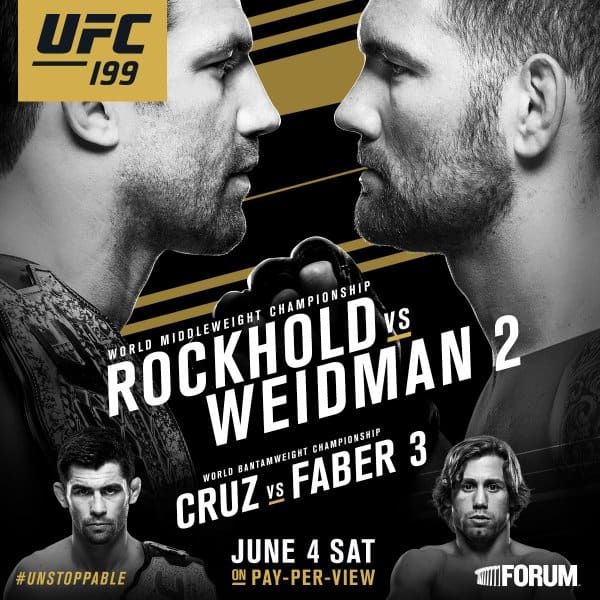 Luke Rockhold vs. Chris Weidman II
Luke Rockhold became the UFC's middleweight champion after a thrilling fight with Chris Weidman at UFC 194 in December of 2015, and that led to an immediate rematch being booked to main event UFC 199 in June of the following year.
The UFC were left scrambling just two weeks from the event however, after Weidman suffered a serious neck injury in training that required surgery.
His withdrawal would change the course of the division as Michael Bisping would then step in as a late notice replacement on just 10 days notice and shocked the world by KO'ing Rockhold in the first round to become the UFC's new 185lb champion.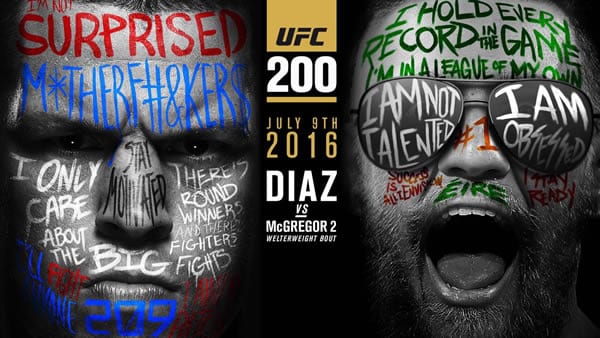 Conor McGregor vs. Nate Diaz II
While the fight would ultimately take place just a month later at UFC 202, the fact that Conor McGregor Vs Nate Diaz II was scrapped from it's original placement in the main event of UFC 200 in July was a massive story at the time.
The rematch between the two rivals had been set to be the piece de resistance for the historic UFC 200 event that would likely have ensured it became their best selling PPV ever, but less than a month after announcing the blockbuster fight the promotion's best laid plans crumbled.
The problem was a power struggle between McGregor and the UFC brass, with 'The Notorious' refusing to turn up to a major press conference in New York City to unveil the full line-up for the star-studded show, insisting that he needed to focus on his training instead.
At the presser Dana White refused to bow down to the Irish superstar's demands and revealed that he would no longer be fighting on the card.
McGregor countered that with a shocking announcement on social media that he was going to retire from the sport which generated headlines all over the world, though it was only a matter of days before he backtracked on that revelation.
While many observers believed the UFC would reach a compromise to keep McGregor on the card, they stuck to their guns and as a result UFC 200 didn't live up to it's full potential, though on the bright side, Diaz vs. McGregor II was eventually rebooked for UFC 202, leading to a record 1.7 million pay-per-view buys.
Daniel Cormier vs. Jon Jones II
After Jon Jones put his hit-and-run legal issues behind him in the latter half of 2015, a rematch with the man who'd claimed the light-heavyweight title in his absence, Daniel Cormier was inevitable, but getting the two of them back into the Octagon together proved to be easier said than done.
The title fight was originally supposed to go down at UFC 197 in April of 2016, but Cormier was forced to pull out on just a few weeks notice due to a foot injury, and so an interim title bout with Ovince Saint Preux was put together instead, taking a lot of the wind out of the PPV event's sails in the process.
After Jones defeated OSP it appeared as if everything was going to work out for the best in the end as the title unification bout with Cormier was rescheduled to headline the historic UFC 200 event in July instead as a replacement for McGregor Vs Diaz II.
This was the perfect opportunity for Jones to remind the world why many people believed he was the best pound-for-pound fighter on the biggest stage the UFC could provide, but instead it turned out to be yet another example of 'Bones' sabotaging his own legacy as it emerged during fight week that he had tested positive for two banned estrogen blockers, leading to him being pulled from the event.
A woman's bantamweight title fight between Miesha Tate and Amanda Nunes was then propelled up the card to serve as a somewhat underwhelming headliner for such a heavily hyped show, and though the card still did just north of 1 million PPV buys, it still fell well short of the UFC's hopes that it would be a record-breaker.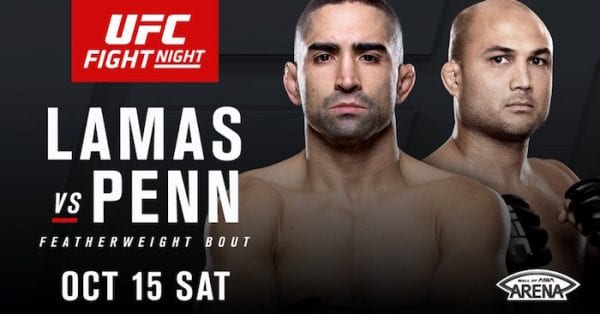 BJ Penn vs. Ricardo Lamas
Fight cancellations were a constant thorn in UFC legend BJ Penn's flesh in 2016 as he tried to make his latest comeback from retirement.
Earlier in the year fights with Dennis Siver and Cole Miller fell through for various reasons, but it looked like it the third time would be a charm, when he was scheduled to headline October's UFC Fight Night 97 event in Manila against Ricardo Lamas.
This looked to be an extremely tough fight on paper for Penn, but we'll never know how he would have fared against the former title contender as an injury forced 'The Prodigy' to pull out of the fight on short notice.
The rest of the card was fairly weak by UFC standards, and without Penn's star power on-board it just wasn't going to cut the mustard, so the powers at be made the call to pull the plug on the entire show – not a good luck for what had been set to be their first ever event in the Philippines.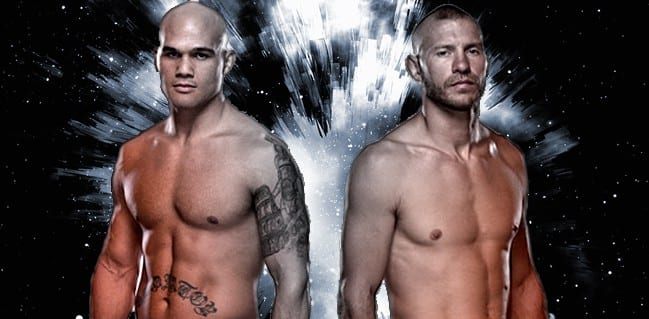 Robbie Lawler Vs Donald Cerrone
Pulling out all the stops to ensure that the historic UFC 205 event at Madison Square Garden in New York City was a blockbuster for the ages, the promotion assembled a star-studded line-up that was to include a main card match-up between former welterweight champion Robbie Lawler and Donald Cerrone.
Even though the specially extended 6-fight main card would go on to feature no less than 3 title fights, when Dana White first confirmed that this bout was going ahead in September, that was enough to convince fans that this was a must-see event.
However, just days later the fight was scratched from the line-up, with Lawler indicating that he needed more time to recover from his KO title loss to Tyron Woodley in July.
Instead, Cerrone was matched up with kelvin Gastelum, but that fight also collapsed after Gastelum botched his attempt to drop down to 170lbs.
The fight was immediately canceled and Gastelum has since been banished to the UFC's middleweight division, putting an end to his welterweight title shot ambitions.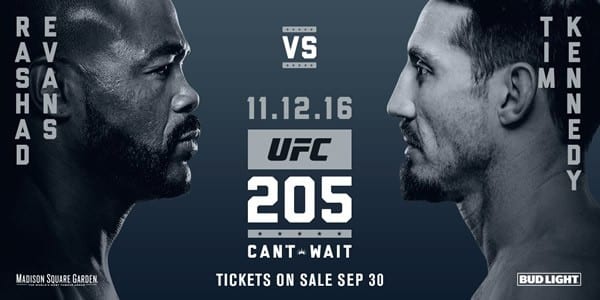 Rashad Evans vs. Tim Kennedy
The UFC 205 fight card for the promotion's first ever event in New York City was so stacked that an intriguing middleweight clash between former light-heavyweight champion Rashad Evans and Tim Kennedy was only able to secure a spot on the evening's televised prelims on FOX Sports 1.
Fans had often wondered how Evans would do if he dropped down a weight class, but UFC 205 would not offer them an opportunity to find out as 'Suga' was unexpectedly forced out of the fight during fight week after a pre-fight MRI scan on his brain discovered an abnormality.
Evans attempted to prove he was fit to fight by undergoing a series of further tests, but with this being the first major MMA fight under the New York State Athletic Commission's watch they erred on the side of caution and refused to give him a license.
The fight was then rebooked for UFC 206 the following month in Toronto, Canada, but that again fell through after the Ontario commission took the NYSAC's lead and also denied Evans clearance to fight due to the MRI scan.
At the time of writing it's not clear if this fight will ever take place, or indeed if Evans still has a future in the sport, though he and his team have repeatedly insisted that he's 100% healthy and will return to the Octagon in due course.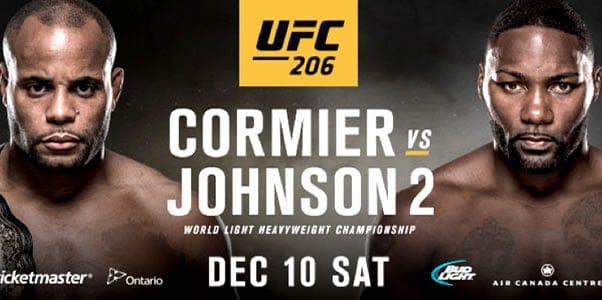 Daniel Cormier vs. Anthony Johnson II
Daniel Cormier has been responsible for two huge fight cancellations in 2016 as in addition to having to pull out of his rematch with Jon Jones at UFC 197 in April due to a foot injury, he also withdrew from another title rematch with Anthony 'Rumble' Johnson at UFC 206 in December after suffering a groin tear that required surgery.
With Johnson deciding to sit out and wait for Cormier to heal-up rather than take a replacement fight, that left the UFC with a major headache, with their original hope that Canadian superstar Georges St-Pierre could headline the show also having come undone due to stalled contract negotiations.
With time running out and few options at their disposal the powers at be decided that the original co-main event match-up between two leading featherweight contenders, Max Holloway and Anthony Pettis, would now take the main event spot instead.
The UFC's attempt to spice things up by making the fight for the interim featherweight title, but that was met with something of a blacklash from disappointed fans, with the overall sense being that the event had failed to live up to it's earlier expectations, not helped by the fact it was sandwiched into blockbuster shows, UFC 205 and UFC 207.