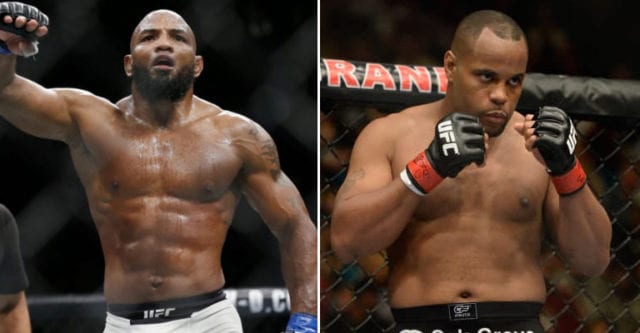 In the main event of this Saturday's (June 9, 2018) UFC 225 from the United Center in Chicago, Illinois, Yoel Romero will challenge Robert Whittaker for the UFC middleweight title, but he also appears to be open to moving up in weight to challenge another champion.
"Why not?" Romero asked in his media scrum said of fighting Daniel Cormier. "That's my job and a job for [UFC president] Dana [White], too. [Cormier and I] have a good relationship for a long time. It's like in wrestling. I can wrestle with him, it's no problem. I can wrestle with him and after that I go eat lunch or something with him. Why not?"
Cormier, the reigning light heavyweight champion, is actually scheduled to challenge heavyweight titleholder Stipe Miocic in the main event of July 7's UFC 226 from Las Vegas. It's also unclear how much longer the 39-year-old will compete but a match-up between him and Romero would certainly be intriguing given the Olympic wrestling backgrounds of both men.
And as far as a potential move up in weight for Romero goes, it doesn't seem as if it's a necessity despite the fact that he missed weight for his interim title fight against Luke Rockhold this past January:
"That's my division for 21 years," Romero said of 185. "I never don't make weight. That's the first time."
Regardless of what happens Saturday night and what's in store for Romero, time may also be ticking for "The Soldier of God," as he's currently 41 years old. His body, however, still appears to be in tremendous shape and he says he owes all of that God:
"That's God," Romero said. "God blessed me. I help God, too. God gave me the power and [speed]. If i go to the streets, I eat everything [it would disrespect God]. I give the blessings to God, because you have to respect God."