Since knocking out Chris Weidman at UFC 205, Yoel Romero has been tabbed for the next title fight. In typically explosive fashion, Romero put 'The All-American' away with a thunderous flying knee. Then came the inevitable call-out of 'The Count,' who just so happened to be in attendance and flipped Romero off. That was three months ago, and still no official announcement of Romero's title fight. Having undergone surgery, Bisping's recovery has likely been the biggest delay of them all, but not according to 'Soldier of God.'
Appearing on The MMA Hour last night, Romero claims even Bisping's wife and kids know the champ is avoiding him. The former Olympian also says he believes UFC 211 on May 13 will be the date of the title fight. Recently, Stipe Miocic vs. Junior dos Santos 2 was confirmed for UFC 211.
Romero Has Faith
Although he says Bisping is avoiding him, Romero also has faith in the words of his employers. Here's what 'SoG' told Ariel Helwani through his translator:
"Everybody in the whole world, even his wife and kids know (Bisping) is avoiding me. (I believe) we will fight on May 13 in Dallas. This is what my employers have told me. Right now, who is the best fighter at 185 pounds? Its Yoel Romero. If someone has a belt, man, they need to defend it. Who has the belt right now? Michael Bisping, and I'm going to take it from him.""
"I sleep like a lion full of confidence. God is my strength, I sleep very easy. The only ace up his sleeve is that USADA stuff, so that's all he can talk about. Have you seen the video where I KO Chris? Then they put a caption on Bisping's face? Its not fear, its terror on his face. At that moment, he did not want to be the 185-pound champion in the UFC. He thought 'what the heck am I doing here? Look what's coming my way now, why did I talk so much crap about this man?' He talked a bunch of sh*t about me, and vengeance is coming your way. God will bring his vengeance, that's what he told the people of Israel."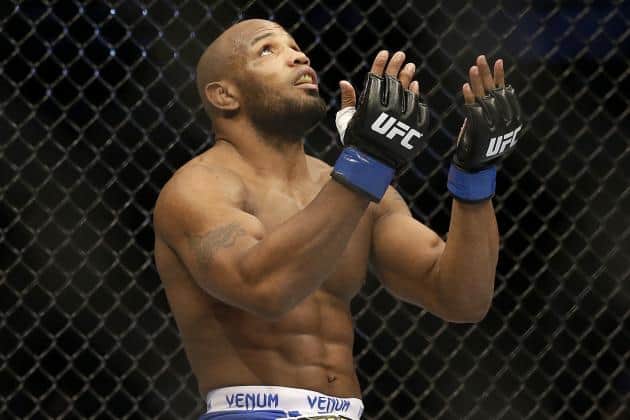 I Think About Him Everyday
"I don't really put too much importance on anything he says, but I do think about him everyday. Not worrying, but I think about him everyday. He doubts himself, he knows deep down, that it's over. He talked way too much crap, junk about me, without even knowing. It was a supplement that came out tainted. He has no idea how hard I train, how much I suffer to train like I do. This man has to pay."
Looks like this is a very personal fight for Romero. Will it be the explosive power of 'Soldier of God,' or the relentless pace of 'The Count' that wins the day?