'WTF?!' of the Day: Waylon Lowe Suing Philly Sex Shop After Gel Permanently Disfigures His Junk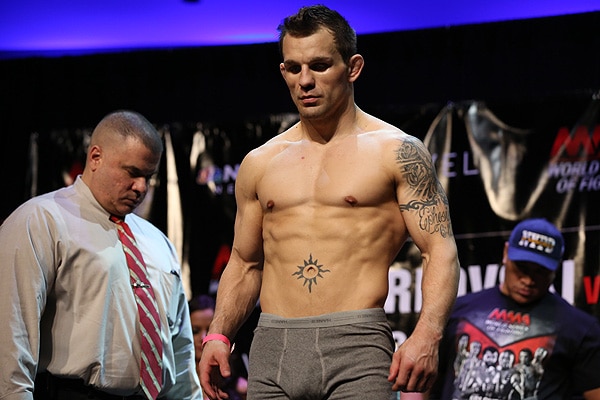 ("On second thought, I'll just take your word for it…" – Guy on the Left)
Horrific penis injuries: They're the new injured foot of MMA injuries.
UFC veteran Waylon Lowe has made his way back into headlines the hard way today, as he is suing The Mood – a sex shop on South Street, Philadelphia – for selling him a product that has permanently scarred his genitals. Of course this is how the unfortunate bastard manages to finally get MMA fans talking about him again, because why wouldn't it be.
Assuming you haven't already skipped to the comments section to unleash your best one-liners, you can read details about the product he used and the injury itself [NSFA] after the jump.
Via Philly.com:
ONLINE ADS SAY the tingling, minty, green gel makes lovemaking last longer. "Prolongs Men's Pleasure," the packaging promises, beneath a photo of a handsome man staring seductively at prospective buyers.
But a famous fighter [Author Note: Famous? That's rich.] says the Kama Sutra Pleasure Balm Prolonging Gel was far from pleasurable, and instead burned and scarred his genitals so badly last fall that he remains permanently disfigured and dysfunctional.
Michael Waylon Lowe, 32, of Southwest Center City, a mixed-martial-artist who competes internationally, has sued the South Street sex shop where he says he bought the gel, and the product's California-based creator [Author Note: Is it based in Los Angeles?], seeking more than $50,000 in damages, according to a lawsuit filed in Philadelphia Common Pleas Court.
"This is a very private, but very significant loss for a man who is very vital in so many other aspects," said Lowe's attorney, Thomas R. Kline. "This is a man who literally makes his living avoiding injury; he knows how to protect himself. Yet he wasn't provided with the most basic, simple instructions to protect himself from this product. If it could happen to him, it could happen to anyone."
"Instructions to protect himself from a lubricant?" you may be wondering. "How exactly did he injure himself?" If you really must know…
In the complaint, filed May 14, Lowe claims he had used the desensitizing gel previously without problem. And when he applied it last Sept. 1, he and his fiancée began lovemaking without incident. But when their 3-year-old daughter awoke, the fiancée interrupted their intercourse to attend to her, according to the lawsuit.
Before she returned, Lowe "began to experience excruciating pain and pressure in his penis," the lawsuit states. "He removed the condom and his penis swelled significantly. He sought emergency medical treatment and follow-up care thereafter."
The complaint accuses the defendants of negligence and product liability for failing to provide proper instructions, warn users of risks, and design and test the gel to ensure its safety.
It claims that Lowe suffered "catastrophic and permanent damage," including penile scarring, loss of sensation and function; nerve and tissue damage; humiliation, embarrassment and mental anguish; lost wages and earning capacity; and loss of life's pleasures.
Not one part of that description didn't make me feel absolutely terrible for Lowe. I wish him a speedy recovery; or rather, whatever recovery can be made after losing the enjoyment of sex. Lowe was last seen picking up a victory on the WSoF 2 undercard – his fourth straight victory since being released from the UFC – so at least it doesn't sound like he'll have to miss any time from MMA.
Naturally, the creators of the gel maintain that their product is safe, and that this is the first instance they've ever even heard of this happening to somebody. Also, for what it's worth, The Mood is still selling the non-mint versions of the product on their website. Caveat emptor, you guys.
@SethFalvo