WSOF 18 Results & Highlights: Marlon Moraes Retains Belt In Five-Round War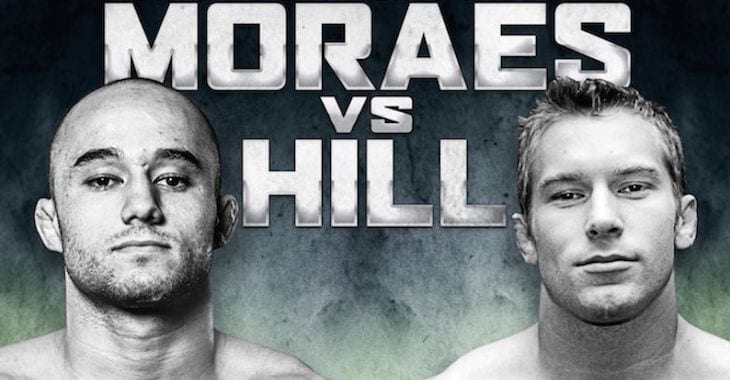 Tonight's (Thurs., February 12, 2015) WSOF 18, which features a bantamweight title showdown between champion Marlon Moraes and Josh Hill, is in the books from the Edmonton Expo Centre in Edmonton, Alberta, Canada.
The main event saw Moraes land some sharp punches early, yet Hill remained aggressive. The champ controlled the cage, but Hill landed a big combo that rocked Moraes. His nose was bloodied as Hill landed a high kick and Moraes a decent left hook as the first round wore down. Moraes continued to miss with high kicks in the second until a low blow halted the action.
They traded big shots to close out the round. Moraes seemed to find his range in the third, pushing the action with some punishing kicks and looping punches. Moraes controlled most of the fourth despite being bloodied, blasting a too-calm Hill with varied strikes. Hill landed a huge spinning kick to Moraes' head in the final frame, picking up the pace with some punches and a back elbow. Moraes picked up a crucial takedown only to eat a ton of ground shots from Hill. The champ Moraes took home a 49-46 score on all three judges' scorecards to earn a unanimous decision.
Shane Campbell met Derek Boyle in the co-main event at welterweight. The back-and-forth first round saw both fighters go all-out early, with Campbell landing some solid strikes and a trip before going for a choke. Boyle countered with some decent hooks before Campbell closed the opening frame with a solid head kick. Campbell hit with some sharp low kicks in the second and followed with a spinning high kick. Utilizing some pinpoint elbows, he ended the round on top. Campbell nailed Boyle with a vicious front kick to the body early on in the third, showboating and swarming with a big barrage of shots to earn a stoppage.
Recently un-retired The Ultimate Fighter (TUF) veteran Cody Mackenzie faced Andrew McInnes, and the fight ended with some extremely ugly controversy. Mackenzie seemingly had McInnes in trouble with some ground and pound towards the end of the first round, but he instead opted for a brutal illegal headbutt that resulted in his disqualification with only three seconds left in the round.
Hakeem Dawodu battled WSOF newcomer Tristan Johnson in the main card's opening bout, giving him a not-so-warm welcome in the form of a third round TKO due to strikes.
Check out the highlights of McKenzie's controversial head butt following a hair pull by Hill, and tell me if you think the fight should've continued:
Mark Drummond vs Spencer Jebb #wsof18 Walk off KO https://t.co/kX23YpFLeL

— ZombieProphet (@ZProphet_MMA) February 13, 2015
Full WSOF 18 results are as follows:
MAIN CARD (NBC Sports Network, 9 p.m. ET):
Champ Marlon Moraes def. Josh Hill via unanimous decision (49-46, 49-46, 49-46)
Shane Campbell def. Derek Boyle via R3 TKO (strikes, 0:31)
Andrew McInnes def. Cody McKenzie via R1 disqualification (headbutt, 4:57)
Hakeem Dawodu def Tristan Johnson via R3 TKO (punches, 1:59)
PRELIMINARY CARD:
Matt Baker and Ali Mokdad ruled a no contest due to an accidental headbutt – Round 1, 0:08
Marcus Hicks def. Graham Park via R1 submission (rear-naked choke, 2:28)
Mark Drummond def. Spencer Jebb via R3 KO (knee, 2:43)
Dan Lariviere def. Garret Nybakken via R1 submission (rear-naked choke, 4:40)