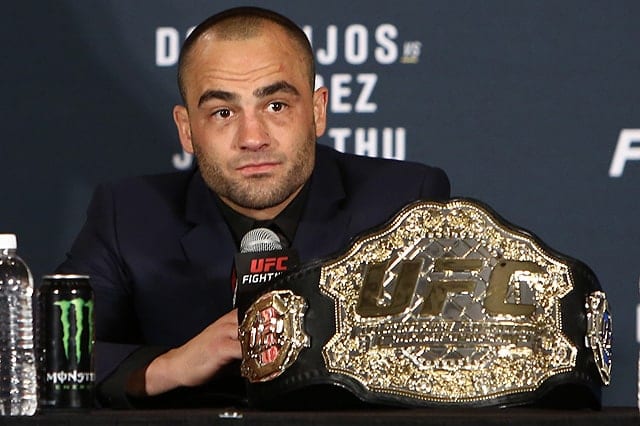 The creation of interim titles continues to be a topic in mixed martial arts these days.
Many have never been a fan of the interim title. But there was a time, not too long ago, when the fighter holding that title was all but guaranteed a shot at the real title. Such is not the case any longer.
Interim welterweight champion Colby Covington didn't just get passed over in favor of Darren Till, but all signs point to the cocky Amercian being stripped of his interim strap as well. Leading fighters, coaches, and fans alike to continue to question the validity of the fake belts.
Eddie Alvarez has captured championships in every promotion he has competed in during his Hall of Fame career. He's also been vocal about his feeling on the interim title picture and reiterated his stance about the fake belts during media day for UFC on FOX 30 (via MMA Fighting), where he will fight Dustin Poirier in the main event.
"They're meaningless," Alvarez said. "They're used as a point of leverage for the promotion. They mean absolutely nothing, it's proven. The media should talk about it a little more, it's proven that an interim title means zilch. They give 'em to a fighter, they take it from them. It's a way for the promotion to leverage, that's it. They mean nothing. And for a fighter to put any value behind it is foolish."
Several other fighters competing on this weekend's (July 28, 2018) main card including Poirier were also on hand during media day to voice their concerns on the interim title debate as well.
"I want to fight for the real belt, not the interim title," said Poirier when asked his opinion on the make-believe title. "I want to beat Eddie and fight for the real belt. I believe interim titles are necessary when a champ is out for a long period of time, but giving them out like they have been, I think that's kind of crazy. If a champ has to take a long layoff then I think that's the only time interim titles should be introduced to the division."

Poirier added, "I'm not trying to be second best, I want the real thing."
Out of the eight fighters competing on the main card this weekend only two-time featherweight champ Jose Aldo knows what it feels like to hold an interim title.
Speaking to the media in Portuguese via a translator Aldo said, "It is extremely frustrating that you don't really have the control of where you are going or what path you have to take to get where you want to be, but I guess it's a little bit more about what you do outside of the cage on top of what you do in there. So the sporting side of things isn't necessarily going to get you to where you want to be."
One suggested the remedy to the interim title situation would be to open up additional weight classes, a sentiment echoed by "The Canadian Gangster" Olivier Aubin-Mercier.
"I think it's time to have a 165 and a 175 category right now," said Aubin-Mercier ahead of his upcoming bout with Alexander Hernandez. "It would do a lot of good for the UFC. First, it would get rid of a lot of fake champions — it's not because they're not good, it's because they're not real, it's not the real champion."
For all the negativity swirling around the interim title debate heading into UFC FOX 30, there was one fighter on hand during media day that couldn't care less. Providing the fake title brings in real championship paychecks.
"Interim titles, I think you get paid the same as you would the regular title, so any chance I get to make that type of money, bring it on," said Jeremy Stephens, who fights Aldo on Saturday. "I'll accept the challenge."
The interim title debate rages on. Let us know what you think.