UFC welterweight champion Tyron Woodley will defend his title against No. 2-ranked Darren Till at UFC 228 on September 8th – not interim 170-pound champion Colby Covington.
Covington captured the division's interim title when he took a unanimous decision win over Rafael dos Anjos at UFC 225 last month. It set up a unification bout with Woodley at some point down the road, or so we thought.
Due to a sinus injury, Covington wasn't able to fight Woodley until later this year. Rather than wait for the unification bout between Woodley and Covington, the UFC has decided to give Till the nod instead. As for what will become of Covington's interim strap, that will be stripped and rendered useless the minute Woodley vs. Till starts.
Mike Brown, Covington's MMA coach, recently spoke to MMA Fighting about the situation. In Brown's view, the UFC giving Till the title fight instead of waiting for Covington essentially devalues their title belts:
"I'm pretty bummed about it," Brown said. "I just feel like its devaluing the belts. You can't just make every fight a title fight if it doesn't go your way. It just doesn't seem right, it doesn't seem like it's good for long-term value for the titles. That's a big problem. That's the bottom line, I think they're devaluing the belts. Everybody sees it."
As for Covington, Brown reveals that his fighter is understandably upset but feels confident that he'll get the opportunity to fight the winner when Woodley and Till's meeting in Dallas comes to an end:
"He's of course upset," Brown said. "But what are you gonna do? Life goes on. Whatever happens, he's gonna be the biggest fight after this that they're gonna want to make. What's next, they want to do it quickly. But after that, there's gonna be something else that will be next.

"I think that he'll be the guy they'll want to fight the winner, I'm sure. He's the guy that I think has earned that spot. I think he's also drawing a lot of attention. I think it'll also have the best numbers. I'm sure we'll see it. But it's just a shame how they're going about it."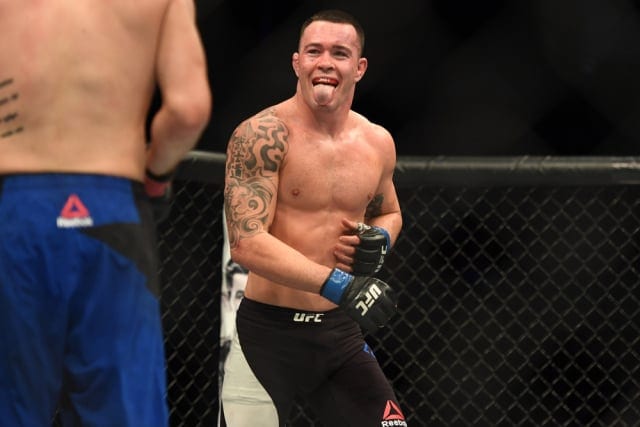 Woodley and Covington have had serious issues with one another for the past year. The American Top Team (ATT) teammates have been at each other's throats through the media for the past several months.
While a big drama show between Covington and Woodley might have been an interesting build, "T-Wood" will instead have to shift his focus to the 25-year-old Englishman who comes off a big win over Stephen "Wonderboy" Thompson:
"I think the bigger fight would have been Colby," Brown said. "Let it wait a couple months. "Everybody wants that fight. I think Woodley wants the fight, I think Colby wants the fight. I think a couple months later wouldn't have hurt anything. It's really frustrating."