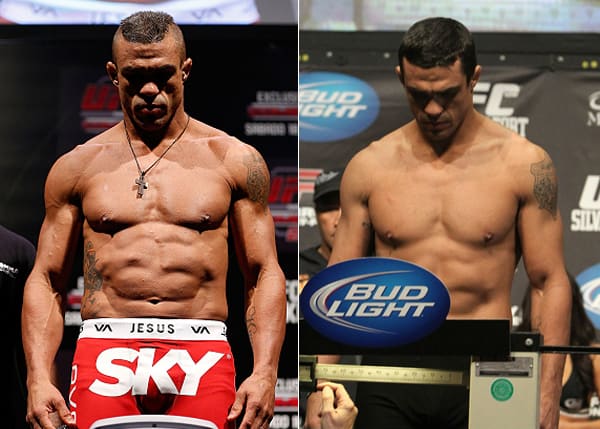 After yet another drug scandal-tainted year where he lost his only fight to champion Chris Weidman at May's UFC 187, longtime UFC fixture Vitor Belfort will step back into the octagon to take on prior rival Dan Henderson for the third time in the main event of Saturday's (November 7, 2015) UFC Fight Night 77 from Ginásio do Ibirapuera in São Paulo, Brazil.
'The Phenom' was supposed to fight Weidman back at UFC 173 in May 2014, but when his beloved testosterone replacement therapy (TRT) was finally banned by the Nevada Athletic Commission (NAC) and the UFC after he failed a drug test for elevated testosterone in February of that year, Belfort was forced to appear in front of the commission and stake his claim why he should have been able to fight for the title.
More issues with Belfort's testosterone levels came about right before his fight with Weidman, however, and even though that was disturbingly in question yet again, he showed up looking like an absolute shell of himself while showing his age after an early flurry, losing to the champ by way of brutal ground strikes.
If that wasn't enough the now infamous report from Deadspin's Josh Gross surfaced detailing an alleged cover-up of another failed drug test for elevated testosterone before his UFC 152 loss to Jon Jones in 2012 further marred his already sullied (and potentially beyond repair) reputation.
He'll now take on a much easier opponent in Henderson, the 42-year-old legend whom he's already fought twice, losing a split decision in Pride before failing his first in a long line of drug tests, and then knocking him out with a vicious head kick as part of his insane TRT-fueled run of 2013.
It's apparent Belfort isn't the same man of even two years ago, however, and his fights are becoming fraught with more and more controversy it seems. Because of that, it can definitely be argued that it's time for "The Phenom" to hang up his gloves after his third fight with 'Hendo.'
Let's take a look at the reasons why.
4.) The controversy just keeps adding up:
These days you can't have a Belfort fight without some kind of controversy involving PEDs, steroids, and testosterone in some form (and usually all three).
Yes, Belfort is one of the more exhilarating fighters to ever set foot in the octagon, and it's been that way since he won UFC 12 Heavyweight Tournament as a hulking 19-year-old back in February of 1997 (!).
But his body has gone through so many up-and-downs and changes since then, and his highly controversial TRT use as he knocked out Michael Bisping, Luke Rockhold, and Henderson with shocking ease in 2013 while appearing to be the second coming of the Incredible Hulk brought about the treatment's ban singlehandedly.
Yet that's not all, as we're currently dealing with the UFC 152 scandal that was supposedly swept under the rug, with the UFC and Belfort both offering very little in the way of clarification or comment on the subject. It's a horrible look for a man attempting to clear his name of PED controversy, and his recent scrapping of an MM Hour appearance after refusing to discuss the subject only makes him look worse in the eyes of the public.
How much more can MMA fans take to watch an aging fighter who blames everyone for his problems but himself?

3.) He's clearly not himself anymore:
Taking a quick look at Belfort's physique when he returned to the UFC in 2009 and knocked out Rich Franklin to the one he possessed n 2013 and you can see the monstrous difference in muscle size and tone.
That translated to some absolutely huge wins and eventually a title shot for "The Phenom," but you saw what he looked like when he took a year-and-a-half and weaned off of TRT. He was hardly the man he was while on the treatment, and that showed both in his physique and his performance in the cage.
After an initial flurry that somehow saw him nearly finish the champ, the bigger and more powerful Weidman turned the tables with a picture-perfect double leg takedown to beat Belfort until the ref called it off.
There's no shame in losing to the undefeated Weidman, but Belfort is a black belt in Brazilian jiu-jitsu who nearly submitted all-time great former light heavyweight champion Jon Jones, albeit while allegedly possessing abnormal testosterone levels. He showed little to nothing in way of ground defense or offense against Weidman. That signified that "The Phenom" is reaching has-been status as the tolls of many wars add up on his 36-year-old frame.

2.) He's stuck in limbo and won't be champion:
Expanding on the prior reason, it became obvious that Belfort is stuck in a kind of middleweight limbo after he was beaten so badly by the champ earlier this year.
Yes, he can certainly play his part in many potentially exciting fights in the stacked 185-pound division, but it's tough to argue that he can still hang with the best and work his way back to the belt, especially without TRT.
Belfort is one of the more exciting and aggressive fighters that MMA has ever seen; that much is not and will never be in question. However, his ability to beat the upper level of fighters such as Jacare Souza, Yoel Romero, Rockhold, and even Lyoto Machida, is in doubt.
Will he buck the odds and prove to us that the "Old Lion" can still hang with all the young competitors? Maybe, but it's going to be tough in the new era of more stringent drug testing, which brings us to the last reason "The Phenom" should step down after fighting Henderson one more time.

1.) Drug Testing:
Right at the heart of Belfort's career path sits the UFC's new and more stringent random drug testing program, which was most likely set into motion in no small part by Belfort's past trouble.
In this era of trying to clean up a reportedly very dirty sport, fighters must now give their exact whereabouts to USADA so they can be randomly tested. Obviously Belfort got by on the loopholes of the old system, claiming that he needed TRT to simply live like a normal male his age. What he didn't tell anyone was that, while unproven, he probably needed as a result of past steroid use that had rendered his aging body unable to naturally produce it on its own.
Regardless, Belfort is getting up there in years, as previously mentioned, and his body is not going to be able to take the grinding stress and pounding of full training camps to fight some of the world's best as easily as it used to. The temptation to use PEDs to compensate for that fact will be there, and it "The Phenom's" past track record is any indication, he could wind up in yet another NAC hearing pleading his case. New rules and punishments went into effect in September, so if he were to fail yet another test, it could be "three strikes and you're out" for Belfort as they essentially did to Nick Diaz.
Is it really worth it for the UFC to risk that just to have the Brazilian slugger in another bout? Is it really worth it for the aging Belfort to continue trying to weave his way in and out of the rules in order to skate by while using PEDs? Probably not, and that's why he should strongly consider stepping down after he faces Henderson for a third time this weekend.