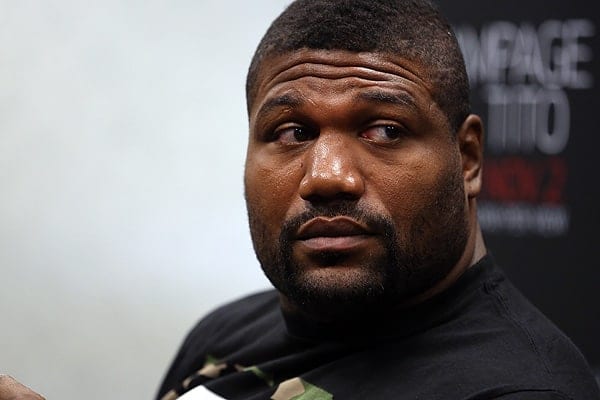 Quinton "Rampage" Jackson has always been one of the most polarizing figures in MMA. A former UFC light heavyweight champion, Jackson is known for always saying what's on his mind, in addition to the heavy hands that made him a fan favorite.
After being the champion in 2007-08 "Rampage" became one of the UFC's biggest stars, but that all came to an end in 2013. After losing three straight fights and having a rocky relationship with UFC president Dana White, Jackson was released by the UFC and went on to sign with rival Bellator.
Since joining Bellator, "Rampage" has compiled three straight wins, including two knockouts and a controversial decision win over "King Mo" last May. Early on, he always made it clear how happy he was with the promotion, especially with former Bellator CEO Bjorn Rebney.
However, Rebney was fired and replaced by former Strikeforce promoter Scott Coker early this year, which didn't sit too well with him. "Rampage" even considered retirement from the sport due to the management switch.
It appears as though Jackson may now be so unhappy with Bellator that he is possibly regretting his decision to leave the UFC, which is very surprising:
Just a thought.. But I've learned a big lesson in life and business: sometimes u should just stay with the devil u know @ufc

— Quinton Jackson (@Rampage4real) November 18, 2014
Does this mean we could see "Rampage" back in the Octagon at some point? Well, even more surprising than that is the fact that the UFC president may actually welcome him back. White talked to TSN's "Off the Record" on Monday (November 17, 2014) about his former light heavyweight champion:
"I like him 'Rampage' and I have a very unique relationship. All the stuff that goes on publicly, behind the scenes, we square it away. He's a good dude."
Although it can be argued that Jackson has fought a lower level of talent during his time in Bellator, he has looked like a new form of his old self nonetheless. He did beat former UFC fighter Joey Beltran as well as Lawal, who is no slouch.
But the question has to arise, how would an aging "Rampage" Jackson do against the murderer's row that currently populates the UFC light heavyweight division? It's hard to believe he would have much success, but crazier things have happened.
Would you like to see "Rampage" back in the Octagon?