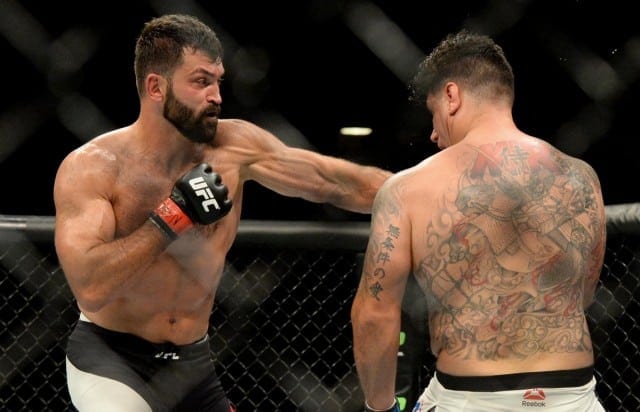 Although it may not have turned out to be even close to the best UFC pay-per-view (PPV) card of the year, last night's (Sat., Sept. 5, 2015) UFC 191 from Las Vegas did sort out the path for some big names due to the fact that it featured several highly relevant and ranked fighters.
And with three of those big names coming out of shallow divisions, their wins last night may have put them in strong position before their next bout. Let's take a look at what's next for UFC 191's biggest winners.

Paige VanZant:
This future women's strawweight superstar may have grown in exposure and popularity last night, but her bout with unranked Alex Chambers, which she finished by third round submission, wasn't more than a tune-up fight that prepares "12 Gauge" for her next top-ranked challenge.
With precious few realistic title contenders in the new women's strawweight division, VanZant could be headed towards the title shot that she needs to become the UFC champion ever sooner than we think. But she'll likely have to get by a combination of contenders like Joanne Calderwood and the winner of UFC 194's Tecia Torres vs. Michelle Waterson.
If the UFC really wanted to throw VanZant to the wolves, they could give her top-ranked contender Claudia Gadelha while champion Joanna Jedrzejczyk defends her belt against Valerie Letourneau at November's UFC 193, but I doubt that happens yet.
Bouts with No. 6-ranked Randa Markos and even one with former champ Carla Esparza when she returns from shoulder surgery are also enticing potential fights for VanZant, who has built up a ton of momentum with the rest of her career ahead of her.

Demetrious Johnson:
The dominant flyweight champion made it look much easier the second time around against John Dodson, stifling 'The Magician' at every turn and dominating him with an uncanny set of all-around skills.
You may find it tough to predict what's next for 'Mighty Mouse' after he's beaten the top two contenders in his division twice each, but in reality, there's really one fight to book him in next, and that's against the winner of UFC Fight Night Monterrey's Jussier Formiga vs. Henry Cejudo bout.
If he gets past that contender as the odds will certainly overwhelmingly predict he would, then it will get very barren for 'Mighty Mouse' at 125 pounds. That could mean he has to move back up to bantamweight for a potentially amazing superfight with 135-pound champ TJ Dillashaw. However, 'Mighty Mouse' has stated that he wants around two million dollars for that fight, and that's simply not going to happen because unfortunately it just wouldn't be all that big of a draw.
While 'Mighty Mouse's' fighting future may be very uncertain relatively soon, one thing is not: he is seriously threatening Anderson Silva's UFC record of 10 consecutive title defenses, so expect him to stay put in the meantime and eventually reach that lofty peak.

Andrei Arlovski:
Arlovski was arguably in line for a title shot with three straight wins over Travis Browne, Antonio Silva, and Brendan Schaub, but when news arrived that Cain Velasquez would get an immediate rematch with new champion Fabricio Werdum, his hyped co-main event bout with the equally resurgent Frank Mir was disappointingly more like his UFC 174 clinch-fest with 'Big Brown' than his scintillating knockout finishes of 'Bigfoot' and 'Hapa.'
The close and uninspiring decision win, a bout where Arlovski admitted to underestimating Mir, certainly isn't going to get him the next title shot. That distinction could go to the winner of Junior dos Santos vs. Alistair Overeem, or even the winner of Stipe Miocic vs. Ben Rothwell. Whichever winner doesn't get the title shot should be next for Arlovski, but the UFC is known for going in strange directions at times.
That could mean there's a chance that 'The Pitbull' meets the winner of September 27's Josh Barnett vs. Roy Nelson bout. Either way, there are some interesting bouts awaiting Arlovski when he corrects the mistakes he made last night and returns to the octagon to continue his quest for a title shot.

Anthony "Rumble" Johnson:
The last and most controversial name on the list of UFC 191's biggest winners is of course no one other than Anthony 'Rumble' Johnson, who saw multiple anti-domestic and animal cruelty protests take place in his name yesterday.
But in the cage, 'Rumble' went about business as usual, knocking No. 7 Jimi Manuwa's block off with an earth-shaking second round counter punch.
He's now in a curious position in the shallow light heavyweight division, as he was thoroughly dominated by current champion Daniel Cormier at UFC 187 in May. Cormier will defend his belt against Alexander Gustafsson, who Johnson absolutely destroyed back at UFC on FOX 14, at UFC 192 on October 3, and if he wins, he'll most likely look to settle his longstanding beef with Jon Jones if 'Bones' is back anytime soon.
That means 'Rumble' will most likely have to keep knocking off contenders, and he's done nothing but with the exception of the Cormier fight since returning to the UFC at 205 pounds. There aren't a lot of logical match-ups for 'Rumble' right now, but one that comes to mind is the winner of Glover Teixeira vs. Patrick Cummins at UFC Fight Night 77 from Brazil.
If Teixeira wins in his homeland, then a showdown of the top-ranked former title challengers would be the obvious choice for the next title eliminator bout. It will also be interesting to see if 'Rumble's' domestic violence and animal cruelty accusations actually go anywhere or just turn out to be a witch-hunt, but for now he appears only focused on fighting.
With highly touted new grappling coach Neil Melanson on his side, that's a scary proposition for the rest of the 205-pound division, and we could definitely see Johnson fighting for the belt again sooner than later.