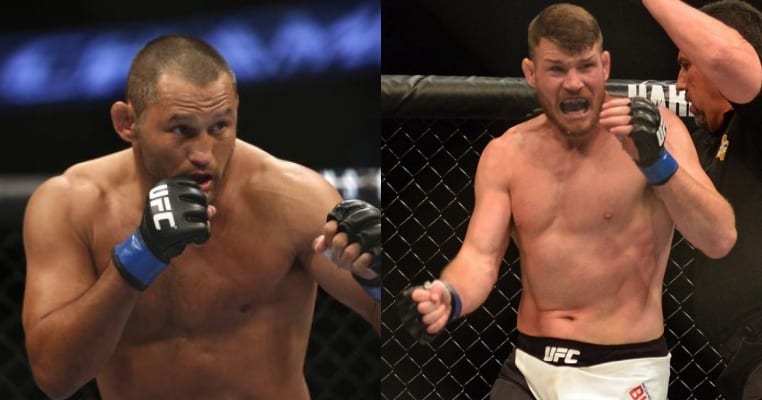 UFC 204 will see two of the longest-serving UFC veterans collide in an epic rematch. UFC middleweight champion Michael Bisping wants revenge. He'll get the chance to do it on home soil against Dan Henderson. 'Hendo' famously knocked out Bisping in a historic moment at UFC 100. The brutality of that KO has never stopped haunting 'The Count.' Once he took the belt from Luke Rockhold at UFC 199, Henderson was the fight Bisping immediately mentioned.
Ranked at number 13, another UFC title run would have been extremely unlikely for Henderson. The American wrestler and former two-weight Pride FC champion had already made his plans for retirement. Ironically on the same card as Bisping-Rockhold, 'Hendo' scored a trademark come-from-behind KO against Hector Lombard. It wsn't until Bisping started calling for a rematch that Henderson even considered fighting on.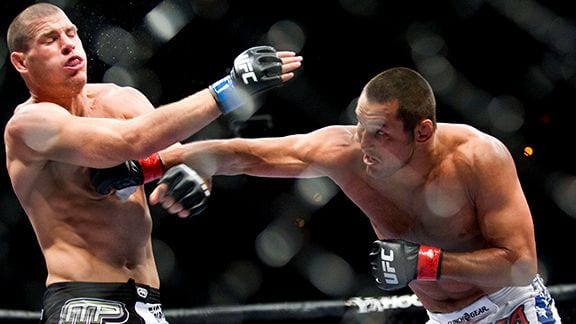 Possible Outcomes
This weekend's (Saturday October 8, 2016) UFC 204 main event has many possible outcomes. We'll take a look at the potential for mayhem if Dan Henderson is victorious, but also at how a win for Bisping would truly place him amongst the greatest fighters in UFC history.
Hendo KO's Bisping…Again
Although 46 years of age, 'Dangerous' Dan Henderson still lives up to his moniker. Capable of finishing a fight with a single patented H-Bomb, Henderson continues to defy the odds when he fights. Smashing Hector Lombard with a back elbow at UFC 199 showed just how unpredictable and powerful 'Hendo's' striking can be. What would be the outcome of Henderson snatching the UFC middleweight crown at this late stage in his career?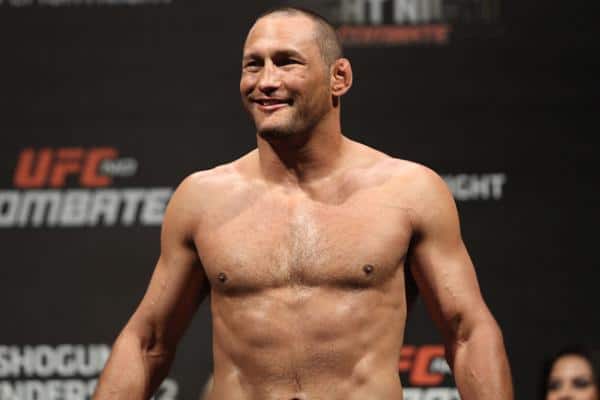 Sunset or More Legacy
With a victory over Bisping at UFC 199, Dan Henderson would become the oldest ever fighter to win a UFC title. Randy Couture currently holds that distinction at 43 years 255 days of age. Should he claim that epic record, Henderson has two choices; ride off in to the sunset as champion, or continue for a few dollars more. Many times UFC stars fight on too long, and so the next fight will prove a litmus test for where Henderson's capabilities are. He's already said he'd consider a couple more bouts if he does win the title, and in that case he could chase Couture's other age-related record of oldest fighter to win a UFC bout (47 years 68 days).
'Captain America' also holds the record for oldest fighter to defend a UFC title (44 years 65 days), which could be possible for Henderson to break should the stars align. It's a steep hill to climb, and 'The Count' looked better than ever in his last fight, but if anyone can do it. What about the other end of the scale, what happens if Michael Bisping gets his revenge against Dan Henderson?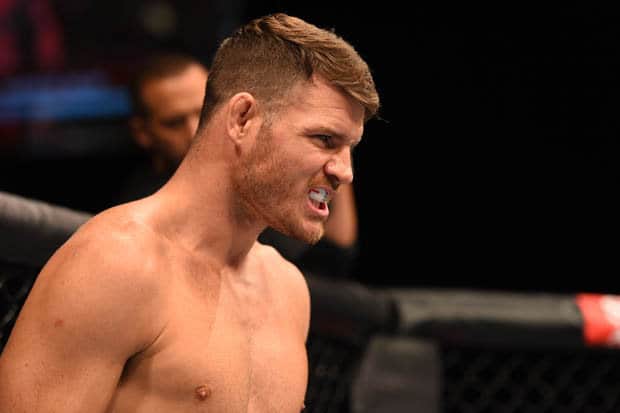 Revenge & Greatness
Scoring revenge at UFC 204 would mean a great deal to Michael Bisping's career. Having fought for the UFC for over 10 years now, the brash Brit is currently the most accomplished middleweight (in terms of wins). His 15 octagon victories are the most in the 185-pound division's history. Defeating 'Hendo' at UFC 204 would give Bisping the most victories in the promotion's history at 20. To say this fight is pivotal would be understatement of the year.
The UFC 204 main event is career defining for both men, but for 'The Count' it could be the first step towards becoming one of the all-time greats. Picture this-having already defeated Anderson Silva and Luke Rockhold in his last two fights, Michael Bisping takes out his old rival Dan Henderson before facing the killers row at 185 pounds. If the Englishman can emerge on the other side of that dangerous venture still holding the crown, who could possibly deny his entry to the UFC hall of fame?