As if we haven't had enough Vitor Belfort steroid-related stories, this incredibly controversial report adds another chapter to the book…..
UFC middleweight and former light-heavyweight and heavyweight champion Vitor Belfort has been through the media mill in recent years. Stemming from his failed drug tests for steroids back in the day, all the way up to his TRT (testosterone replacement therapy) (ab)use and subsequent shrinking in size when the shady treatment was eventually banned last year.
So why are we still harping on about it? Belfort got his title fight, losing to Chris Weidman at UFC 187, so surely this is the end of it? Well, not quite. An in depth report by Josh Gross released today gives some very intriguing insight to an until now unheard of case. It all began with an email, wrongly sent out by a UFC para-legal, that was received by a long list of people that included some enemies of the promotion. It was a document from one Doctor Pierce of 'Ageless Forever', an anti-aging facility in Las Vegas, Nevada. Case in point: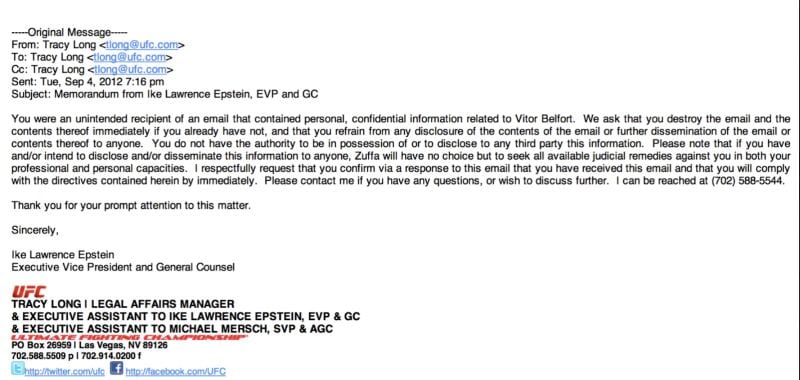 As per Gross' report:
Sept. 4, 2012, got interesting at 3:01 p.m. Pacific time for the people who received the .pdf from the UFC. A paralegal working for the UFC had meant to send an email with the subject "Vitor Belfort Labs" to three UFC executives. Instead, much of the known MMA world, including several people with whom the promotion openly feuded in the past, received it.
At 3:04, the paralegal sent out an email attempting to recall the original message.
At 3:55, a third email explained that the original had been sent in error and that the attempt to recall had come too late. Recipients were asked to "please disregard the e-mail, please delete ASAP!!!!!"
At 7:16, recipients got a memorandum from Ike Lawrence Epstein, UFC's executive vice president and general counsel at the time.
So, a glaring question I'm sure everyone is thinking at this stage; why didn't these people that had beef with the UFC make this sketchy information public? He was due to face Anthony Johnson just two weeks after the test date of January 1, I clearly don't need to read between the lines for you here. The results of the test weren't emailed out until September 4.
Belfort defeated 'Rumble' that night at UFC 142, and later fought and lost to Jon Jones at UFC 152. Perhaps there's another explanation for such outrageously high testosterone levels. Continuing the now murky report, medical advisor for the NAC (Nevada Athletic Commission) Dr. Timothy Trainor states that only disease or testosterone abuse would have such an impact on T levels:
"That wouldn't be acceptable," says Dr. Timothy Trainor, medical advisor for the Nevada Athletic Commission. "If either one of those would be above the normal range, that would be a red flag. It would basically mean the person whose lab was high has some kind of a medical condition—meaning someone who has a tumor that can make an overabundance of testosterone, which can occur—or it means that if it were someone taking testosterone, that they were taking too much."
Is that normal, or acceptable? Trainor says no.
"A normal person should never have a level above that normal range. They shouldn't. It would be very rare or uncommon for someone to have that without it being for a disease state or someone who was taking too much."
"What would have happened if Jon Jones gets his arm ripped off in the armbar?" asks one recipient of the accidentally-forwarded email. "Or if there was a career-ending situation? Or he got knocked out badly or was really injured? What would the liability have been at that point? It was inconceivable to me that they went forward with the fight and didn't cancel it."
The Brazilian knockout artist was revealed to be using TRT in February 2013 during a UFC press conference. This more than shady report is yet more bad press for the UFC, and it could be foolish to let this one slide without at the least acknowledging it's potentially sinister nature.
Do you think anyone will have the conkers to pose these questions to Dana White? The fact is that this report could probably blow out the window as quick as I've just written this sentence, but are we ignoring what's staring us plain in the face?
Has the UFC gone out of their way to cover up Belfort's blatant abuse of illegal performance enhancers, or even if his levels were considered 'OK', which a trained professional doctor says they aren't, don't they have a legal obligation to make his opponents aware of this? The UFC approved a TUE (Theraputic Use Exemption) for Belfort in 2012, but what's indicated in this report is clearly not the normal level expected of a man Belfort's age receiving the treatment. Doesn't the commission or sanctioning body need to be aware through disclosure in the license application phase? It's worth noting that Belfort fought in Rio De Janeiro, Brazil and Toronto, Canada against Johnson and Jones respectively.
In closing, a statement from Vitor Belfort about his 2014 licensing in Nevada:
"I cannot change the facts," Belfort said after Nevada licensed him in July 2014. "It was a little high. A little high. I was surprised. Actually, I wasn't surprised because I took the treatment the day before. It became an issue. But if you study TUE being 200 above the level is not high. It's normal for who is on TRT—if you ask a doctor."