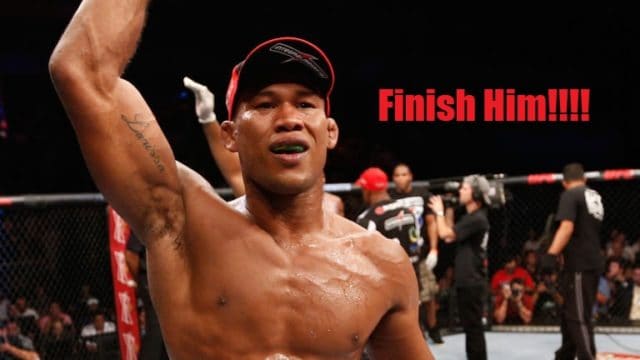 UFC middleweight contender Ronaldo Jacare Souza returns at UFC 194, to take on fellow smashing machine Yoel Romero on the evening's stacked main card. This is the third time the two hungry competitors have been scheduled to fight, but undoubtedly the biggest card of the year is perhaps the more suitable stage for their high profile clash.
Five wins deep since joining from Strikeforce in 2013, Jacare is experiencing prime form as of late. Victories over Yushin Okami, Gegard Mousasi and Franci Carmont highlight that streak. 'Soldier of God' is currently on a six fight tear since joining the middleweight ranks also from Strikeforce in 2011, most recently destroying Lyoto Machida with a barrage of elbows in June.
Two grapplers with hard striking on show at UFC 194 then, and the winner will surely be put forward for the next 185-pound title fight. MMA Digest had the scoop on Souza's recent sparring session, and it's fair to say he is looking like a beast. Check it out:

So who will emerge in this battle of powerful finishers in the UFC middleweight division? Will they remain standing and put that dangerous striking to work, or will Jacare look to snap up another submission win? With Chris Weidman, Luke Rockhold, Conor McGregor and Jose Aldo all fighting on the same card, Jacare and Romero will be fully in focus on December 12.
A lot of recent discussion has focused around the fact that 'The All-American' night get an immediate rematch if snubbed by 'Rocky' at UFC 194, so there's, as always, no guarantee for either Jacare or 'Soldier of God,' all they can do is go out there and get the win. Do you think Romero will hold up against those body shots?
Stay tuned.
If you enjoyed this story, please share it on social media!