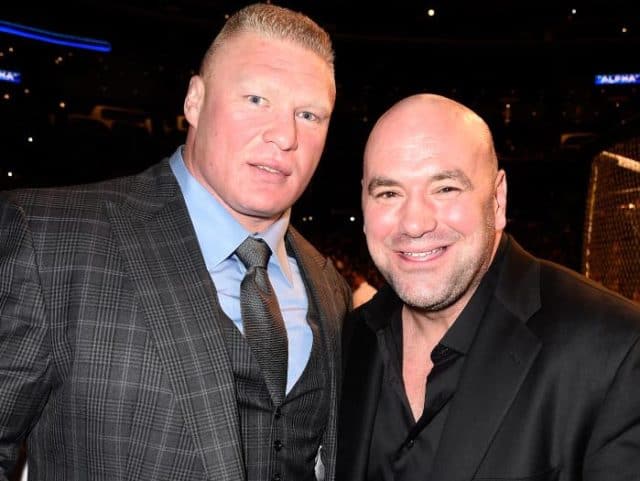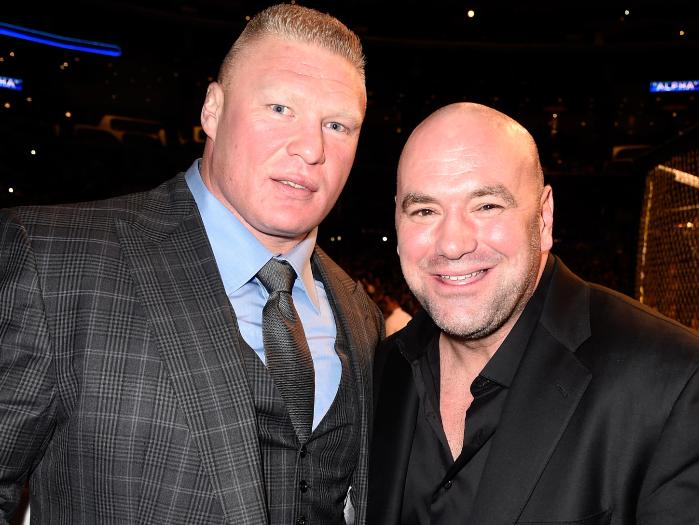 The rumors of former heavyweight champion Brock Lesnar's latest return have begun to ramp up of late, with "The Beast" reported to be making an appearance at July 7's UFC 226.
There, Lesnar will supposedly challenge the winner of the main event super fight between heavyweight champion Stipe Miocic and light heavyweight champ Daniel Cormier for a megafight later this year, with the speculated-upon target date December 29's UFC 232.
Discussion of Lesnar possibly fighting longtime former light heavyweight champ Jon Jones is still circulating, but with "Bones" facing a possibly substantial USADA long suspension for his latest drug test failure, that fight could be on the backburner for quite some time if it ever happens.
And the coast isn't exactly clear for Lesnar to return either, however, as the hulking fan favorite still has six months left on the one-year USADA suspension he was handed after testing positive for estrogen blocker clomiphene in conjunction with his UFC 200 win over Mark Hunt in 2016 that was eventually overturned. Lesnar would have to re-enter the USADA testing pool – something for which he made big headlines when he was granted a waiver to avoid prior to UFC 200 – for six months before returning to mixed martial arts.
He may have already done so, as MMA Weekly's Damon Martin (via MMA Mania) recently revealed that he had called USADA and they could neither confirm nor deny that Lesnar was coming out of retirement, the first time they ever said they could not confirm if a competitor was un-retiring:
I'm assuming if Lesnar re-entered the testing pool that his name would show up on the reports like everybody else but that's the first time they've ever said they couldn't confirm that information about a fighter retiring or coming out of retirement

— Damon Martin (@DamonMartin) June 16, 2018
An interesting revelation to be certain – or lack thereof.
Regardless, it's beginning to look like Lesnar's Octagon return is more of an eventuality than a possibility, so perhaps the hardest part of getting him back in the UFC is him passing the drug tests, which became clear far after the fact when he faced "The Super Samoan."
The fan favorite (or at least at one time) subsequently sued White, Lesnar and the UFC for conspiring against him against a fighter they knew was on PEDs, yet that was after Hunt said he knew Lesnar was "juiced to the gills."
In a time where the UFC needs true pay-per-view stars arguably more than ever, the promotion most likely isn't too concerned about the truth of that statement or not; bypassing the rules and regulations they put in place, ironically enough, could ultimately prove if they miss out on their biggest fight of 2018 or not.