Urijah Faber Ranks Frankie Edgar As One Of The Best Of All-Time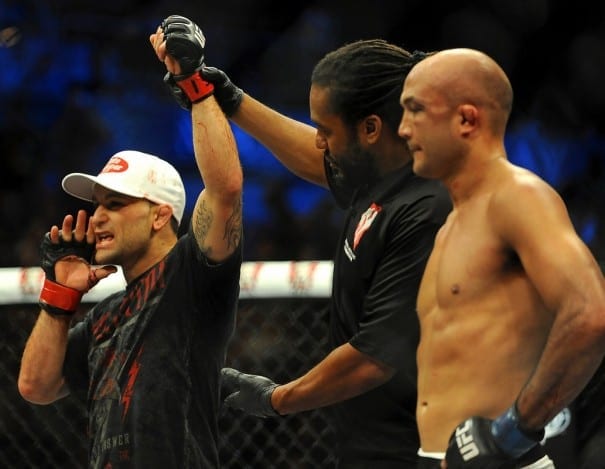 MMA fans got some very exciting news last week when it was announced that featherweight title contender Frankie Edgar would meet former WEC champ Urijah Faber in the main event of the UFC's debut from the Philippines on May 16 from Manila.
It's still being debated if the bout is a true "super fight," but it's undoubtedly one of the more anticipated bouts of the promotion's spring schedule. It's also a fight that has been tossed back and forth as a far-off possibility for years. Appearing on today's (Mon., February 16, 2015) The MMA Hour alongside Edgar, Faber described how the bout finally came to be a reality:
"You know what, I think both Frankie and I are looking to do big fights, and they've given other options. I don't know why for him it was difficult; we've talked about different fight locations and different dates.
Before we talked about different weight classes even. I know that Dana had tried to talk to Frankie about going down to 135 when they tried to make this The Ultimate Fighter show, and I mean, standing next to the guy I can tell he's a little bit bigger than I am, and I feel like I'm going to die every time I make 135, so I don't think that was an option."
Faber continued on with view of why the bout never came together:
"He didn't want to go down. At the time I was willing to go to up to 145, but they picked B.J. Penn to go in my place. I don't know, man, I don't know why it was difficult for him, but it was just kind of something that was talked about and not happened."
But it will now, and Edgar elaborated on the weight issues and how excited he is for the blockbuster affair:
"I think like Urijah saying, I think it was always up in the air but it was the weight class that was the issue. Now that I think that Urijah agreed to fight at '45, agreed to come up, it kind of all worked out. The timing's right; we'll both in similar spots, you know, we're both at the top of our divisions.
I've been wanting to do this for the longest time. We're kind of pretty well-known guys at the lighter weights; I don't know if there's many more well-known guys other than us other than B.J., Jose, and McGregor now, so it kind of makes sense."
Faber showed similar enthusiasm by ranking Edgar as one of the greats:
"I've said it before, I think Frankie's one of the best fighters of all-time, he's beaten guys that have been in the pound-for-pound rankings for years multiple times; guys like B.J. Penn."
'The California Kid' also said that he's happy to fight at his former home of featherweight, because it's getting hard for him to make the bantamweight limit of 136 pounds. Faber doesn't want Edgar showing up drained:
"It's so hard for me to make '35. I don't want to go and have a fight and put him in a place where there's a question of whether or not he's having his best performance because he's making weight."
The fight with Edgar wasn't his first choice, however, as Faber recalled being offered an often rumored bout with teammate and friend T.J. Dillashaw, which resulted in Faber turning down his first bout:
"I had a weird conversation with Dana White he called me after they already said I was fighting Assuncao and said, 'What if I was to tell you we want you to fight T.J. in April instead of Assuncao?' And I was like, 'Ah man, that puts me in a hard spot, I think I just want to keep my fight with Assuncao.'
It's like the first time I've ever turned down a fight so, being at 145, and being I'm fighting the No. 1 contender. A lot of people thought Frankie was neck and neck with Aldo and he's been doing what it takes to be there, so a win over Frankie, that puts me right there, and I'm not shying away from any fights."
Faber is ready to take on some big fights, and at this point in his career at almost 36 years old. Truth be told, those bouts could be better ones for him than more title fights, of which he's lost six in a row.
He closed with some other big names on his hit list:
"I feel like right now is the time to do these super fights, and there's big fights out there for me: I think Frankie's one, I think Conor's one, Cruz is one, and we'll see who else pops up into the mix."
Photo Credit: Stephen R. Sylvanie-USA TODAY Sports