The UFC is set to close out an otherwise questionable 2017 on a high note, and that will begin tomorrow night (Dec. 16, 2017), when UFC on FOX 26 happens live on FOX from Winnipeg, Canada. The main card is without question one of the best in recent memory, boasting an incredible lineup of fights.
In the main event, former welterweight champion Robbie Lawler will take on former lightweight titleholder Rafael dos Anjos in a five-round bout, with the winner possibly earning a shot at 170-pound kingpin Tyron Woodley.
In the evening's co-main event, former featherweight title challenger Ricardo Lamas will meet Josh Emmett. Also on the main card, surging welterweights Santiago Ponzinibbio and Mike Perry will clash.
Without further ado, let's take a deeper look into UFC on FOX 26's top fights: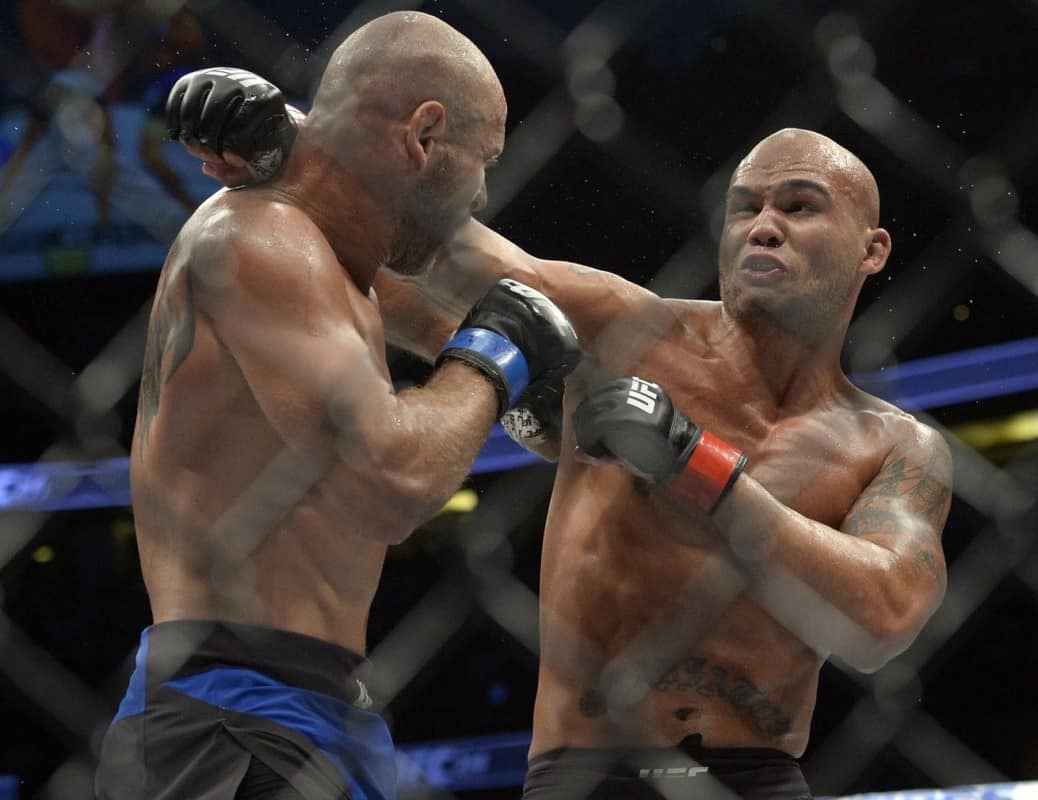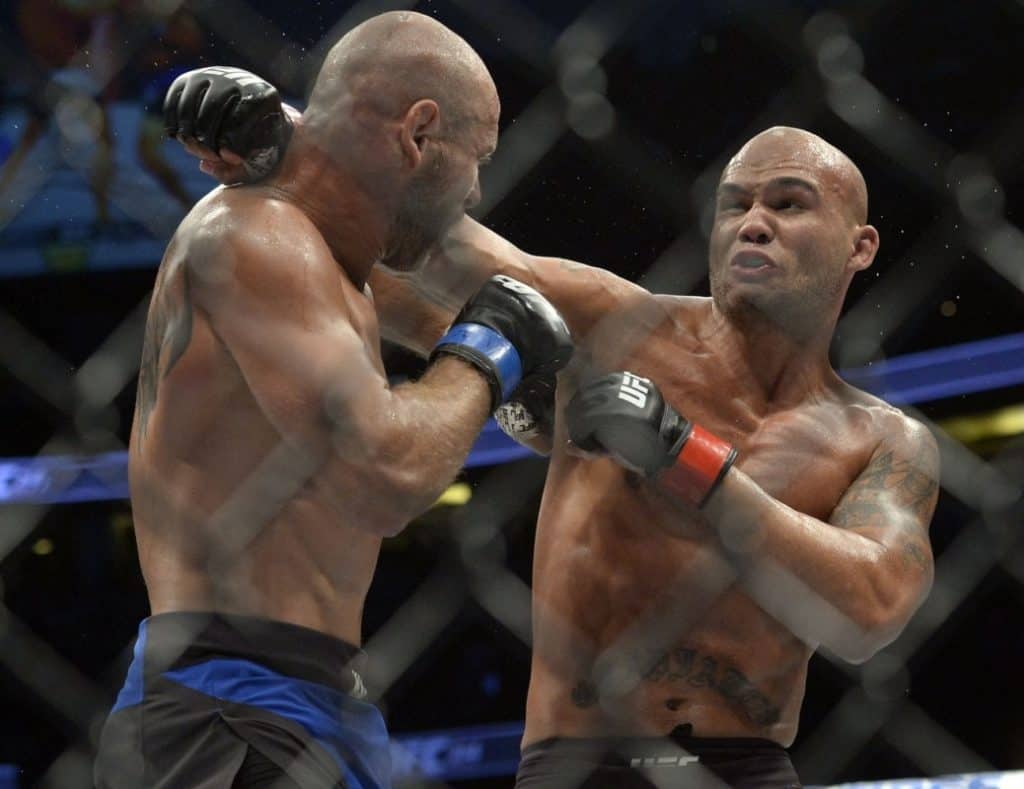 Robbie Lawler vs. Rafael dos Anjos
In a bout between two of the most aggressive southpaws in the welterweight division, UFC on FOX 26's main event is expected to produce fireworks.
After losing his title via first-round knockout to Tyron Woodley in July 2016, Lawler took some time off before returning to the Octagon at UFC 214 this past July, where he scored a decision victory over Donald Cerrone.
At 35 years old, the "Ruthless" one has been through his fair share of wars, but he still remains the No. 1-ranked fighter in the division.
On the feet, Lawler prefers to use his hands, but he has rounded out his striking game over the years. I'd argue that the ex-champion is faster than most give him credit for, and he packs serious fight-ending power in both of his hands. These traits, in addition to the relentless pressure that Lawler likes to put on his opponents, makes him a threat on the feet at all times.
On the contrary, the "Ruthless" one isn't known much for his submission game, but he does have a wrestling background and often displays strong takedown defense. If the fight does end up hitting the canvas, however, Lawler may be in trouble.
Dos Anjos, a third-degree black belt in Brazilian jiu-jitsu, is one of the very best grapplers in MMA now. The Brazilian possesses a strong offensive wrestling game as well, and may be able to drag Lawler to the ground.
In the striking arena, dos Anjos is also dangerous. Like Lawler, he likes to move forward at an aggressive pace and put pressure on his opponents. He's fast, powerful, and mixes up his punches, kicks, and knees well.
It's also key to note that RDA has looked rejuvenated since moving up to welterweight, winning two straight over Neil Magny and Tarec Saffiedine.
Ultimately, I can see this fight going either way. If it goes to the ground, dos Anjos certainly has the advantage, and both men are skilled on the feet.
I'm going to go with my gut though, and side with Lawler. I expect him to come out firing as he often does, but I'm not sure we'll see an early finish. I think Lawler's size and experience in five-round fights will steer him towards a late victory.
Prediction: Robbie Lawler def. Rafael dos Anjos via fourth round TKO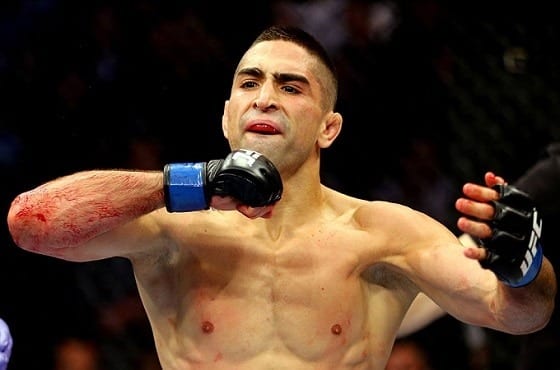 Ricardo Lamas vs. Josh Emmet
Although he's often come up short against the division's elite, losing to Jose Aldo, Chad Mendes and Max Holloway, Ricardo Lamas remains one of the top 145 pounders in the world.
Currently, he's won two straight, scoring a submission victory over Charles Oliveira and a TKO victory over Jason Knight.
Lamas owns an 18-5 professional record with five wins coming by way of T/KO and five wins coming by way of submission. His striking has improved, but his grappling is still his strong suit. A black belt in Brazilian jiu-jitsu, Lamas was also an NCAA Division III All-American back in his collegiate wrestling days.
He mixes up his attacks well and is often successful with takedown attempts up against the cage and in the clinch.
Despite being a late replacement opponent, Emmet, however, is still a tough fighter. A former lightweight, Emmet is coming off of a successful featherweight debut in which he scored a unanimous decision victory over Felipe Arantes.
He too has a collegiate wrestling background, and he's sharpened his striking skills as well as his overall skills at Sacramento's Team Alpha Male. On the feet, he's quite explosive, looking to create angles and possibly switch stances to land big shots. He's also a solid counter puncher, and if he lands that big shot, he could finish the fight.
In the end, however, I simply think Lamas is the more well-rounded and experienced fighter. I'm not sure Emmet has faced a fighter quite like "The Bully," and I expect Lamas to dictate the fight.
Prediction: Ricardo Lamas def. Josh Emmet via unanimous decision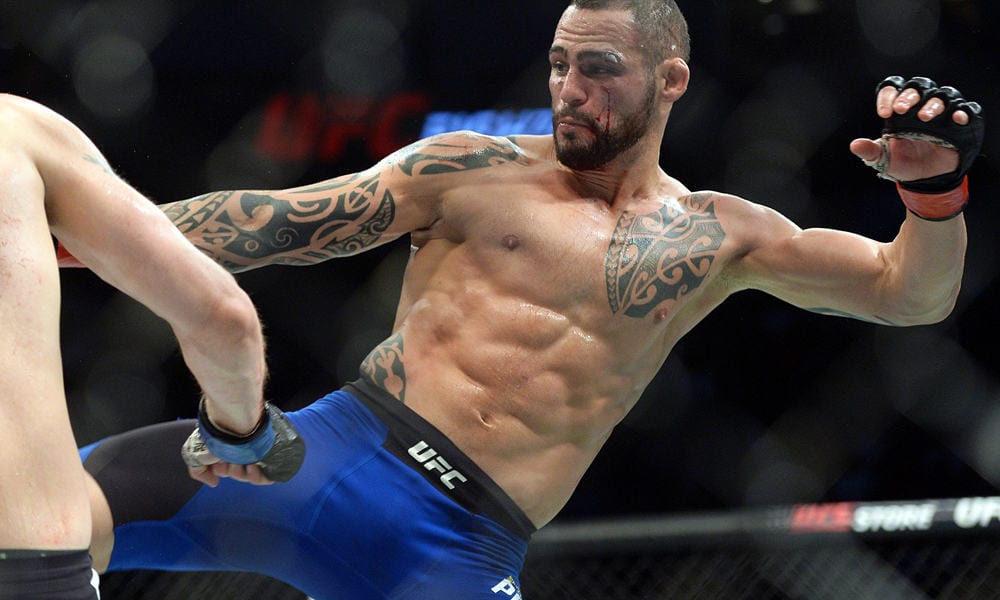 Santiago Ponzinibbio vs. Mike Perry
In a bout between two rising welterweight contenders, this fight has the potential to be a war.
Although he hasn't received as much attention, Ponzinibbio has quietly begun to rise up the welterweight ranks, winning five-straight fights and most recently scoring a brutal first-round stoppage victory over Gunnar Nelson.
The Argentinian fighter has shown that he likes to put pressure on his opponents, but he's also shown the ability to move well and throw effective combinations. Moving forward and throwing a high volume of strikes could leave him open for counters, however.
On the ground, Ponzinibbio is no slouch either, as he holds a black belt in Brazilian jiu-jitsu, with six of his professional wins coming by way of submission.
Perry, on the other hand, has established himself as a violent finisher, as he's currently 4-1 in the UFC, with all four of those victories coming by way of T/KO.
Like Ponzinibbio, Perry likes to move forward, and he's never shied away from a brawl, although he seems to have consistently improved from a technical standpoint as well. "Platinum" is also extremely powerful, as 11 of his 12 professional victories have come by way of T/KO.
On the ground, Ponzinibbio likely has the advantage, although Perry has never been submitted.
In the end, I could see Perry landing a big shot and finishing the fight. However, I feel as if Ponzinibbio is the more polished and technical fighter, and if he can avoid big shots will score a victory by decision.
Prediction: Santiago Ponzinibbio def. Mike Perry via unanimous decision