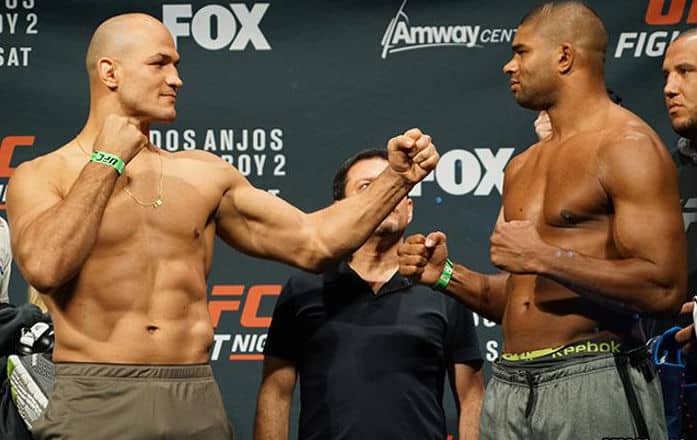 The fighter salaries for UFC on FOX 17 were released on Monday and oh did the UFC have to pay a chunk of cash to the top level fighters on this card.
Rafael dos Anjos earned 0,000 for defending his lightweight title against Donald Cerrone, who made ,000. In the co-main event, Alistair Overeem earned $542,857 while Junior Dos Santos earned $400,000.
UFC on FOX 17 took place at the Amway Center in Orlando on Saturday, December 19th, 2015 and marked the final event of the year for the promotion. The event aired on FOX, FOX Sports 1 and UFC Fight Pass.
The full UFC on FOX 17 payouts include:
Rafael dos Anjos ($300,000 + no win bonus = $300,000) def. Donald Cerrone ($79,000)
Alistair Overeem ($342,857 + $200,000 = $542,857) def. Junior dos Santos ($400,000)
Nate Diaz (,000 + ,000 = ,000) def. Michael Johnson ($30,000)
Karolina Kowalkiewicz ($13,000 + $13,000 = $26,000) def. Randa Markos ($12,000)
Charles Oliveira ($29,600* + $37,000 = $66,600) def. Myles Jury ($30,000)
Nate Marquardt ($49,000 + $49,000 = $98,000) def. C.B. Dollaway ($40,000)
Valentina Shevchenko (,000 + ,000 = ,000) def. Sarah Kaufman ($22,000)
Tamdan McCrory ($12,000 + $12,000 = $24,000) def. Josh Samman ($10,000)
Nik Lentz ($35,000 + $35,000 = $70,000) def. Danny Castillo ($39,000)
Cole Miller ($33,000) vs. Jim Alers ($10,000) ruled a no contest
Kamaru Usman (,000 + ,000 = ,000) def. Leon Edwards ($15,000)
Vicente Luque ($10,000 + $10,000 = $20,000) def. Hayder Hassan ($10,000)
Francis Ngannou (,000 + ,000 = ,000) def. Luiz Henrique ($10,000)