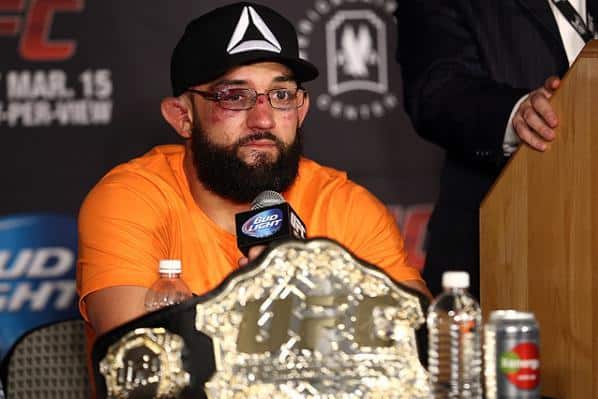 Johny Hendricks vs. Stephen Thompson:
Mike Drahota:
There's a likely outcome to this impromptu main event, and then there's a second (and more unlikely) one. The first is the clear pick that sees former champion 'Bigg Rigg' use his NCAA Championship-level wrestling skills to grind 'Wonderboy' down, as that's really the only way Thompson has been shut down in the UFC.
The second is Thompson using his striking and range to blast 'Bigg Rigg' with a surprising shot and/or piecing him up with fast, relentless combos to win a huge upset. Hendricks has taken the best shots current welterweight champion Robbie Lawler could dish out, however, and I don't think he'll get knocked out here. I envision a fight like Hendricks' latest win over Matt Brown, who, interestingly enough, defeated Thompson with a similar gameplan I foresee Hendricks using. 'Bigg Rigg' via unanimous decision.
Rory Kernaghan:
Hendricks vs. Thompson is a very interesting contrast of styles. On one hand you have the wrestling base and power striking of Hendricks, and on the other there's 'Wonderboy' with his karate base and crazy kicks. Once again this is a fight that will be won and lost in the range department. The longer reach and better arsenal goes to Thompson on the outside, but Hendricks will rule this fight in short range. The weight issue for 'Bigg Rigg' will hopefully be a thing of the past, but a rough cut could mean a sub par performance. Providing there's no hiccups, I see Hendricks taking a decision here.
Mike Henken:
This was a tough one to call for me, but I'm going to go with the upset here. Hendricks is a former champion with one-punch knockout power and one of the best wrestling pedigrees in the game today. Looking ripped and in shape, it appears he has left his weight cutting issues in the past, but he has tired in five-round fights before. That being said, he will be going up against the rangy "Wonderboy" Thompson, a man amongst the very best strikers in all of MMA. In my opinion, if Thompson can stop the takedown, and he has trained with former middleweight champion Chris Weidman, it's his fight to lose. I expect him to use his length, movement, and vicious arsenal of kicks to pick up the biggest victory of his career. "Wonderboy" by fourth round TKO.
Roy Nelson vs. Jared Rosholt:
Mike Drahota:
I just can't seem to get motivated by this fight in the co-main event slot, as fan favorite as sputtered as a one-dimensional knockout striker (who really only uses one move, a thunderous overhand right), while Rosholt is a talented enough but middling prospect in the UFC's most boring – and slow-moving – division.
This bout certainly isn't going to change that, and outside of a huge fight-ending [punch from 'Big Country,' I see Rosholt largely controlling the rotund Nelson, who's failed against elite grapplers in losing five out of his last six, to win the decision here. Rosholt by decision is the pick.
Rory Kernaghan:
Roy Nelson vs. Jared Rosholt is a strange match to say the least, with one heavy hitting knockout artist in 'Big Country' and a smothering wrestler in Rosholt. The truth to this one is I feel Rosholt has no place being in the Octagon with someone of Roy's caliber, with notable wins over some legends of the sport to his credit and a missile for a right hand. Nelson, first round KO, take that one to the bank.
Mike Henken:
Nelson has looked, well, rather awful as of late to say the least. Losing his last three bouts, it appears as if Nelson may be nearing the end of his time, and he will be facing off with a hungry Division I wrestler here in Rosholt. I wouldn't be surprised to Rosholt to tire Nelson, who has never had the best cardio, and grind out a victory, but "Big Country" does possess that one game-changing tool: the right hand from hell. With the ability to put a man to sleep at any given point, I think we see one more bomb from "Big Country" here. Nelson by second round KO.