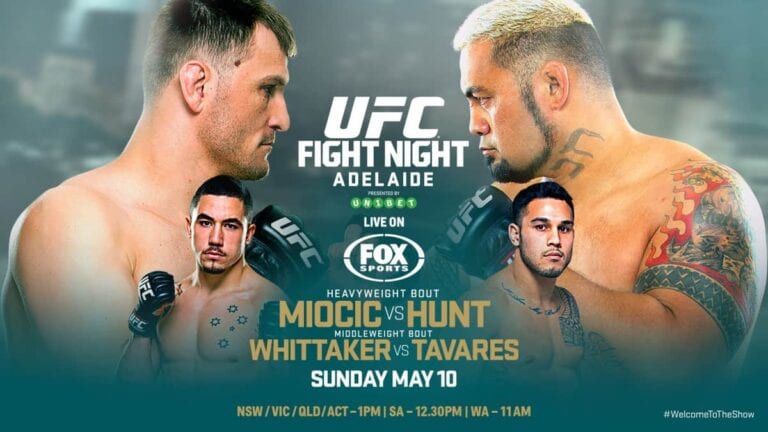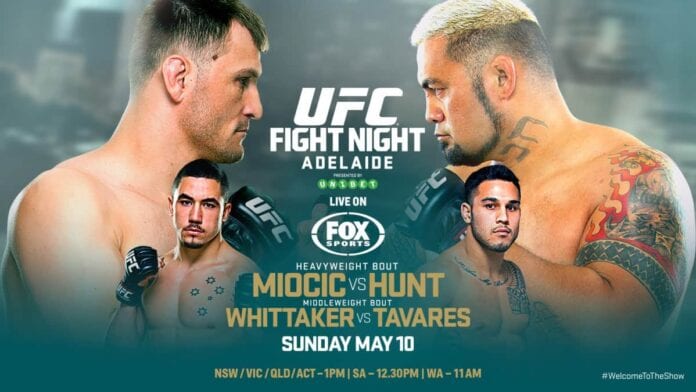 Tonight's (Sat., May 9, 2015) UFC Fight Night 65 is in the books from the Adelaide Entertainment Center in Adelaide, Australia.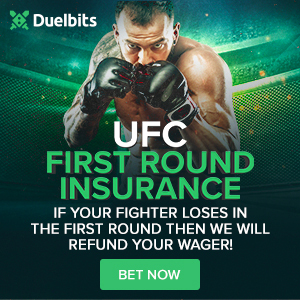 The exciting event featured an awaited heavyweight slugfest between Pride and K-1 legend Mark Hunt and rising Cleveland combatant Stipe Miocic. Hunt came out with  hard low kick in the opening seconds, and Miocic got a very short-lived takedown. Miocic landed a few jabs but Hunt snapped a huge left hand. Miocic opened up with some sharp punches, securing an easy takedown to land elbows on the mat. Miocic went for a kimura but Hunt got back up to wing a shot as the first round came to an end.
Jabs came from Miocic in the second. He kept up the pressure with straight punches, hooks, and elbows and got another takedown to get Hunt's back. Shots followed but Hunt got back to the feet once again. Miocic landed some huge rights, however, cracking Hunt repeatedly. Knees and uppercuts followed as Miocic kept the pressure at a breakneck pace. But Hunt broke to land some huge hooks as the bell sounded on the round. Hunt was grounded in the third as he ate more ground and pound shots.  The referee warned Hunt to improve his position, and he got up only to be taken down yet again. An endless streak of strikes rained down, but it was not stopped and headed to the fourth.
In the championship rounds Miocic got another takedown to boos from the crowd. More punches and stifling top position had Miocic in control as he unleashed heavy shots on the ground and on the feet when Hunt got up. Miocic immediately took down Hunt at the start of the fifth to land enough punches to finally stop the fight.
Middleweights Robert Whittaker and Brad Tavares looked to rise up the dangerous middleweight ranks in the co-main event. Whittaker did not fail to impress quickly, nailing Tavares with two crushing left hands to swarm with a few ground shots that had his opponent out cold to continue the electrifying card from Australia.
In other action, seasoned Australian veteran Anthony Perosh faced Sean O' Connell. O'Connell came out of the gate swinging wild, throwing endless looping hooks that had Perosh in trouble up against the fence. The ref had seen enough and came in to stop the fight early.
Starting off the main card, Aussie Jake Matthews looked to put an end to James Vick's undefeated 7-0 record. 20-year-old phenom Matthews scored a big left hook early to score a showboating double leg slam for his home crowd. Vick answered with a good uppercut of his own, but Matthews landed some solid strikes. Vick made it a dirty fight and landed some knees and body shots, following with a super tight guillotine that floored Matthews and forced him to tap.
UFC Fight Night 65 Main Card Results:
Stipe Miocic def. Mark Hunt via R5 TKO (strikes, 2:47)
Robert Whittaker def. Brad Tavares via R1 KO (punches, 0:44)
Sean O'Connell def. Anthony Perosh via R1 TKO (punches, 0:56)
James Vick def. Jake Matthews via R1 submission (guillotine, 4:53)