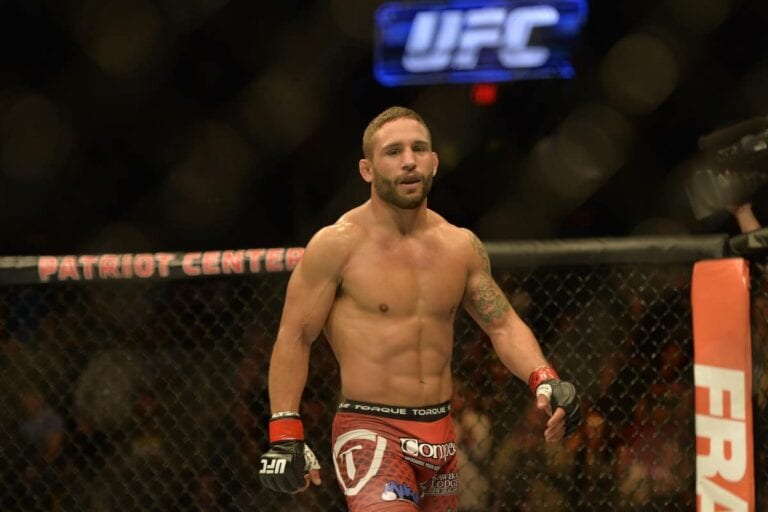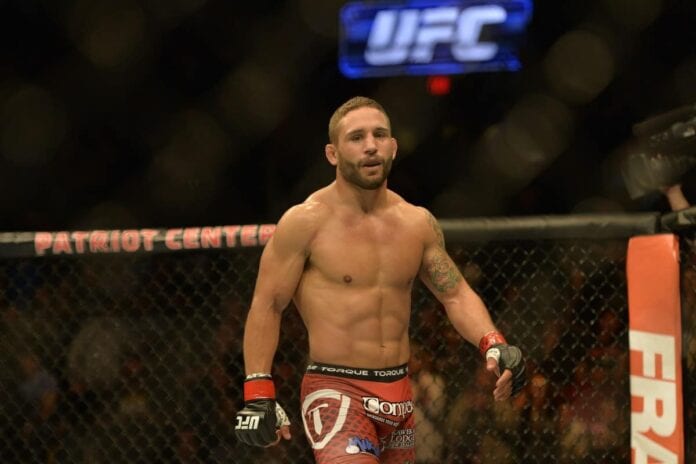 Chad Mendes vs. Ricardo Lamas:
Mike Drahota:
This is a great bout that could definitely decide the next rightful featherweight contender in my eyes, although Frankie Edgar will have more than a strong case if he gets by Urijah Faber in May. I have to give Mendes the power and speed edge on the feet; his striking has improved exponentially in recent years and has never looked better than it did in his UFC 179 war with Jose Aldo. He's also a great wrestler, and most of those skills could be spent trying to keep this fight standing. Lamas is a grinding wrestler in his own right, possessing a powerful top control game to go along with his vast array of potentially fight ending chokes. It's tough to count either fighter out, but Mendes has only lost to Aldo. I expect this to be a five-round war, with "Money" emerging from the hard-fought bout victorious via decision.
Mike Henken:
In my opinion, Chad Mendes is very similar to Junior Dos Santos, in that he is basically a gatekeeper to the champion's throne. I see him as the best fighter in the division not named Jose Aldo. He can't seem to get past Aldo, but he should defeat everyone else. In this fight, "Money" is facing another top contender in Ricardo Lamas. Both men have wrestling backgrounds, but Mendes' power, as well as his 100% takedown defense rating, gives him the advantage for me. I also think Mendes has the striking advantage, as he is faster and more powerful, and possesses very good footwork. Lamas could look to submit if the fight goes to the ground, but I don't see that happening. Mendes by third round TKO.
Al Iaquinta vs. Jorge Masvidal:
Mike Drahota:
Another great fight is set for the UFC Fight Night 63 co-main event, one where the winner will rise up to a top challenge in the deep UFC 155-pound division. Iaquinta has been on fire with three straight TKO finishes in a row, but Masvidal is the kind of experienced, shutdown fighter that could definitely neutralize "Raging's" knockout ability. "Gamebred" also has the reach advantage and an excellent jab, and he just hasn't got enough credit for winning five out of his last six UFC bouts, presumably for his relative lack of finishes. I don't think he gets one over dangerous Long Island native Iaquinta, but I do think he'll be able to keep the knockout artist at bay with his technical expertise. Masvidal by decision.
Mike Henken:
This is a very interesting matchup between two evenly matched lightweights who are both riding three-fight win streaks. Both fighters are very well rounded and strong everywhere, which is why this fight is a hard one to call for me. Masvidal holds 10 knockout wins as opposed to Iaquinta's six, but "Raging" Al has scored three straight TKO wins. "Gamebred" also has the reach advantage, but I think Iaquinta will be ready training under Ray Longo. The wrestling department is pretty even for me, as is the grappling department. Iaquinta has been susceptible to chokes, but training with Matt Serra, I'm sure that part of his game has been fixed. I don't have much to go from here, so I'm going to go out on a limb and pick the upset; "Raging" Al by third round TKO.
Photo Credit: Tommy Gilligan for USA TODAY Sports