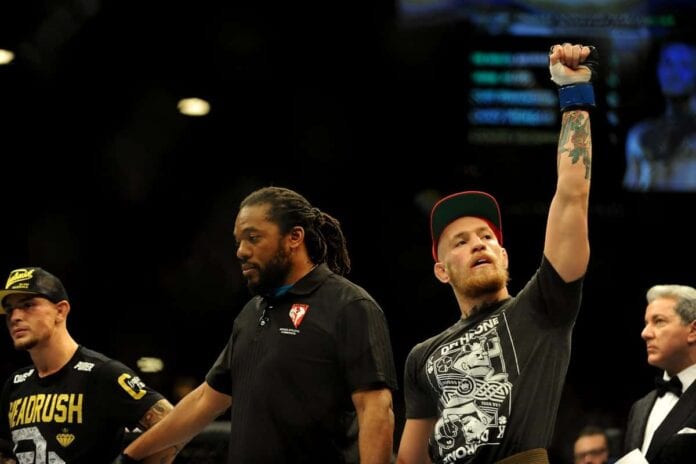 Conor McGregor vs. Dennis Siver:
Mike Drahota:
On paper this would appear to be one of the more anticlimactic main events in recent memory. McGregor is supposed to run through Siver and receive his title shot against Jose Aldo, and even though Siver has played the role of spoiler before, I don't see anything else happening. Siver is a solid kickboxer for sure, but his size disadvantage and penchant for pushing forward aggressively make him play perfectly into the rangy McGregor's counterstriking gameplan. "Notorious" via round one KO is my pick.
Rory Kernaghan:
Conor McGregor is the clear favorite for a reason in Boston, because he is just that much better than Dennis Siver. The German striker no doubt belongs in the UFC, but is nowhere near the elite level that "The Notorious" is. As predicted by the man himself, I don't think this fight makes it out of round one. I wouldn't be surprised if Siver chooses to stand and trade with McGregor from the jump. Look for the Irish bad boy to score a first round knockout.
Mike Henken:
I don't really have too much to say about this bout, because I truly believe it is a mismatch. After dismantling Dustin Poirier, who was a top five-ranked fighter at the time, at UFC 178, Conor McGregor is now taking on No. 10-ranked Dennis Siver, who is nowhere near the level of a fighter that Poirier is. The German has shown well-rounded striking with dangerous kicks, but not too much aside from that. I think McGregor uses his excellent movement and footwork to land big shots on Siver. I see this fight playing out on the feet and I believe The Irishman scores a first round knockout and keeps his notorious hype train rolling.
Donald Cerrone vs. Benson Henderson:
Mike Drahota:
Aside from the massive hype and buzz generated by McGregor, this fight is actually the much more obvious choice for being a good fight. Henderson and Cerrone have squared off twice before, with "Smooth" winning a close decision in the first and submitting "Cowboy" in the second. This time around, however, Cerrone has the most momentum that he ever has, while Henderson has been faltering a bit as of late. Cerrone did make an incredibly quick turnaround to take this fight in two weeks, but he barely broke a sweat against Myles Jury at UFC 182. I think it will be a war, but Cerrone takes home the decision here.
Rory Kernaghan:
Donald Cerrone has been on fire lately, plain and simple, but he meets in Benson Henderson an ex-champ with a bee in his bonnet. The crushing first round knockout loss to Rafael Dos Anjos has hopefully awoke the "Smooth" of old. He needs to be more attacking, and hunt for the finish. Only thing is, "Cowboy" has some serious stand up game, and I'm unsure of whether Henderson will be able to keep up. I actually expect to see this fight dragged to the ground by "Smooth" quite early on, but don't be surprised if the streaking Cerrone proves me wrong. A tough one to pick, but I'm going against the grain…Henderson by unanimous decision.
Mike Henken:
This is a very difficult fight to call for me, because in essence, it is a short notice fight for both men. Although Benson "Smooth" Henderson has been preparing to fight on this card, he was scheduled to take on Eddie Alvarez. For Cerrone, he will be fighting twice in three weeks and has had little time to prepare for Henderson, but on the other hand, it could be tough for "Smooth" to get ready for "Cowboy" on such short notice, too. The two men are both very well rounded fighters. Cerrone is known for his devastating kicks and lethal submissions. Henderson uses a tae kwon do striking background, which can be tricky, paired with strong wrestling and a jiu-jitsu black belt. The two have actually fought twice before as well back in the WEC, with Henderson winning both affairs. However, both men have evolved immensely since then. I think "Cowboy" could beat Henderson in a third match, but due to his lack of preparation, I'm going to go with Henderson by unanimous decision.
Photo Credit: Stephen R. Sylvanie-USA TODAY Sports