UFC Fight Night 108 Preliminary Results: Thales Leites Decisions Sam Alvey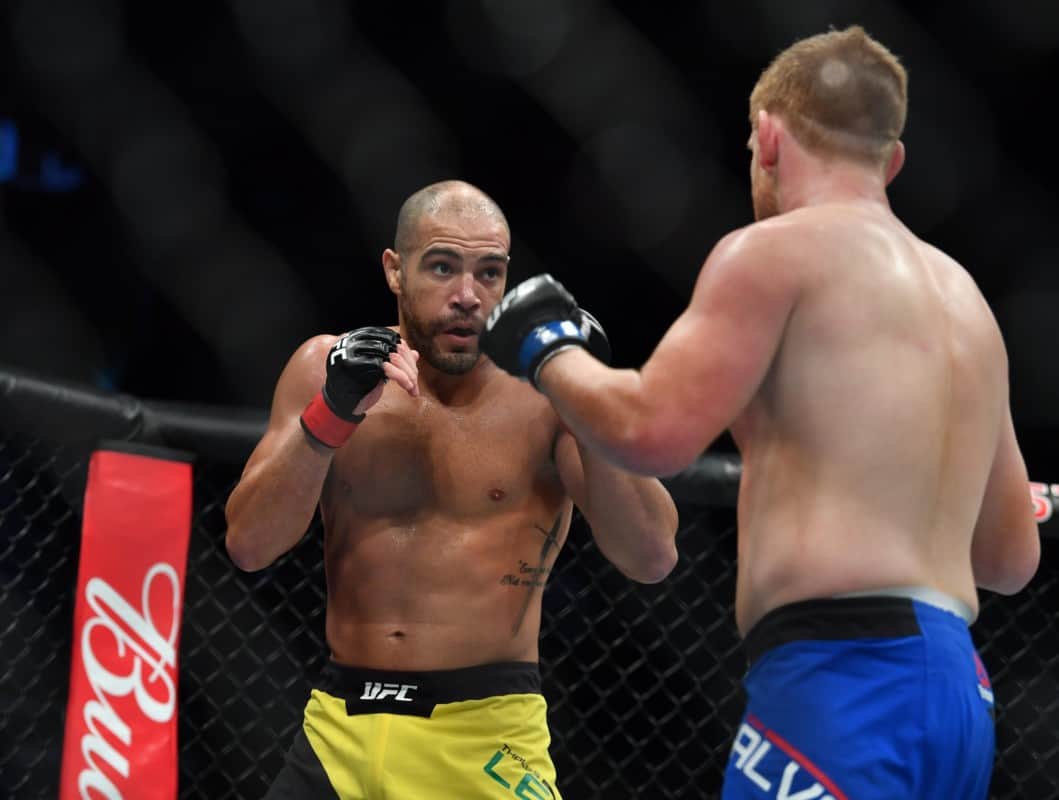 It's once again fight day here at LowKickMMA, and the talent on display tonight (Saturday, April 22nd, 2017) will come from in the form of UFC Fight Night 108. Headlining the card are Cub Swanson and Artem Lobov, but there's a whole bunch of great fights also taking place on the preliminary section of the card.
Sam Alvey vs. Thales Leites in a middleweight bout closes the preliminary card on FOX Sports 2. In round 1, Leites landed a huge leg kick to start the round and it hurt Alvey. Alvey is limping already. Alvey blocks a head kick. Leites picking away with kicks. Leites closes distance for Alvey and he eats a right hand. Alvey trying to move forward now but still eating kicks.
In round 2, Leites back to battering Alvey's leg body and arms. Alvey rushes w/ some right hands but he can't effectively follow up. Leites with a bad takedown attempt, Alvey shut it down, but now they're in the clinch. They knee in the clinch as Leites tries to drag it down. They break and Alvey lands a left that nearly knocks Leites down.
In round 3, a kick goes low and Alvey staggers away in visible distress. Leites still abusing Sam's legs and body. Alvey gets in the occasional bullrush and 2 punches but it's not enough. Alvey was poked in the eye. They exchanged to the finish. The judges gave the win to Leites by decision. 
Brandon Moreno vs. Dustin Ortiz is next in a flyweight bout. In round 1, Ortiz clinched with him to begin the round. Moreno has a kimura grip as he tries to fight off a takedown. Ortiz drags Moreno down anyway, then again. He's stuck to Moreno. After a short kickboxing exchange, Ortiz double-legs Moreno, but Moreno won't let him consolidate top position. In round 2, Moreno lands a left hook and snappy low kick. He's throwing hands but not finding range yet. Ortiz works to close behind jab. Moreno drops Ortiz with a head kick then swarmed him with strikes on the ground. Moreno got back mount and worked him over with strikes. Moreno locked in the rear-naked choke for the win.
Scott Holtzman vs. Michael McBride is next in a lightweight bout. In round 1, a big left hook for Holtzman, then an overhand. They clinch, and Holtzman nearly drags McBride down. McBride active with strikes inside. Holtzman hits an elbow against the fence. They briefly hit the mat with Holtzman on top but can't consolidate. McBride got up to his feet and immediately kicked in the groin. They get back to action, and McBride eats another big hook. Holtzman landed a big right hook, but McBride ate it. In round 2, McBride throwing lots of volume, kick heavy. He's finding a home for awkward punches as Holtzman comes forward. McBride low single. Head kick glances off McBride, then a right. McBride has a shot stuffed, and he goes to his back. Holtzman kicks the legs. Holtzman goes down to land ground and pound right at the end of the round.In round 3, Holtzman lands a big right, McBride answers with kicks. Combinations for Holtzman's. McBride goes to his back. Holtzman head-hunting with kicks now in addition to his hands. Leg kicks doing damage as well. McBride might've been rocked, but he's still just standing there, not going away. Holtzman shoots, McBride goes for a kimura but couldn't. The judges gave the win to Holtzman. 
Jessica Penne vs. Danielle Taylor in a female strawweight bout opens the FOX Sports 2 preliminary bouts. In round 1, they have a feeling out process early. Penne got clubbed by a Taylor right in a flurry. Penne using kicks and occasional long jab. Taylor throwing more volume, blitzing into range to land a shot or two. Hard right hand for Taylor after she catches a body kick. Penne trying to pressure but Taylor too fast. Penne with nice knees. In round 2, Taylor opens with leg kicks, answered by Penne body kick. Taylor backs Penne up with a combination, mostly blocked. Trade rights to end the round. In round 3, Taylor landed a leg kick to open the round. Left body kick, jab for Penne, then knee to body. Hard rights back up Penne. Penne counter left. They clinch up against the fence, and Penne tried to take her down but couldn't. Taylor scored a takedown to end the round. The judges gave the win to Taylor by decision.
Alexis Davis vs. Cindy Dandois in a female bantamweight bout finishes off the UFC Fight Pass preliminary card. In round 1, Davis going after Dandois with her hands, but Dandois fell forward into a trip, and Davis immediately gave up the takedown. Davis shifts her hips for an armbar, flips her over into a spider web, but the crazy flexible Dandois triangles Davis' head. The women trade leg lock attempts before Davis gets back on top and dropping mild ground and pound, but they trade positions again. In round 2, Dandois shoots, but Davis stuffs it. Davis manages to break clinch, and we're back to kickboxing. Jabs for Davis as Dandois' standup looks truly ugly. But the Belgian bullrushes for a double leg. She stands and lands hard. In round 3, Davis lands some punches to start the round, but Dandois gets another easy takedown on tall Davis. Davis works back to her feet. Davis body kick results in a tie up. Another head and arm throw from Dandois, but Davis scrambles up. Kicks and jabs for Davis. Dandois scored a takedown. Triangle-armbar for Davis but Dandois survives. The judges gave the win to Davis by decision.
Bryan Barberena vs. Joe Proctor is next in a lightweight bout. Proctor was pressuring early; they trade kicks. Barberena having success with his hands. Barberena stops Proctor with knee after knee landing to Proctor's head then strikes on the ground.
Opening the UFC Fight Pass prelims is Matt Schnell vs. Hector Sandoval in a flyweight bout. Sandoval hits right hand and ducks under for double leg instantly. Schnell uses triangle to get up. They strike inside again. Sandoval ducks under for double leg but finds himself in tight guillotine. He slams Schnell and pops his head out. Sandoval pounds out Schnell from half guard with hammer fists. Schnell was out cold.
Here are the results:
PRELIMINARY CARD (FOX Sports 2/8 p.m. ET)
Middleweight: Thales Leites def. Sam Alvey via unanimous decision (30-27, 30-27, 30-27)
Flyweight: Brandon Moreno def. Dustin Ortiz via submission (rear-naked choke) at 4:06 of R2
Lightweight: Scott Holtzman def. Michael McBride via unanimous decision (30-27, 30-27, 30-26)
Strawweight Danielle Taylor def. Jessica Penna via unanimous decision (29-28, 29-28, 29-28)
PRELIMINARY CARD (UFC Fight Pass/6:30 p.m. ET)
Female Bantamweight: Alexis Davis def. Cindy Dandois via Unanimous Decision (29-28, 29-28, 29-28)
Lightweight: Bryan Barberena def. Joe Proctor via TKO (knees, punches) – Round 1, 3:30
Flyweight: Hector Sandoval def. Matt Schnell via knockout (punches) – Round 1, 4:24