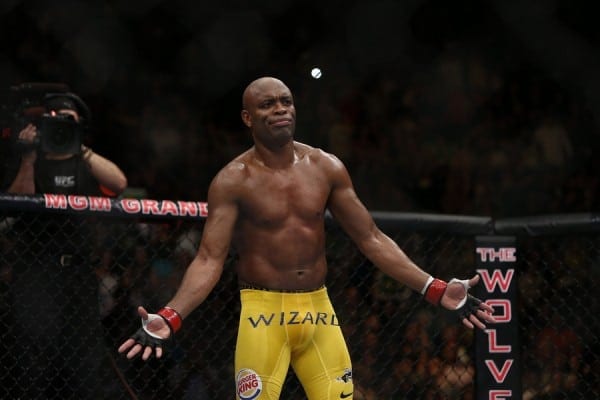 The UFC 197 pay-per-view (PPV) event potentially featuring Brazilian star Anderson Silva was slated by the UFC for March 5 from Rio de Janeiro's HSBC Arena, but those plans apparently fell by the wayside when it was announced that 'The Spider' would instead by taking on Michael Bisping in the main event of February 27's UFC Fight Night 83 from London.
And today (Tues., December 29, 2015) the promotion confirmed that they had canceled the event altogether due to an ongoing economic crisis in Brazil. The unfortunate news was first revealed by Silva in a media conference call:
"(The plan) was to have me fighting in Brazil against I don't know who," Silva said, "but with this situation going on in Brazil, economically and everything, the UFC decided to abort this event for now."
The cancellation was then confirmed by sources close to the situation according to MMA Fighting. With Rio de Janeiro hosting the 2016 Summer Olympics, the UFC may have realized the worldwide attention of those would trump the country's desire to buy tickets for a UFC PPV in a time of monetary need.
Silva had been rumored to be facing Vitor Belfort at the event, but 'The Phenom' could curiously be headed for a bad blood-filled rematch with Luke Rockhold now.
UPDATE:
Apparently UFC matchmaker Sean Shelby took some noted offense to MMA Fighting's report that UFC 197 was canceled in Rio, as he got on Twitter to state that the article was not true, calling the media 'a joke' in the process:
@guicruzzz @arielhelwani the media is a joke. This is not true.

— Sean Shelby (@seanshelby) December 29, 2015
UFC President Dana White quickly voiced his support for the statement with an 'Amen':
— Dana White (@danawhite) December 29, 2015
MMA reporter Mike Fagan then questioned White as to whether or not Silva's quotes had been misconstrued, to which he replied that the former champ may have just been giving his opinion of the situation:
@ItsMikeFagan @seanshelby Anderson was giving his opinion of maybe why. Not facts

— Dana White (@danawhite) December 29, 2015
So Shelby has stated that UFC 197 is not canceled, but White stated Silva was voicing his opinion of the situation, which would suggest that it was indeed canceled and 'The Spider' was only trying to explain why, but not factually.

As of now, we have on clear updates if UFC 197 will go down on March 5 in Rio de Janeiro or not, so stay tuned to LowKick MMA for more updates on this surprising anouncement.